Honey Butter Rolls are soft, light and fluffy, decadent rolls that are perfect for making mean burgers, or as accompaniments with soup, salads and entrees at holiday lunch/dinner parties.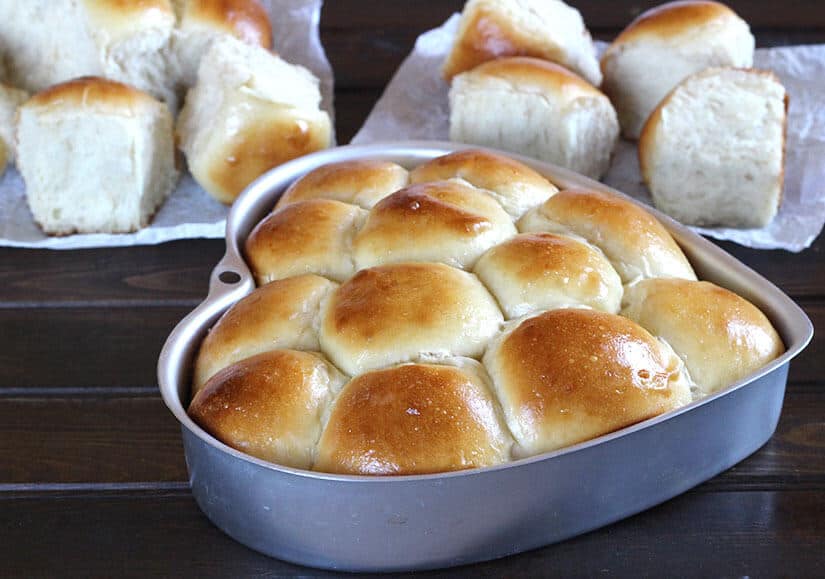 The main ingredients in these rolls are honey and butter - they are a classic combination. Yeast is used to leaven the bread. Leaving is done in three stages, but the entire process is so simple that these rolls come out perfect every single time. As though the addition of honey and butter while preparing the dough wasn't enough, a generous spread of honey-butter is applied on top of these rolls as soon as they are out from the oven. These rolls can not only be served as a side with salads, soup, and other main entrees, but also on their own as they taste wonderful. Along the Konkan coast of India many eat these (or similar) rolls by lightly dipping them in hot chai. At many restaurants in the US, these rolls are served with lightly salted butter or along with honey butter along with your dinner/lunch entrees.
Last week we were craving for some Indian chats - which are spicy+sweet+tangy and finger-licking good Indian street food. Some of these chats are served with pavs or rolls. So instead of buying rolls from the store, I decided to bake a batch at home.

I had prepared these rolls several times in the past, but I never got the chance to share the recipe on my blog. To address this fact, and to satisfy our chat craving I prepared a batch of these no-fail honey butter rolls. The recipe requires few simple ingredients, and the only hard part is waiting for the dough to rise - we do this in three stages as you will see below.
I decided to make all my chat recipes from scratch this time. Therefore we will be building on recipes. I started my series with aloo bhujia / crispy potato noodles. Today I am presenting the recipe for rolls or pavs 🙂 Next step is putting these things together to make mouth-watering chats. Take a guess on which chat I will be presenting next?
You can also check out the recipe for parker house rolls.
Preparation time : 3 hours 30 minutes
Serves : 25 rolls
Ingredients for Honey Butter Rolls
Active dry yeast - 1 packet (2 ¼ tsp)
Warm water - ⅓ cup
Honey - 1 tbsp
Milk - 1 ⅓ cup
Butter - ½ cup
Honey - ⅓ cup
Eggs - 2
Salt - 1 ½ tsp
All purpose flour - 5 ¼ cup + ¾ cup + more for dusting
For the top glaze & serving
Honey - 2 tbsp
Butter melted - 2 tbsp
Steps to prepare Honey Butter Rolls
Step I
In a large bowl, add luke warm water, 1 tablespoon honey and mix well. Sprinkle yeast.
Cover it and keep it aside for 10 minutes till the yeast is activated.
Meanwhile, in another pan add milk and ½ cup butter and heat it on a medium flame for about 3 minutes or till it reaches 100 degree F.
Step II
Add the milk mixture to the yeast mixture along with ⅓ cup honey, 2 eggs, salt and mix well till they are combined.
To this add 5 ¼ cup of flour and mix for 3 to 4 minutes. Cover it with plastic wrap and let it rise for 1 hour (the dough will be very sticky)
Step III
Uncover the dough, add the remaining flour and knead it to form soft and smooth dough.
Cover the dough in greased bowl and let it rise again for another 1 hour or until doubled in size.
Step IV
Transfer the risen dough to working surface and punch it and cut them into 25 equal pieces.
Now roll them into balls and place them on two lightly greased 9 inch pans.
Cover this using plastic wrap and let it rise for about 1.5 to 2 hours or until doubled in size.
Step V
Preheat the oven to 400 degree F.
I have applied egg wash just before baking to make it a little shiny. This is totally optional.
Bake it for about 14 to 17 minutes or until golden in color.
Meanwhile in a bowl, stir together 2 tablespoon honey and 2 tablespoon of melted butter.
Brush rolls with honey butter as soon as they are out of the oven.
Honey Butter Rolls are now ready. Serve with remaining honey butter and enjoy.
Tip:
The amount of flour required to make a soft and smooth dough after first rise may vary depending on the weather conditions and brand of flour
For more recent updates, follow me on Pinterest, Facebook, Instagram, Twitter, GooglePlus.
***Click below to save it on Pinterest***