Rice Chakli is a crispy and addictive savory deep fried snack prepared using rice flour and aromatic spices in less than 30 minutes. This recipe is vegan and gluten free.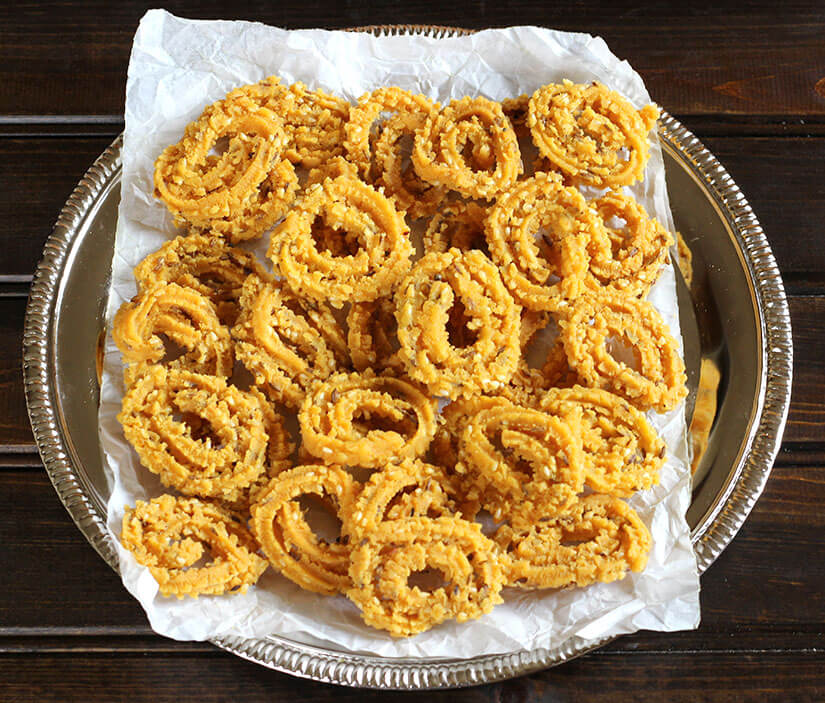 Chakli also called chakkuli, murukku, chakralu is prepared in variations in India. It mainly depends on the flour and proportions of it used in the recipe. During Ganesha Chaturthi this recipe is a must and offered to God in form of naivedyam in south-India. My grandmother, mom, as well as my mother in law prepare chaklis a week before the festival. Such recipes are mainly prepared ahead because it remains fresh plus the number of recipes that must be prepared on the day of Ganesha Chaturthi is really large 🙂 Even before the priest comes, everything should be ready 🙂
Along with Kayi holige / Coconut bread, I decided to prepare a savory snack for all my guests who will be visiting us next Monday. I have prepared an instant version of chakli recipe which is not only easy to make, but also irresistibly delicious with right amount of spiciness and flavors. So make sure you make a little extra than planned. All you need is a chakli press to prepare this snack. You can even use the piping bag with star nozzle. Also check out my baked version of chakuli.
Preparation time : 30 minutes
Serves : approx 20 to 30 chakkuli's depending on the size.
Ingredients for Rice Chakli
Rice flour - 1 cup
Cumin seeds - 1 tsp
Sesame seeds - 1 tbsp
Turmeric powder - ¼ tsp
Red chile powder - ¾ tsp
Salt - to taste
Coconut oil - 3 tbsp
Steps to prepare Rice Chakli
Step I
In a bowl, add rice flour, cumin seeds, sesame seeds, turmeric powder, chilli powder, salt to taste and mix well.
Heat the coconut oil and add it to the flour mixture. Mix it well using your hand so that flour gets well coated in oil.
To this add hot water little by little to form soft dough. The dough should be soft so that it does not break while making chakulis. I have used ½ cup and tablespoon of water. This may vary depending on the weather conditions and flour brand.  (check more in the tip section)
Step II
Grease the chakuli mould with oil. Put the prepared dough in the chakli press and start shaping it into spiral shape on a plastic sheet or parchment paper, moving from the center towards the outside. If you find it difficult to shape just make sticks from it.
Do not make everything at once. Instead do it in batches. Only 6 or 7 depending on the size of your pan. Else it is going to dry out and make your chakulis brittle.
Step III
Heat oil in a pan for frying on medium flame. At least 40 percent of the pan should be covered with oil. I used a 9 inch deep frying pan.
Once the oil is hot add the chakulis prepared in Step II and fry till they become golden and crispy on both the sides by flipping it once or twice occasionally.
Remove them using a slotted spoon and transfer it to absorb any excess oil.
Repeat the process for remaining dough.
Rice Chakli is now ready. Serve and enjoy. You can store it in air-tight container. It will remain fresh for at least 15 days.
Tips:
If you are making this for the first time, I would recommend you to do a small batch first. If the chakulis are getting brittle, then add additional oil to the dough.
If the dough is too soft, then adjust by adding more rice flour and if it is too stiff then adjust by adding water.
While you are preparing the chakli's using the press, remember to keep the remaining dough covered.
Always fry this on a medium flame to get it right. Do not fry on high flame, this will make your chakulis turn brown quickly and will taste bitter.
Vary the spices as per your taste.
You can even use the piping bag with star nozzle
Also check out the dessert and sweet recipe contest and win exciting prizes. For more recent updates, follow me on Pinterest, Facebook, Instagram, Twitter, GooglePlus. 
***Click below to save it on Pinterest***