Strawberry Cupcakes With Buttercream Frosting are classic, moist and delicious treats loaded with fresh strawberry flavors in both cupcakes and frosting. These are gorgeous with pretty pink color that symbolizes the fight against breast cancer and are perfect if you are participating along with me in Cook For The Cure #10000cupcakes campaign.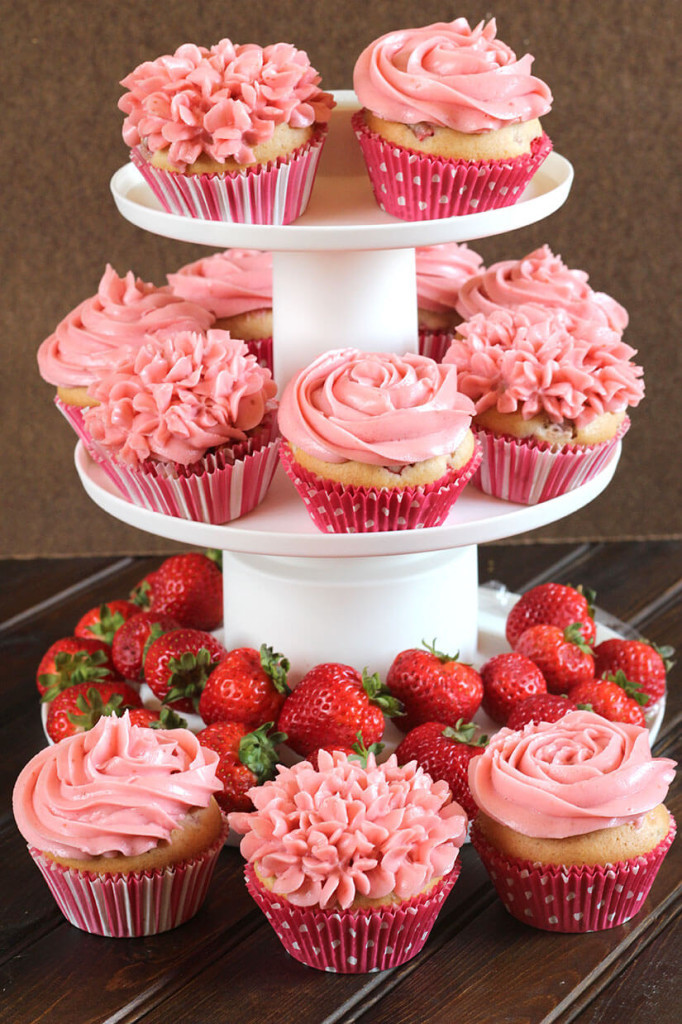 I have baked cupcakes for a good cause today. I would love all my friends and readers to bake your own cupcakes and support this great cause! If you post your cupcake photos on Twitter or Instagram with the hashtags #10000cupcakes, #CookForTheCure and #donate and tag @kitchenaidUSA, KitchenAid will donate $1 to support the fight against breast cancer. For more information visit their website.  Isn't that amazing. So please start baking and join me in this good cause today!
Cook for the Cure® gives people with a passion for cooking a way to support a meaningful cause. The program raises funds and awareness for the fight against breast cancer. From pink products and celebrity chef auctions to home-based fundraising events, this partnership between KitchenAid and Susan G. Komen® has raised over $10.7 million in the past 15 years.
You can also host a party to benefit the Cook for the Cure cause. Whether it' an office potluck, a family cookout or weekend brunch, encourage your guests to donate to Susan G. Komen instead of buying any flowers or wine or any other gifts. You can check here for party ideas.
You can also enter KitchenAid stand mixer giveaway on from 10/1-10/16. During that time frame, KitchenAid will giveaway 3 cranberry-colored stand mixers. The form will go live on KitchenAid website.
Also visit KitchenAid and enter into a sweepstakes and a chance to win a PINK KitchenAid mixer! If you are looking for great appliances, you can purchase Cook For The Cure KitchenAid products at hhgregg.
Come join me in the campaign to fight breast cancer by baking the cupcake recipe given below. This simple yet perfect and delicious recipe can be prepared in no time using few basic ingredients. The strawberry puree ensures that your cupcakes are full of natural strawberry flavor and also imparts a beautiful light pink color to the cupcakes. In addition to the puree, strawberry chunks are also added to give a WOW factor in every single bit. I have added oil to keep the cupcakes moist. Strawberry buttercream, which is my family's all time favorite, is used to frost the cupcakes. Do try out this recipe and let me know how it turned out.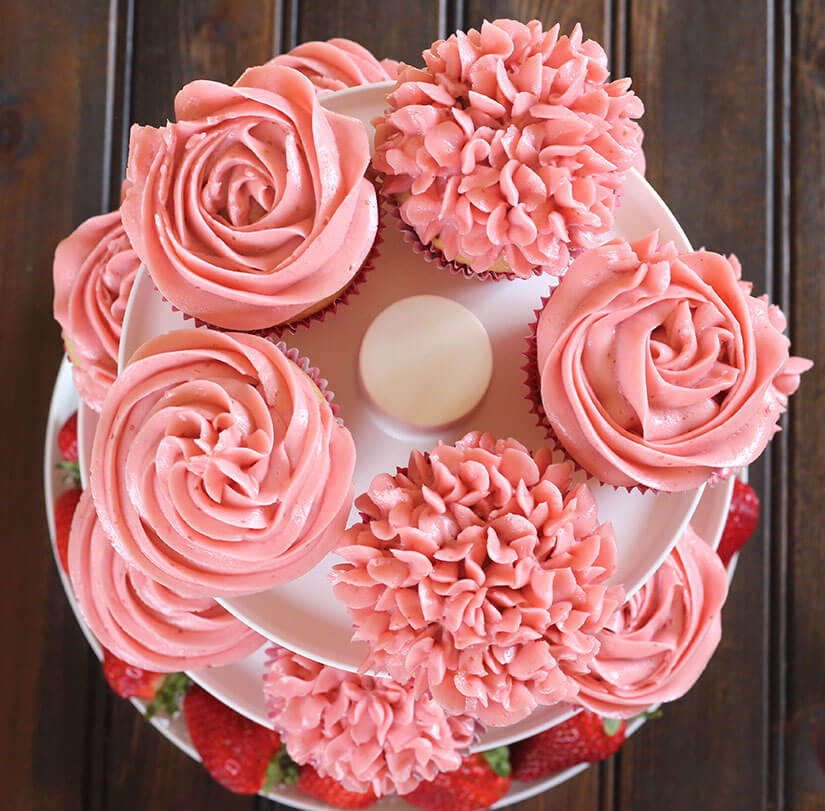 Preparation time : 1 hour
Serves : 12 cupcakes
Ingredients for Strawberry Cupcakes With Buttercream Frosting
For the cupcakes
White sugar - ¾ cup
Egg - 1
Egg whites - 2
Vegetable oil - ½ cup
Strawberry puree - ⅓ cup
Vanilla extract - 1 tsp
Milk - ¼ cup
All purpose flour / Maida - 2 cups
Baking powder - 1 tsp
Baking soda - ¼ tsp
Salt - ¼ tsp
Strawberries chopped into chunks - ¾ cup
For buttercream frosting
Strawberry puree - 1 cup
Egg whites - 4
Sugar - ¾ cup
Confectioners sugar - 1 cup
Vegetable shortening - ¾ cup
Unsalted butter, softened - 1 cup
Salt - a pinch
Vanilla extract - 2 tsp
Red food color (gel) - 2 drops
Steps to Prepare Strawberry Cupcakes With Buttercream Frosting
Prepare Cupcakes
Preheat the oven to 350 degree F.  Line cupcake (or muffin) tins with liners and keep it aside.
In a large bowl, beat together one whole egg, egg whites and sugar until light and fluffy. To this add vegetable oil, strawberry puree, vanilla extract, milk and continuing beating till well combined.
To this stir in flour, baking powder, baking soda and salt. Do not over mix. Finally fold in the chopped strawberries.
Fill each cupcake tins with the batter till they about 75 percent full.
Bake for about 25 minutes or until a toothpick inserted comes out clean.
Let it cool down for at least 30 minutes before frosting
For Buttercream frosting
In a pan on medium heat cook strawberry puree for about 6-8 minutes and let it cool completely. It should be at room temperature before it can be used further in the recipe. This cooking step ensures that the strawberry flavors and colors get concentrated.
In a large bowl add four egg whites and fine granulated sugar, and cook using double boiler method by stirring continuously for about 2-3 minutes or until the sugar completely dissolves and mixture turns pale white. If you are using a thermometer, the temperature should range between 100 to 120 F. Remove from the boiler and let it cool for 5 minutes.
Next, using a hand held beater, beat the egg white mixture to form stiff peaks.
Add confectioners sugar and whisk gently till combined.
Then add softened room temperature butter and vegetable shortening in batches and whisk for about 3-4 minutes or till it gets smooth and shiny.
To this add cooled strawberry puree and vanilla extract and whisk for 2 minutes.
Fill the piping bag fitted with your favorite frosting nozzle / tip and decorate the cupcakes as desired. Serve and enjoy!
Tip:
I have used fine granulated sugar.
For strawberry puree, place strawberries in a blender and blend until smooth. 6-6 large sized strawberries will yield you 1 ⅓ cup puree.
For double boiler method, if temperature goes beyond 120 F, egg whites will scramble and you will have to throw it away and start fresh. I stop the cooking process when egg white mixture feels luke warm to touch and sugar is completely dissolved.
Buttercream frosting will remain fresh at room temperature for about 4 days, and will store in refrigerator for about a month.
Upon adding fat (butter and shortening) and whisking if the buttercream mixture curdles, do not worry! Continue to whisk for some more time and eventually it will come together.

For more recent updates, follow me on Pinterest, Facebook, Instagram, Twitter, GooglePlus. 
***Click below to save it on Pinterest***