Banana Doughnut Holes is a sweet, fluffy and melt in mouth recipe loaded with full of flavors that will be loved by people of all age groups.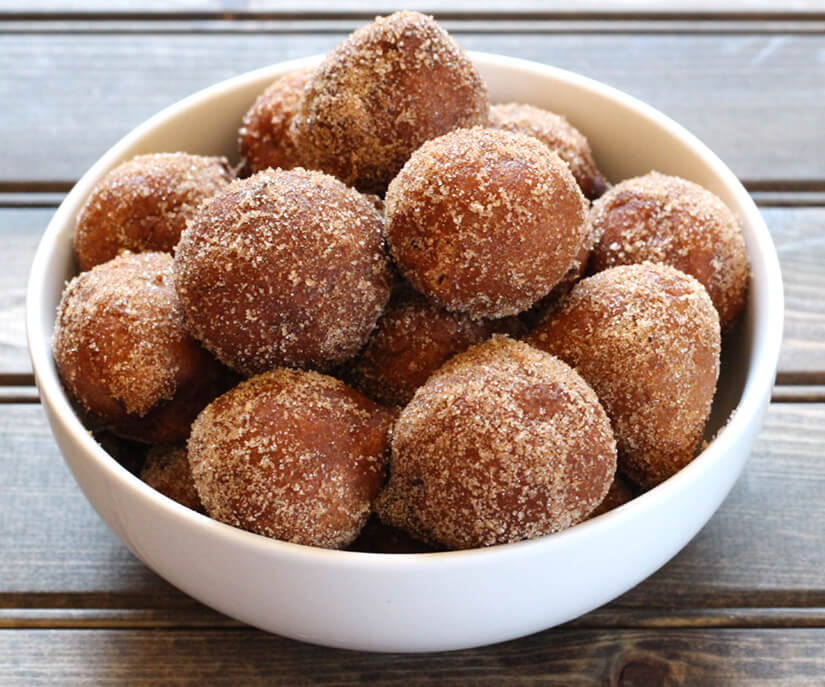 These can be served for morning breakfast or any time of the day with a cup of coffee. I am sure you are going to love making this as it is simple, can be prepared in less than 30 minutes. No yeast is added and thus no rising or rolling.
I had over riped banans in my pantry and wanted to try something different from Indian cuisine and ended up making these beautiful and incredibly delicious, irresistible donut balls. This recipe yields 30 doughnut holes and it got over in matter of few seconds. It's hard to believe but I had to prepare another batch 🙂
For eggless version you can try out banana modak. This is tried and liked by many of my readers.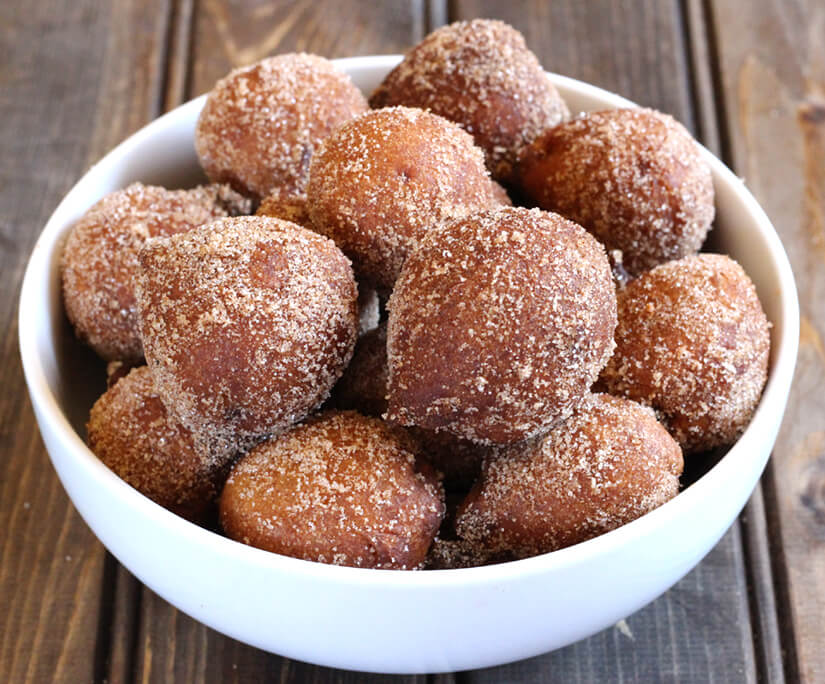 Preparation time : 30 minutes
Serves : 30 doughnut balls
Ingredients for Banana Doughnut Holes
All purpose flour – 1 cup + 2 tbsp
Cinnamon powder – 1/2 tsp
Salt – 1/2 tsp
Baking powder – 1 tsp
Brown sugar – 1/4 cup
Vanilla extract – 1 1/2 tsp
Egg – 1
Milk – 1/4 cup
Over riped banana – 1 mashed
Oil – for frying
For the coating
Sugar – 2 tbsp
Cinnamon powder – 1 tsp
Steps to prepare Banana Doughnut Holes
Step I
In a bowl, add egg, milk, vanilla extract and whisk until smooth.
Now add all purpose flour, cinnamon powder, salt, baking powder, brown sugar and mix well.
Finally add the mashed banana and mix to form a medium thick batter.
Step II
Meanwhile heat oil in a pan for frying.
Once the oil is hot, drop tablespoon or teaspoon of the batter into the oil depending on the desired size. Do not overcrowd the pan as they will expand when fried.
Flip them in oil for about 2 to 3 minutes or until they are brown.
Transfer it to paper towel to absorb excess oil.
Step III
In a bowl, add sugar and cinnamon powder and mix well.
Roll each donut holes in this sugar cinnamon mixture.
Banana Doughnut Holes is now ready. Serve immediately and enjoy.
Tips:
Check out eggless version : banana modak.
Vary the sweetness in the recipe as desired.
See that the oil is not too hot or too cold. If its too hot then the donut will turn dark brown very quickly and will not be cooked inside, and if its too cold it will absorb excess oil.
To check if the oil is hot, just drop a little piece of the batter mix and check if it sizzles and comes up.
Do not overcrowd the pan as they will expand when fried.
For more recent updates, follow me on Pinterest, Facebook, Instagram, Twitter, GooglePlus. 
***Click below to save it on Pinterest***