Cauliflower Potato Pie or Tandoori Pie is a delicious pie that is hearty and satisfying with a crispy crust loaded with flavorful filling. This will be a super hit at your dinner table this Holiday season. This is so tasty that I am sure you will prepare it throughout the year. The recipe is vegan, flourless and gluten free.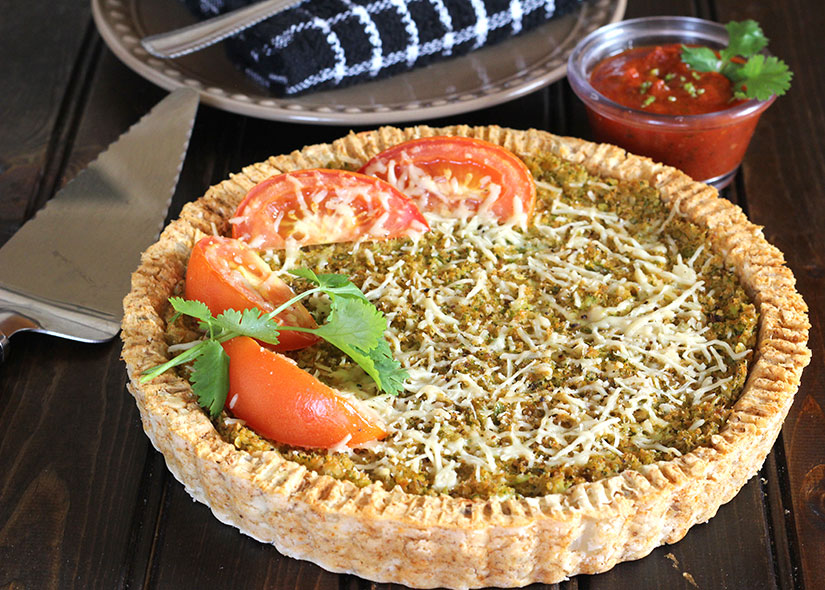 The pie crust is made using potato and beans. Blind baking the crust prior to adding the filling avoid it from becoming soggy. At the end of the baking process the crust achieves perfect level of crispiness and your home fills with wonderful aroma of baked potatoes and roasted spices. The pie filling consists of finely chopped (or grated) cauliflower and broccoli, both when baked take any dish to the next level. If you are looking for meatless recipe to serve as a main dish this Holiday season or for upcoming Thanksgiving, Christmas or any holiday party you should definitely give this recipe a try. It a truly delightful way to include cauliflower and broccoli in your diet.
Many of my close friends and colleagues are vegetarians, and surprisingly its quite the opposite when it comes to my husbands circle. Therefore whenever I invite my friends for lunch or dinner I am always on the lookout to for interesting vegan recipes. About a year back I had stumbled upon a delicious vegan pie recipe and I had immediately tried it my own variations and my husband loved it very much.
Since then I have experimented with similar pies using several types of crusts and filling. The version below is my husbands favorite, as the flavors are bold and refreshing, and the crust is nice and crispy. He had picked this as the main vegetarian dish for a recent dinner party, and luckily I had prepared more than one pie. It was such a big hit that everyone went for second servings.
Well, since Thanksgiving is around the corner I thought this recipe would be helpful for all those who are looking out for vegan and gluten free entree recipes to wow your guests. This cauliflower potato pie is so hearty and comforting that it can be prepared even for a weekend brunch. I have used great northern beans in the recipe, but feel free to use any beans of your choice. For the filling I have combined broccoli and cauliflower this time, but the first time I prepared it, I remember I had only used cauliflower and some cheese. I have also tried using other veggies as filling, and believe me the recipe is very forgiving. For the crust, I have experimented with sweet potato crust, cauliflower crust, to name a few – they all tasted great in their own way! Do give this recipe a try and do not forget to let me know how it turned out.
Preparation time :1 hour
Serve : one- 9 inch pie
Ingredients for Cauliflower Potato Pie
For the base
Medium potatoes – 2
Cooked / Canned Great Northern beans – 3/4 cup (or any beans of your choice)
Salt – 1 tsp
Tandoori masala – 1 tsp
Red Chile powder / Paprika – 1 tsp
For the filling
Broccoli – 1/4 of medium
Cauliflower – 1/4 of medium
Green chile / Serrano pepper chopped – 1
Garlic powder – 1/2 tsp
Red chile powder/ Paprika – 1/2 tsp
Butter / Vegan butter / Oil – 2 tbsp
Salt – 1/2 tsp
For garnish and side
Chopped tomatoes – 1/2
Cilantro / Coriander leaves – 2 strands
Parmesan cheese / Vegan cheese – 2 tbsp
Pasta sauce – 1/2 cup
Steps to prepare Cauliflower Potato Pie
Step I
I have soaked and pressure cooked great northern beans for this recipe. You can use even canned ones. Also feel free to use any beans of your choice. (see tip)
Peel and chop potatoes to medium chunks. Cover it with lid and cook it in a microwave safe bowl for about 4-5 minutes.
Step II
Preheat the oven to 375 degree F.
In the bowl, add the cooked potatoes, beans, salt, tandoori masala, and red chilli powder.
Using a potato masher (or hands), mash until smooth.
Grease a tart (or pie) pan with butter or oil and lightly dust with flour.
To the greased tart pan, transfer the mashed potato and bean mixture. Using your fingers spread the mixture to form a base (and sides) approx 5 mm thick.
Spread a parchment paper large enough to cover the base and sides of the pie crust. Fill with baking beans (or uncooked rice) and blind bake this for about 15 minutes. Then, remove the baking rice and parchment paper, and continue to bake for another 5 minutes.
Step III
While the base is baking, finely chop florets of cauliflower and broccoli in a food processor. It should have the texture of broken rice or coarse semolina.
Transfer this to a non-stick pan on medium high heat, along with 2 tbsp of butter.
Add chopped green chilli, garlic powder, red chilli powder, and saute for about 8-10 minutes. Remove from heat.
Once the base is ready, remove it from oven.
Spread the filling on top of the crust, Now bake this in 350 F preheated oven for 20 minutes.
Immediately garnish it with chopped cilantro, and grated vegan (parmesan) cheese.
Allow it to cool for 10 minutes before serving.
Cauliflower Potato Pie is now ready. Serve this with some extra fixings of tomatoes, freshly grated vegan parmesan cheese, and some spicy pasta sauce.
Tip:
If you do not have canned beans soak 1/2 cup dry-beans for 6-8 hours, preferably overnight. Cook on medium heat in a pressure cooker (with water approx 2 cups of water) for 2 whistles. Remove from flame and let the pressure release completely on its own while cooling.
You can use black beans, chickpeas, black eyed peas….
You can also cook the potatoes in pressure cooker along with the beans or in a pot.
Vary the spices as per your taste
You can even skip broccoli and add only cauliflower to the pie.
If you like a very cripsy crust then bake for some additional 5 or 10 minutes.
To make a spicy pasta sauce, add a pinch of cayenne, garlic powder, and salt to regular pasta sauce and simmer it in a pan on medium high heat for 2-3 minutes. .
For more recent updates, follow me on Pinterest, Facebook, Instagram, Twitter, GooglePlus. 
***Click below to save it on Pinterest***