Mushroom In Garlic Cream Sauce is a easy to make, creamy, flavorful and extra delicious recipe ready in less than 25 minutes. This dish can be served alone, with toasted bread, seafood or with your favorite pasta.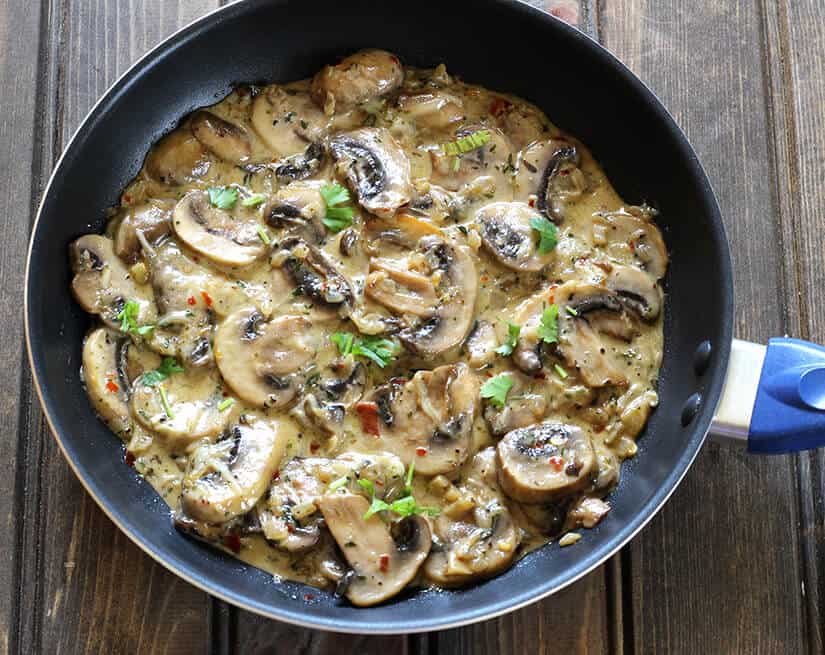 The mushroom and garlic roasted in olive oil, the flavor of herbs combined with cream and parmesan cheese will simply make you go crazy! This recipe is a win for all garlic and mushroom lovers.
If you are mushroom lover like me you may also like other recipes :
Preparation time : 25 minutes
Serves : 3 – 4
Ingredients for Mushroom In Garlic Cream sauce
Olive oil – 2 1/2 tbsp
Mushroom – 8 oz
Garlic cloves finely chopped – 6 to 8
Onion chopped – 1/2
Fresh or dried thyme – 1/2 tsp
Dried parsley – 1/2 tsp
Dried oregano – 1/4 tsp
Red pepper flakes – 1/2 tsp
Cream – 1/3 cup
Parmesan cheese – 2 1/2 tbsp
Salt – to taste
Black pepper powder – to taste
Cilantro / Parsley – for garnish (optional)
Steps to prepare Mushroom In Garlic Cream sauce
Step I
Using a damp paper towel, just clean the mushroom to remove any dirt.
Now chop the mushrooms lengthwise.
Step II
In a non-stick pan, add olive oil and garlic cloves and saute in medium flame till garlic becomes golden in color.
Now add the onion, pinch of salt and saute till onion becomes translucent.
Next add the chopped mushrooms and saute for 5 to 7 minutes till they are cooked and develop some color.
Step III
Add thyme, parsley, oregano, pepper flakes, cream, salt and pepper powder and bring this to a nice boil.
Finally add the grated parmesan cheese and mix. Garnish it with cilantro or parsley if desired.
Mushroom In Garlic Cream Sauce is now ready. Serve hot and enjoy.
Tip:
Vary the herbs and other ingredients as per your taste.