Chocolate Chip Cake and Cupcakes are classic, rich and deliciously moist individual sized treats topped with chocolate glaze making it absolutely divine. Easy to make and easy to eat! Perfect for birthday parties, picnic, quick snack or dessert, lunchbox treats. Impress your family and friends with these yummy chocolatey treats.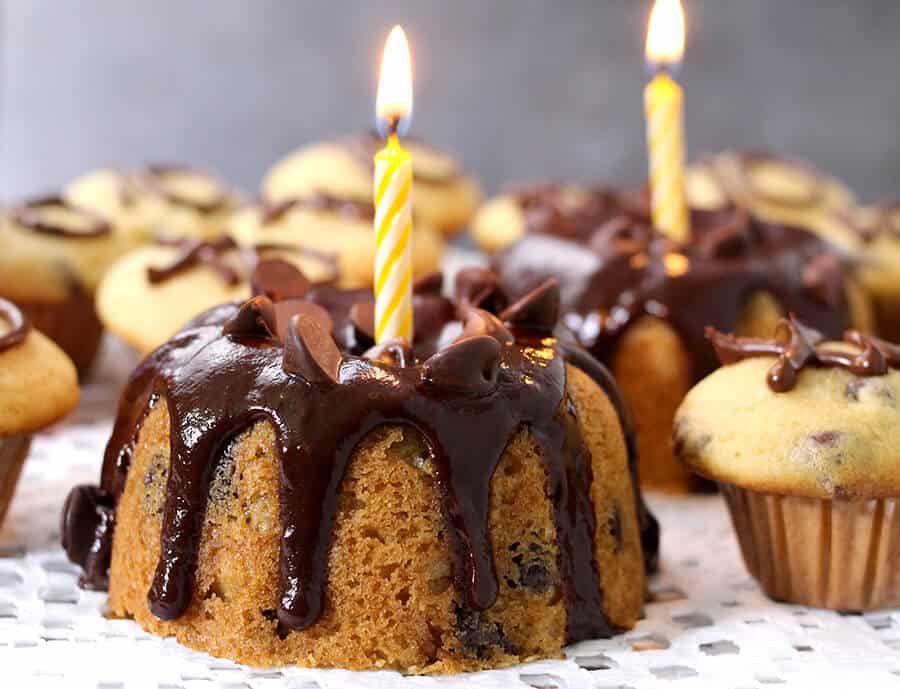 Hope you had great 4th of July. We had fun all day long - although it was extremely hot outside. Good food, drinks, games with kids and fireworks. A day well spent. My friends loved peach fritters and berry pie. But what they loved the most was the drink that I prepared using cranberries. Stay tuned.. I will soon be sharing the recipe for the same with you all.
Coming back to these goodies, if you are wondering about the number 10 and xoxo on the cupcakes, my little one turned 10 months old few days back. We celebrate his birthday every month with some baked treats, new set of dress, toys, and a photo shoot. This time we baked these goodies for him.
These chocolate chip cakes would be great on days when you need a quick dessert fix, or when you crave for little chocolate with your cake but not a cake loaded with lots of chocolate.
If you ask me what is special about these cupcakes? I have used sour cream in the recipe which makes this cake extremely moist. You can replace sour cream with yogurt but make sure it's full fat one. I personally love and prefer the one with sour cream. To get the perfect level of sweetness, I have added both sugar and brown sugar. Make sure butter and egg is at room temperature so that the batter is smooth. You can use any other ingredient instead of chocolate chips like walnuts, pecans, almonds, etc.
I have used Ghirardelli® semi-sweet chocolate baking chips in both batter and glaze. The consistency of the ganache may vary depending on the amount of chocolate chip added. More the chocolate thicker will be your ganache. I have baked 2 mini cakes and 16 cupcakes. You can either prepare 6 mini cakes or even bake it in a 9 x 9 baking pan or make full batch of mini cupcakes. The time to bake may vary accordingly.
You can also check out my other chocolate recipes here:
Preparation time : 30 minutes
Serves : 2 mini cakes, 16 cupcakes
Follow me on Instagram and tag me with #cookwithkushi so that I get a chance to see all the recipes you make and give it a ♥.
Ingredients for the Chocolate Chip Cake and Cupcakes
Butter softened - ¼ cup
Vegetable Oil - ¼ cup
Brown Sugar - ½ cup
Sugar - ¼ cup
Eggs - 2
Vanilla extract - 1 tsp
Sour Cream - ⅔ cup
All purpose flour - 1 ½ cup
Salt - ½ tsp
Baking powder - 1 tsp
Baking Soda - ½ tsp
Chocolate chips - 1 cup (I have used from Ghirardelli® Semi-Sweet Chocolate Baking Chips)
For the Ganache / Glaze
Chocolate Chips - ⅓ cup
Heavy cream - ¼ cup
Steps to prepare Chocolate Chip Cake and Cupcakes
Step I
Preheat the oven to 350 degree F.
In a large mixing bowl add softened butter, oil, brown sugar, sugar and cream together using a hand held mixer / whisk.
Next add eggs, vanilla extract, sour cream and continue whisking until light.
Now add all the dry ingredients i.e., four, salt, baking powder, baking soda and mix until just combined. Do not over mix.
Fold in chocolate chips until evenly distributed in the batter.
Step II
Fill mini fluted pans or mini bundt pans with the batter and bake in a oven for 20 -24 mins, or until a tooth pick inserted into the center comes out clean. I have filled two mini fluted pans, and 16 mini cups. The cupcakes took about 13-15 mins to bake.
Remove the mini cakes from mold after 5 minutes and let it cool completely before you pour the glaze.
Step III (For Chocolate Ganache / Glaze)
For the cupcakes, I have simply decorated using melted chocolate in a piping bag. You can simply garnish it with some more chocolate chips if desired!
Chocolate Chip Cake and Cupcakes are ready. Enjoy!!
For more recent updates, follow me on Pinterest, Facebook, Instagram, Twitter, GooglePlus.
***Click below to save it on Pinterest***