Dal Fry is a very delicious, irresisitable and a popular North Indian dish prepared using split yellow lentil / toor dal, onion, garlic cloves, tomatoes and spices. This dish is vegan and gluten free and tastes the best when served with Jeera Rice, Flatbread / Naan or any Indian bread.
The taste of this dish depends on the amount of garlic you add and sauteing the garlic and onion till they become translucent. If this step is done perfectly then the dish is a super hit 🙂  I prepare this dish frequently at home as my family loves it. This is a very comforting food and easy to prepare.
Preparation time : 30 minutes
Serves : 5
Ingredients for Dal Fry
Split Yellow Lentil / Toor dal - 1 cup
Onion  chopped - 1
Ginger grated - 1 inch
Green chiles chopped  - 4
Garlic cloves chopped - 10
Tomato chopped - 2
Turmeric powder - ¼ tsp
Red chilli powder - 1 tsp
Garam masala powder - 1 tsp
Kasuri methi / Dried fenugreek leaves - 1 tsp
Cumin seeds - 1 tsp
Butter - 2 tablespoon (vegan version use vegetable oil )
Salt - to taste
Coriander leaves - for garnish
Steps to prepare Dal Fry
Step I
Wash and pressure cook the toor dal for 2 to 3 whistles. Water should be at least ½ inch above the toor dal. Let the first whistle be on high flame and the remaining two in medium flame.
You can also cook the yellow lentil in pan adding water. This will take longer time.
Now just whisk the lentil / dal and keep it aside.
Step II
Heat butter in non-stick pan. Add cumin seeds and saute for few seconds.
Now add the onions, pinch of salt and saute till it becomes translucent
When the onions are translucent, add garlic cloves, ginger, green chillies and saute till the garlic becomes light in color.
Step III
Add the tomatoes and saute till it becomes soft.
Step IV
Now add the cooked dal, garam masala powder, red chilli powder, turmeric powder, salt to taste and water for desired consistency and bring it to nice boil.
Finally add the kasuri methi and mix well. Switch off the flame.
Dal Fry is now ready. Garnish it with coriander leaves, serve while its hot and enjoy.
Tip:
This gravy thickens as it cools down. so add water and bring it nice boil before serving.
If you want it spicy, increase amount of green chilis or red chili powder.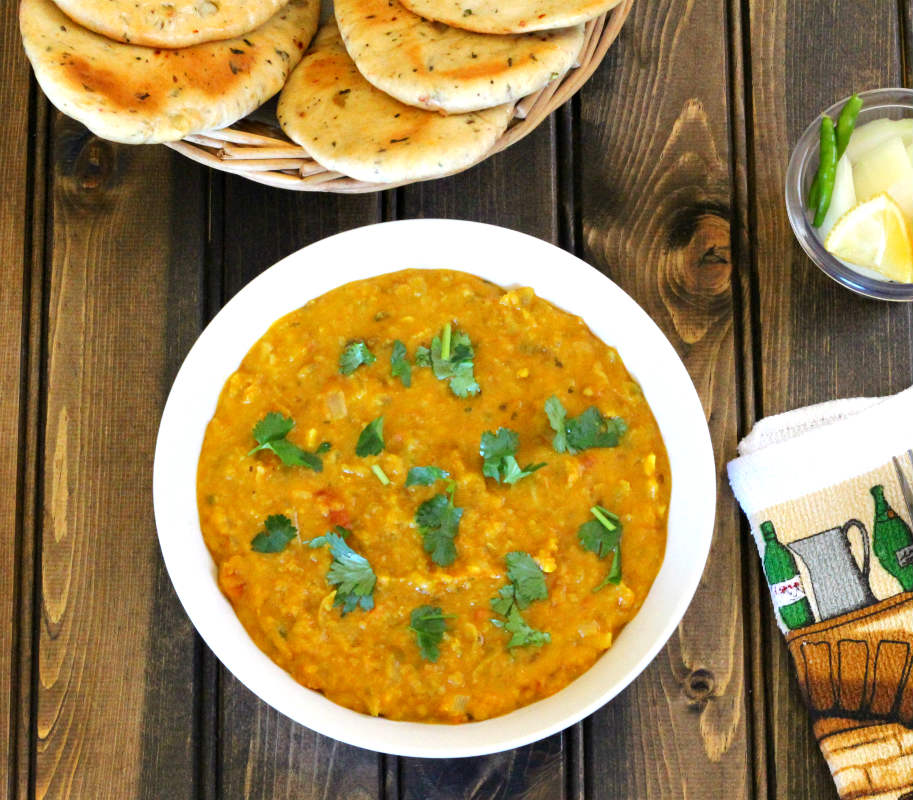 Dishes that go well with Dal Fry:
| | | |
| --- | --- | --- |
| | | Cashew Coriander Rice |
| | | Yellow Jeera Rice |