Flavored Flatbread is a very easy to make, irresistible and a tasty bread recipe prepared using all purpose flour, wheat flour and spices. This can be served alone or with any curry of your choice for breakfast / lunch / dinner.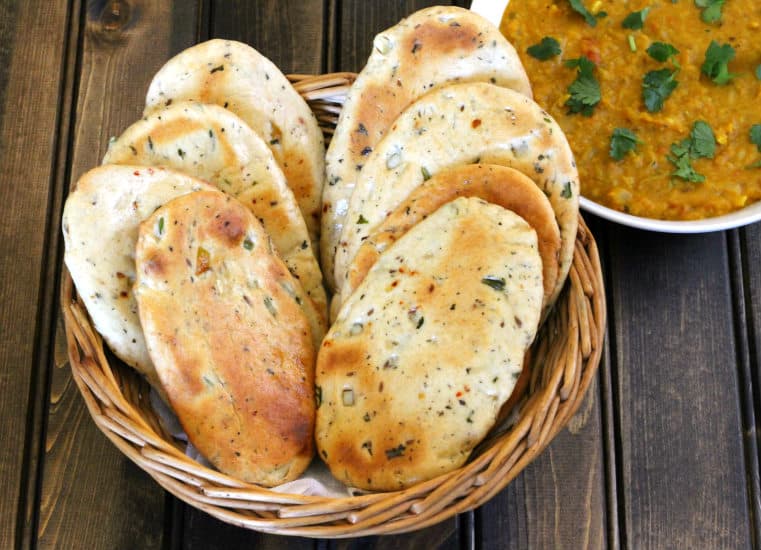 My family loves Naan and Kulcha and today I wanted to try out a new variation to it and ended up preparing this flavored flatbread. I tried cooking them both on the oven (tandoor) and stove top. Only difference was I rolled it medium thick when cooking in tandoor and thin on tava / griddle. Both gave good results. To make it more healthier I have used wheat flour. You can make this only with all purpose flour if desired.
Preparation time : 2 hours
Serves : around 15 small flatbreads
Ingredients for Flavored Flatbread
All purpose flour - 2 cups
Wheat flour - 1 cup
Salt - 1 ½ tsp
Sugar - 1 tsp
Active dry yeast - 1 packet (7g)
Olive oil - 1 ½ tbsp
Warm water - ½ cup
Warm milk - ¼ cup
Coriander leaves - 5 strands
Dried Mint leaves - 1 tsp
Garlic cloves - 5
Ginger - ½ inch
Green chilli - 3
Red pepper flakes - ½ tsp
Butter / Olive oil - 3 tablespoon to brush the cooked flatbreads
Steps to prepare Flavored Flatbread
Step I
In bowl, add warm water, sugar, active dry yeast, salt, olive oil and mix. Let it sit for about 15 minutes till the yeast activates. This mixture will bubble.
Step II
Finely chop the coriander leaves and green chillis. Grate the garlic cloves and ginger.
Add this finely chopped ingredients to the yeast mixture along with other ingredients (all purpose flour, wheat flour, mint leaves, red pepper flakes) and mix using a wooden spoon to form soft dough.
Knead it for 5 minutes on the lightly floured surface. Place the dough on the bowl cover it and keep it in warm place for 1 hour or until it is doubled.
Step III
Preheat the oven to 500 degree F.
To make the flavored bread, dust the working surface. Take small ball of dough and roll it to the desired shape with medium thickness.
Place this on the baking tray and repeat the process for remaining dough.
Switch the oven to broil mode.
Bake the flatbread for 1 to 2 minutes and then flip on the other side and bake for few seconds.
Remove and brush it nicely with butter.
Flavored Flatbread is ready. Serve hot and enjoy.
For tava/griddle:
Take small ball of dough and roll the way you make naan.
Once the tava / griddle is hot cook the bread using butter on both the sides till they become golden in color.