Dum Aloo Vindaloo is a easy, delicious curry in which the potatoes are cooked in gravy prepared using freshly blended spices and tomatoes. It is then tempered with roasted cumin and garlic.
I had great vacation this summer visiting west coast of USA. We visited a Indian restaurant this time and it was when I tried this curry. I love dum aloo and vindaloo (anything with potatoes 🙂 ).This was combination of both. We had this with naan and plain rice. It was really very delicious. My family loved it.
I was waiting to replicate this curry at home and the outcome was a big hit, it was very simple to prepare. I felt its worth sharing with my friends and here is my recipe. Try this out and serve it with any Indian bread or with plain rice for lunch / dinner.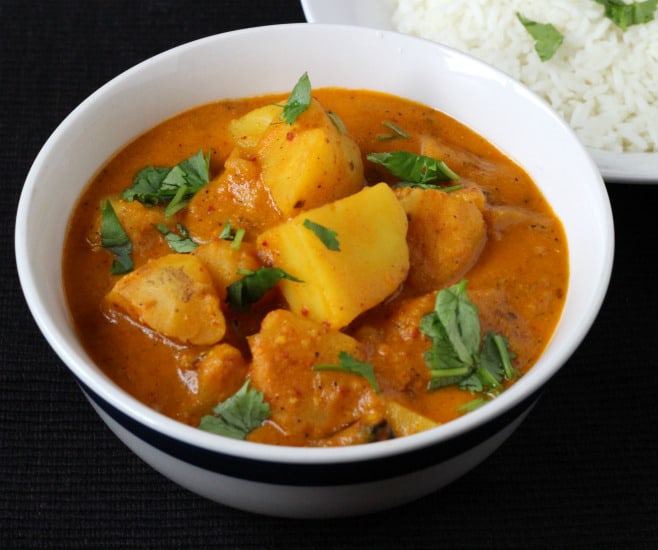 Preparation time : 25 minutes
Serves : 3
Ingredients for Dum Aloo Vindaloo
Potatoes - 5
Cumin Seeds - 1 tsp
Garlic cloves - 5
Asafoetida / Hing - ⅛ tsp
Dry Red Chilli - 1
Vegetable Oil - 1 ½ tbsp
Yogurt / Curd - 1 ½ to 2 tbsp
Salt to taste
For the Gravy
Tomatoes - 2
Dry Red Chilli - 5
Ginger - 1 inch
Garlic cloves - 5
Peppercorns - 1 tsp
Cumin seeds - 1 tsp
Coriander Seeds - 1 tsp
Turmeric Powder - ½ tsp
Cloves - 2
Cinnamon - 1 inch
Cashews broken - 1 tbsp
Fenugreek seeds / Methi - 5 seeds (for flavor)
Fennel seeds - ½ tsp
Water
Steps to prepare Dum Aloo Vindaloo
Peel the skin of potatoes, cut them into cubes and wash them. keep it aside.
Grind all the ingredients mentioned in 'For the Gravy' adding cup of water to form smooth paste.
Transfer this ground paste to pan, add the potatoes, salt to taste, adjust the water as per the desired consistency and bring it to nice boil. Cover with lid and cook in medium flame for about 10 minutes till the potatoes are cooked stirring it occasionally.
Gravy thickens as it boils. Add the yogurt and water if required at this stage and cook for another 2 to 3 minutes. Switch off the flame.
Meanwhile prepare the tempering : Heat oil in pan. add cumin seeds, hing, dry red chilli, crush and add the garlic cloves and saute in medium flame till garlic turns light golden in color.
Add this tempering to the curry and mix well.
Dum Aloo Vindaloo is now ready. Garnish it with coriander leaves, Serve hot with rice or any bread and enjoy.