Dry Fruit Cookies are crispy and melt-in-mouth decadent cookies, that are eggless and super easy to make. They have the right amount of sweetness, dry fruits give these cookies perfect crunch, bite and nutty flavor. Thus making it a perfect snack to bring to your parties and surprise your family and friends.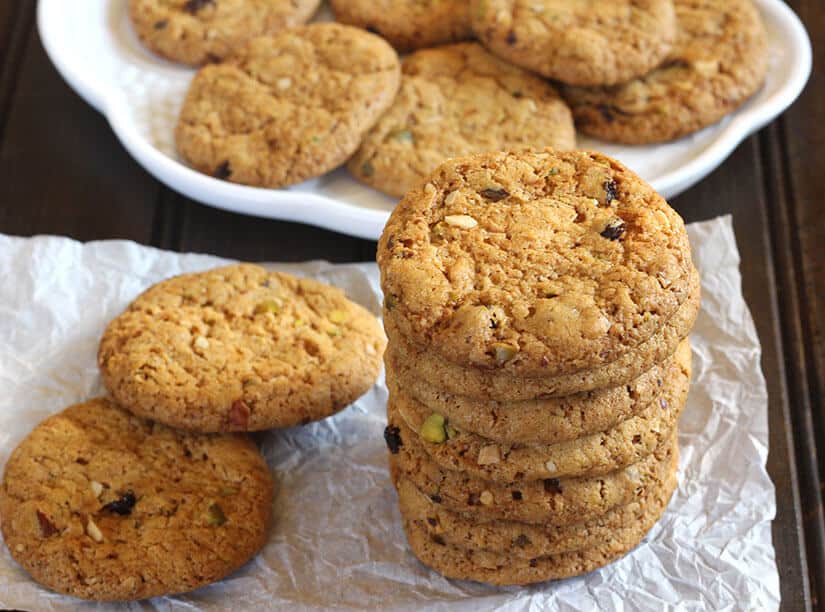 My husband loves to have a good time with his colleagues specially during lunch/tea breaks. His colleagues come from different parts of the world and he strongly believes that food is what unites all of them. Whenever I prepare some snacks at home, he always takes a batch for them; and at the same time he has lot of good things to say about food others bring in. Whenever we have his friends and their family over for dinner, or when we visit them the most common scene is of ladies exchanging recipes with each other. We do have a good time discussing our recent kitchen experiments, and of course all the bloopers!
Sometime last month I had prepared a big batch of dry fruit cookies for an office party. All I remember was the boxes in which I had packed them came back empty and I totally forgot to ask about it. However, last Friday when I met one of our friends, Helen, at the grocery store I was reminded again about those cookies.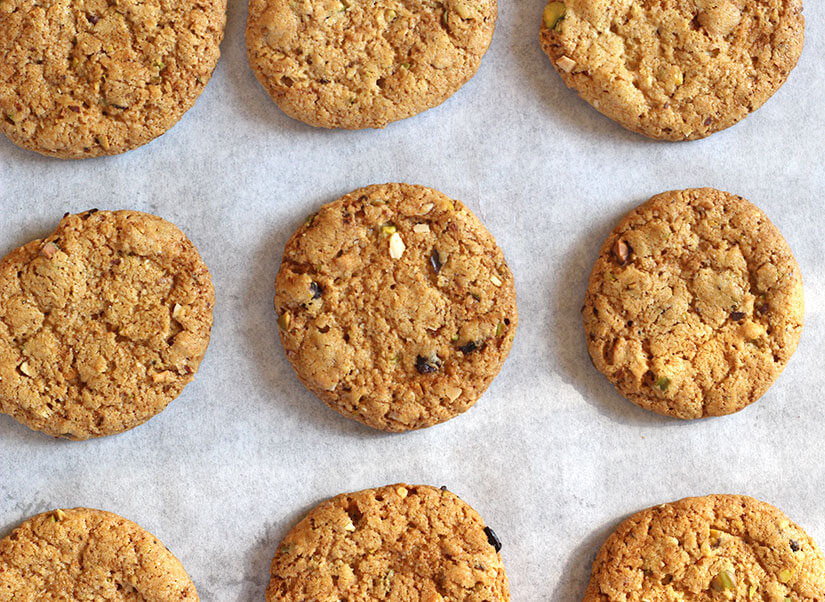 Apparently her kids loved the cookies, that she planned to make a batch at home and was requesting for the recipe. Unfortunately, I did not remember the proportion of the ingredients on the top of my head, so I ended calling her back to give the recipe once I reached home. Just this morning I got a call from her telling me how big a hit the cookies were with not only her kids but also with her in-laws. That is when I thought of making a separate batch for the blog, so as to share the recipe with all of you. These cookies are super simple to make, taste wonderfully delicious, they stay fresh and crispy for at least a week when stored in an air tight container. The nutty flavor of the dry fruits, the bite from the raisins and the sweet aroma of cardamom will make you addicted to these cookies. Do prepare a batch immediately and let me know know how it turned out.
You can also make this recipe vegan. Just substitute butter with vegetable shortening. While you are here do not forget to check out  spicy butter biscuits, nankhatai / shortbread biscuits.
Preparation time : 40 minutes
Rest time : 30 minutes
Serves : 15 cookies
Ingredients for Dry Fruit Cookies
Butter - ⅔ cup (for vegan version use vegetable shortening)
All purpose flour / Maida – 1 ½ cup
Baking soda – ¾ tsp
Sugar – ¾ cup
Cardamom powder – ½ tsp
Salt – a pinch
Almonds finely chopped - 4 tbsp
Pistachios finely chopped - 4 tbsp
Raisins finely chopped - 1 tbsp
Steps to prepare Dry Fruit Cookies
Step I
In a bowl combine all the ingredients mentioned above to form a dough.
Note that I have not added any water for the dough. Butter binds everything together.
Cover it and keep it in refrigerator for atleast 30 minutes.
Step II
Preheat the oven to 300 degree F / 148 degree C.
Form lemon size balls from the dough and place it in a baking tray lined with parchment paper or on silicon mat.
Bake it for about 25 to 30 minutes or until it is crispy and done. Baking time may vary depending on the size of the cookie balls. So keep checking from 15 minute mark 🙂
Allow it to cool down atleast for about 10 – 15 minutes.
Dry Fruit Cookies are now ready. Serve with cup of coffee or tea and enjoy.
Tip:
You can also add in cashew nuts, cranberries or any nuts combination of your choice if desired.
Also check out the dessert and sweet recipe contest and win exciting prizes. For more recent updates, follow me on Pinterest, Facebook, Instagram, Twitter, GooglePlus. 
***Click below to save it on Pinterest***