This post is all about the list of the best Indian desserts and sweets recipes that you can easily make at home for any festival, special occasion, or dinner party.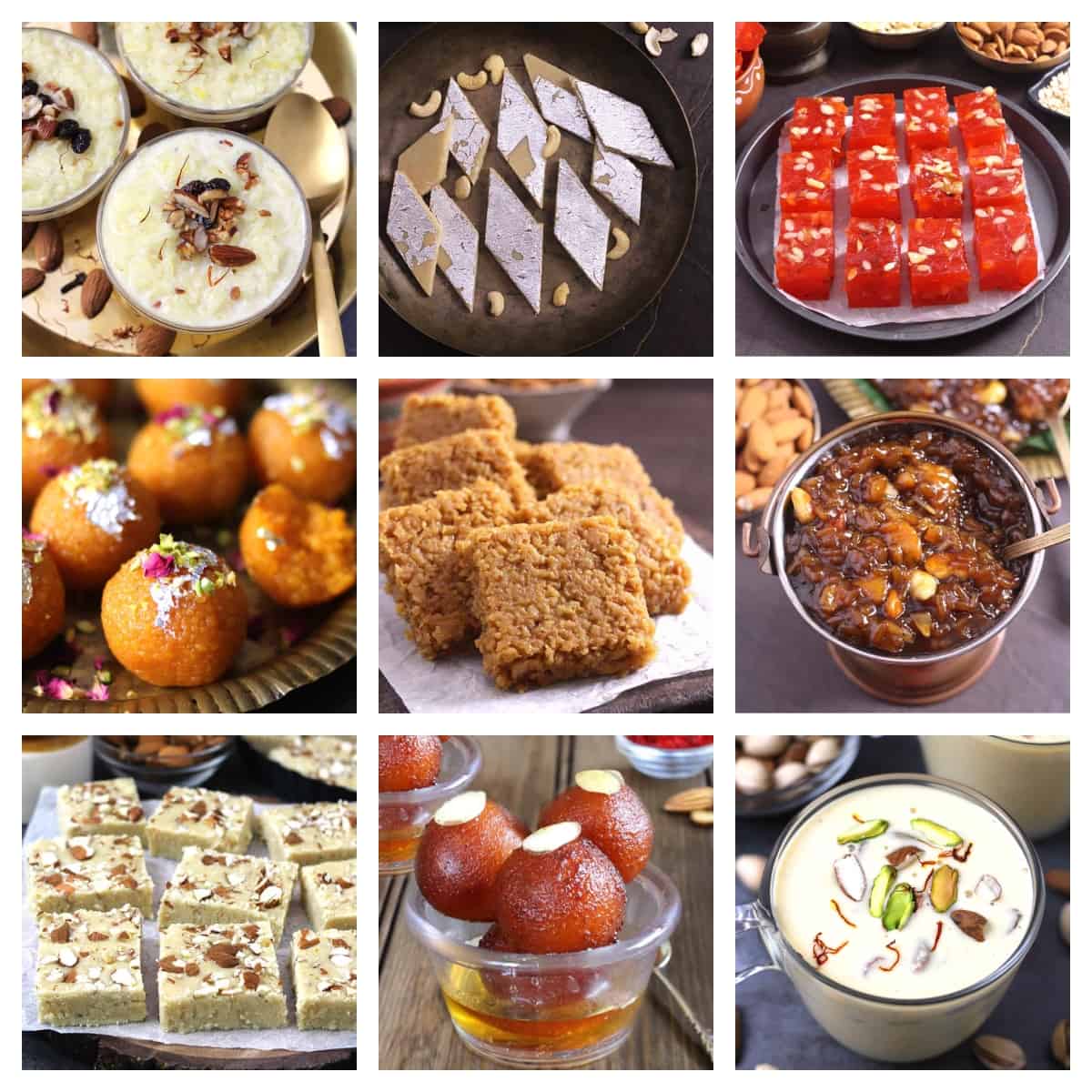 Jump to:
Indian sweets and desserts
Indian sweets, also known as mithai or Indian treats, are diverse, with a wide range of delicacies that have different textures and flavors prepared using flour, milk, desi ghee, sugar, nuts, and cardamom or saffron.
India is a land of festivals, and the best part about these festivals is that they are celebrated in the community by sharing and eating sweets or mithai and lots of them 🙂 The variety of sweets prepared in India is countless, and each sweet recipe has several regional variations to it.
Some sweets are given in the form of gift boxes or mithai boxes during festivals like Diwali, and Raksha Bandhan, while other sweets are offered to a god in the form of Naivedyam during Navratri, Ganesh Chaturthi and then distributed as prasadam.
In this post, you will find some traditional, authentic, popular, and fusion Indian desserts and sweets that can be made ahead of time or some sweets that can be made in less than 30 minutes, all from North Indian and South India for Janmashtami, Ganesh Chaturthi, Raksha Bandhan, Karwa Chauth, Holi, Diwali, 9 days of Navratri, Ram Navami, Yugadi, Eid, Shravan (sawa), Varamahalakshmi vratam etc.
If you want to check out the list of Indian sweets and desserts based on geographic locations, read this post. (Src: Wiki)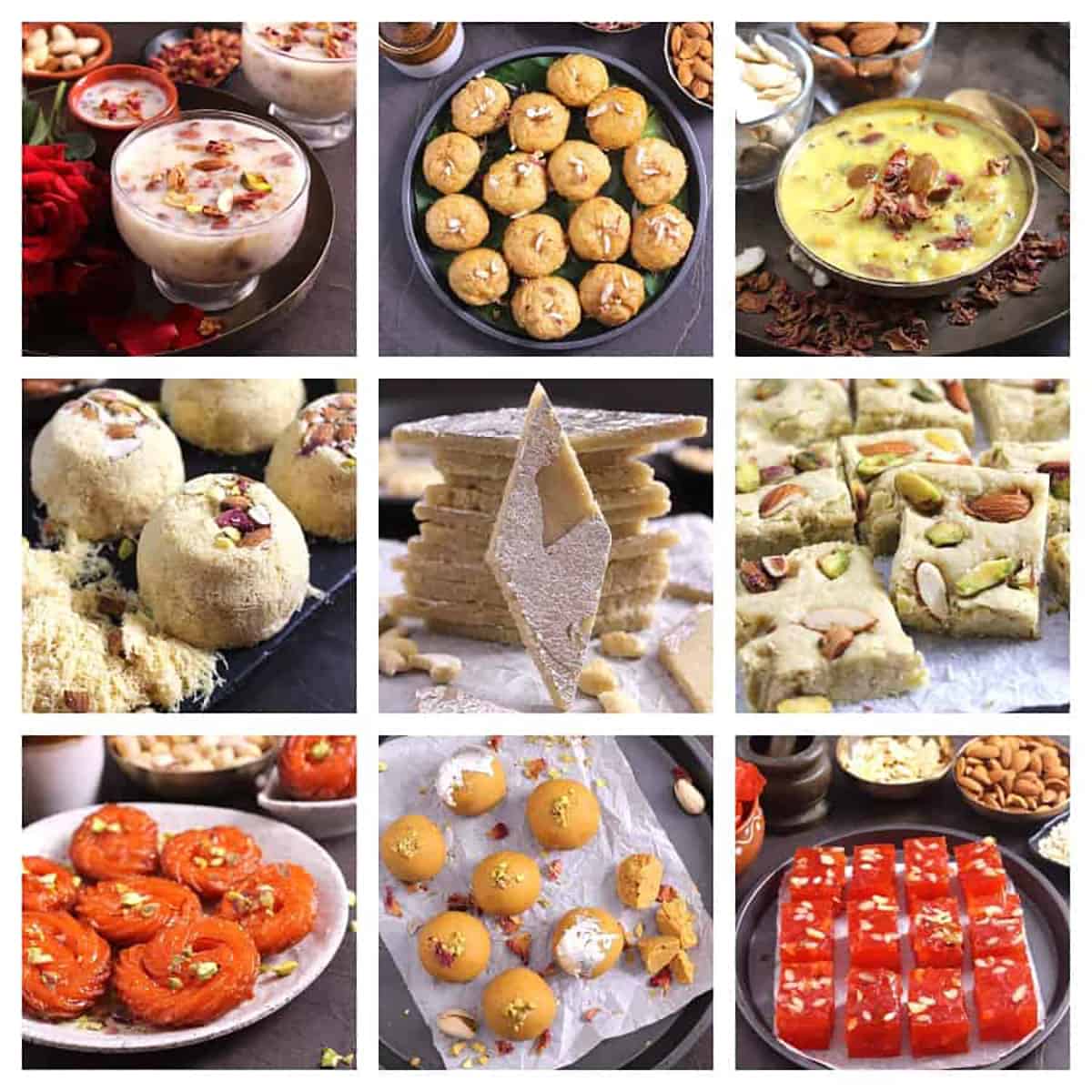 What are the most popular desserts in India?
Numerous Indian desserts are enjoyed across the county. The most popular or famous Indian sweets names are gulab jamun, rasgulla, jalebi, any variety of barfi, ladoo, halwa, peda, soan papdi, and Mysore pak.
Popular on my blog, loved by my readers, are plain white milk powder burfi, Indian pastry balushahi, Karachi halwa, and nankhatai.
Halwa / Indian Pudding
Halwa (halva) is a no-bake Indian pudding dessert that comes with different flavors and textures based on the ingredients used. Some popular halwa flavors include wheat (atta) halwa, carrot halwa, suji (semolina) halwa, banana halwa, besan halwa, moong dal halwa, Bombay karachi halwa, etc. Don't miss to check out the halwa poori chana prasad prepared during Navratri as prasad and naivedyam.
Laddu / Ladoo
Laddu, also known as laddoo or ladoo is a round-shaped Indian dessert recipe prepared using coconut (nariyal), besan(chickpeas), wheat (atta), along with sugar, ghee, and nuts. The popular laddu or mithai includes besan laddu, wheat ladoo, motichoor laddu, rava ladoo, coconut laddu, dry fruit ladoo, urad dal ladoo, etc.
Barfi / Burfi
Barfi or Burfi is a favorite rich and fudgy Indian dessert recipe made using milk, milk powder, condensed milk, khoya (mawa), and paneer(cottage cheese) as key ingredients. Some popular burfi flavors include plain white milk burfi, besan barfi, coconut burfi with sugar or jaggery, khoya barfi, kaju katli or cashew burfi, badam barfi, gajar burfi.
Check out the complete list of Indian fudge or barfi sweet recipes.
Kheer / Payasam
Kheer or Payasam is a rich, classic, and royal Indian dessert that is made using milk, and sugar along with rice, semolina dal like moong dal, chana dal, vermicelli (seviyan), makhana, dates, etc. Some popular kheer includes rice or chawal ki kheer, chana dal kheer, moong dal kheer, sabudana kheer, vermicelli payasam, makhana kheer, nei payasam, ada pradhaman payasam, etc.
More Traditional sweets
These traditional sweets include those desserts or treats that are authentic but are not included in the categories like halwa, burfi, ladoo, or payasam. They are Indian desserts with milk like gulab jamun, rasgulla, rasmalai, basundi, rabri, shahi tukda or other sweets like nankhatai, jalebi, kulfi, kala jamun, soan papdi, kalakand, chikki, etc.
Healthy Indian sweets
If you are looking for low calories healthy Indian sweets, then try sugar-free dry fruit ladoo, dates kheer, oats pudding, ragi, or finger millet pudding, moong dal halwa, apple halwa, or South Indian coconut burfi with jaggery.
Fusion Indian Desserts
Fusion desserts are some of the best creations where Indian sweets are combined with international cuisines. Some of the popular ones now at the bakeries include gulab jamun cheesecake, mango saffron panna cotta, tiramisu with masala chai, coconut ladoo truffles, a donut with jalebi, mithai cheesecake, paan ice cream, motichoor ladoo parfait, rasmalai tiramisu, carrot burfi ice cream, cheesecake jars with burfi.
FAQs
This list includes the best, easy, and most authentic Indian sweets and desserts that you can make at home. I have more recipes under the desserts and sweets categories like ragi nankhatai, peach mango halwa, khoya burfi, poppy seeds kheer, sweet rice appe (paniyaram or paddu), malpua, etc. Let us know your favorite from our sweet list.
More Indian festival recipes
Did you like this recipe? Please leave a star ⭐️⭐️⭐️⭐️⭐️ rating below and/or a review in the comments section. You can also stay in touch with us through social media by following us on Pinterest, Facebook, Instagram, and Twitter.
Recipe card
Note: We originally posted this recipe in Aug 2018. It has now been modified in July 2023 with Expert Chef Tips, FAQs, Storage Instructions, etc.