Fat-Free Spinach Broccoli Patties is a very healthy, easy to make appetizer or snack that uses broccoli, spinach and chickpea flour as the main ingredients and can be prepared in less than 20 minutes. These patties are crispy on the outside with soft and chewy texture inside. This recipe is vegan and gluten free.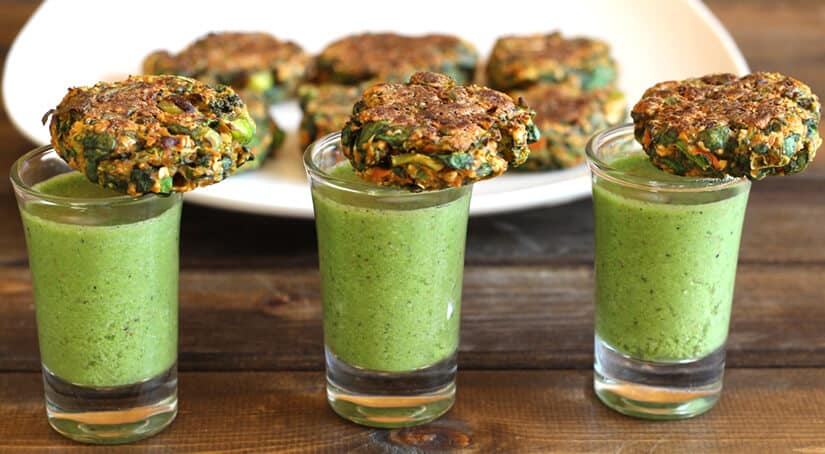 Spinach also known as palak is low in fat and cholesterol. This is one such vegetable that is loaded with all the good things required for your body. Broccoli is a good source of antioxidant nutrient - Vitamin C. Chickpea flour is gluten-free and high in protein, iron and fiber.
This is a no onion no garlic version so you can have this healthy patties / tikkis even on fasting days. I have not added any oil or potato and I have also reduced the amount of salt in the recipe. I have added gluten free oats in my recipe and its totally optional. To make it a little chatpata (or burst with flavors), I've just added chat masala, lemon juice, red chile powder and garam masala powder.
I have served these patties with coriander almond dip or chutney and this is one ultimate combo that I have tried. I will post the recipe for this dip/chutney soon. I received rave comments from my guests and these patties got over in no time.
Preparation time : 25 minutes
Serves : approx 10
Ingredients for Fat-Free Spinach Broccoli Patties
Spinach finely chopped - 1 ½ cup
Broccoli florets chopped - ½ cup
Grated carrot - ¼ cup
Ginger grated - 1 tsp
Green chilies chopped - 2
Chickpea flour - ½ cup
Red chile powder - ½ tsp
Garam masala powder - ½ tsp
Chat masala - ½ tsp
Lemon juice - 1 ½ tsp
Salt - to taste
Oats - ½ cup (optional)
Coriander Almond Dip / Chutney.
Steps to prepare Fat-Free Spinach Broccoli Patties
Step I
Heat a non-stick tava / skillet on medium flame.
In a bowl add all the ingredients mentioned and knead and tightly squeeze till you get a nice ball or dough.
Form the patties / tikkis of desired shape.
Step II
Once the pan is hot, place the tikkis / patties and cook them on medium flame. When it becomes golden brown on one side, flip and cook it on another side. (It is very important to cook them on medium flame so that it becomes crispy and is also cooked from inside. Do not cook them in a hurry.)
Repeat the process for remaining dough.
Fat-Free Spinach Broccoli Patties are now ready. Serve hot with Coriander Almond Dip / Chutney.and enjoy.
Tip:
If you find it difficult to form patties or if your dough is loose and dry, sprinkle some water or add a boiled and mashed potato.
Vary the spices as per your taste.
You can add oil, onion and garlic cloves if desired.
I have added gluten free oats in my recipe.
Oil-free recipes are easy to prepare on non-stick pan or skillet.