Not sure what to serve with naan bread? You are at the right place. I have shared some of the easy and best side dishes that can be eaten with naan bread for a completely satisfying meal.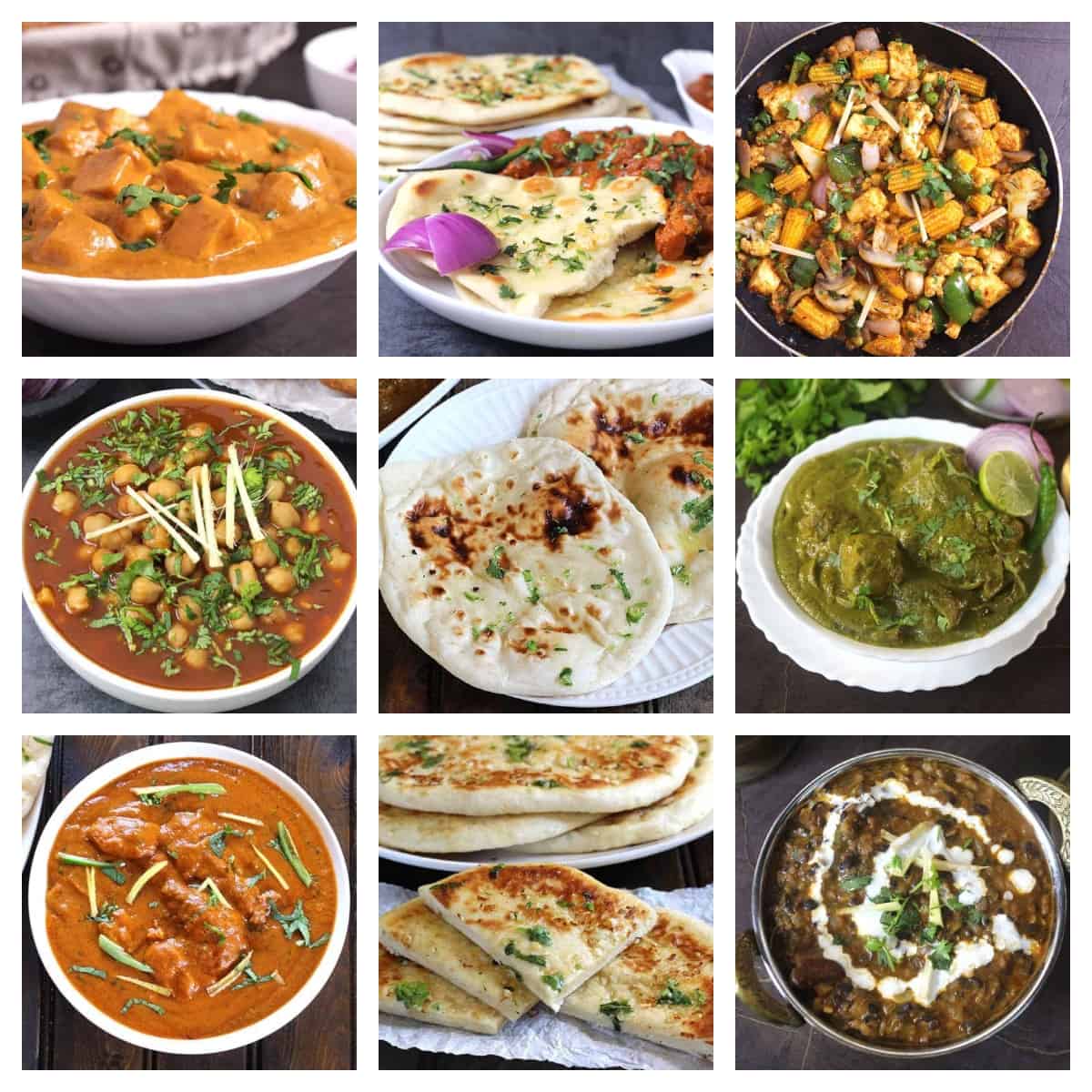 Jump to:
Naan is a staple food in Indian cuisine and is loved by people worldwide for its soft, chewy texture and delicious taste.
Naan bread is made by mixing white flour (maida) or wheat flour (atta) with active dry yeast, salt, and water (yogurt or milk for rich flavor). The dough is kneaded and set aside for 2 hours or until doubled in size. Once risen, the dough is divided into balls flattened and cooked in a traditional clay oven called tandoor, tawa, or oven.
What is traditionally served with naan bread?
While naan bread has traditionally been served with vegetable curries and gravies like paneer butter masala, mushroom masala, lentils(dal), chutney, raita, pickles, and meat-based dishes like tandoori chicken tikka, kebabs, and beans, it has evolved in recent times.
Nowadays, it is also commonly used as an appetizer with dips like hummus instead of pita bread, with soup instead of bread slices, or even as a base for pizza.
How to eat naan?
If I remember from my childhood, naan or any Indian flatbread like roti or chapati is used as a spoon to scoop up curries and gravies.
Tear a small piece of bread between your fingers, dip it in the gravy or a small portion of food like tikka, then savor the combination by placing it in your mouth.
You can serve garlic butter naan, garlic cheese naan or plain butter naan, or any Indian flatbreads from roti to chapati and paratha with these easy and straightforward, popular side dishes.
I have divided the recipes into two categories, veg side dishes, and nonveg side dishes, on what to serve with naan bread. Pick your favorite.
Vegetarian side dishes
Whether you are in the mood for something spicy and tangy like chana masala or creamy like dal makhani, or something with paneer, mushroom, or baby corn like butter masala or makhani, mixed vegetable kadai or something with matar (green peas) like matar masala there is a vegetarian dish out there that will pair perfectly with naan.
If you are looking for some healthy green curry to serve with naan, then check out our palak paneer, and if you want a no onion, no garlic satvik recipe to serve with naan, then make our simple paneer curry, satvik palak paneer and chana masala (chole).
For a quick accompaniment, you can try out our dahi bhindi, and for a protein-packed weight loss combo, do check our tandoori paneer tikka, whole roasted cauliflower, or mixed vegetable dal.
So next time you want a simple, delicious, and satisfying vegetarian meal, consider pairing your favorite veg dish with some soft and fluffy naan.
Chicken side dishes
Naan is a versatile bread that pairs perfectly with a variety of chicken dishes. Suppose you want to eat something spicy and tangy like chicken vindaloo, creamy like butter chicken, or spicy like a tandoori chicken tikka or tikka masala.
For a keto diet, you can check our keto garlic chicken, and if you love country-style chicken, then you should definitely make chicken saaru (Malnad-style chicken curry)
There is always a chicken dish out there that will pair perfectly with any naan bread.
Soups, Salads, Dips
The warm and fluffy naan bread pairs perfectly with fresh salads, savory soups, and flavorful dips. Try our healthy quinoa salad, hummus dip, cucumber salad, Mexican corn, roasted sweet potatoes, and more.
So next time you are serving naan, consider pairing it with one of these delicious accompaniments to enhance the flavor of your meal or snack. Let us know which was your favorite accompaniment for naan bread.
Recipe FAQs
Popular Indian Bread Recipes
Did you like this post on what to serve with naan bread? Please leave a star ⭐️⭐️⭐️⭐️⭐️ rating below and/or a review in the comments section. You can also stay in touch with us through social media by following us on Pinterest, Facebook, Instagram, and Twitter.
Recipe card