Wheat Naan is a soft and chewy, delicious and flavorful vegan flat bread recipe that is super easy to make and gets over in no time.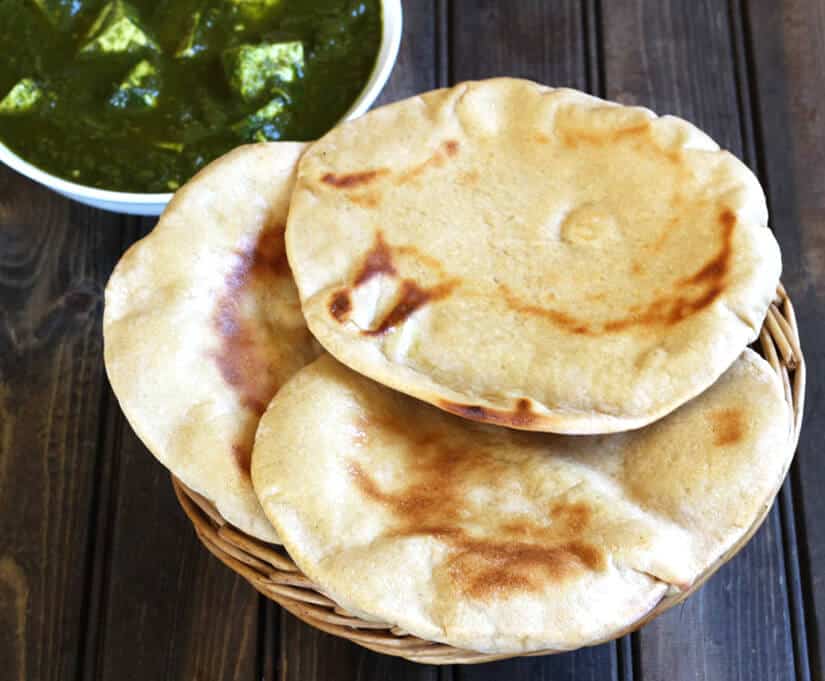 It's always fun to prepare bread at home. Homemade breads are both healthy and tasty as we have complete control over the type and quality of the ingredients that goes into its preparation. I also love the aroma that comes out of my kitchen when I bake breads, so that is an added perk 🙂
Only thing that one has to keep in mind is that the amount of flour and water may vary slightly than those given in the recipe below, as they depend on the brand and quality of flour used and local weather conditions. You can oven bake as described in the steps below, or you can also cook the naan on a tava / cast-iron griddle. Frankly, I love to prepare them both ways.
This bread can be served alone brushed with some butter, ghee or olive oil (my favorite option), or with any of your favorite dish. I have served this bread with palak paneer and the combination was super hit. Some popular dishes that can be served along with naan are
I can go on with the list. You can also check for other gravies on my blog that are good accompaniments or also share you variations and combinations and I would love to try them.
Preparation time : 45 minutes
Serves : 5 naan ( may vary depending on the size)
Ingredients for Wheat Naan
Whole wheat flour / Atta -  1 ⅓ cup
All purpose flour / Maida - ¼ cup
Active dry yeast - 1 tsp
Salt - ½ tsp
Sugar - ½ tsp
Warm water - ¾ cup
Steps to prepare Wheat Naan
Step I
In a bowl, add all purpose flour, wheat flour, salt and mix well.
Make a well at the center. Add warm water, sugar and sprinkle yeast. Let the yeast activate. This might take about 5 to 10 minutes.
Now mix everything and knead well to form a smooth and medium-soft dough.
Cover and keep it aside for 30 minutes to 1 hour.
Step II
Preheat the oven to 500 degree F,
To make a naan, sprinkle flour on working surface. Take a small ball of dough and start flattening it with the tip of your fingers or using a rolling pin, and make it into a oval or round shape.
Place this on a baking tray and bake it in the preheated-oven. Keep it for 2 to 3 minutes and then flip to the other side and bake for another 2 minutes or until the desired golden color is developed. The time to bake may vary depending upon your oven.
Remove and brush the naan with some butter, ghee or olive oil (for vegan version). Cover it with a clean kitchen towel or a lid to keep it soft and warm.
Wheat Naan is now ready. Serve it with your favorite dish and enjoy.
Tip:
You can bake the naan individually as you roll, or you can bake them in batches.