Fried Sweet Plantains are super delicious, irresistible and easy to make melt in mouth finger food prepared using ripe plantains and chickpea flour in less than 15 minutes.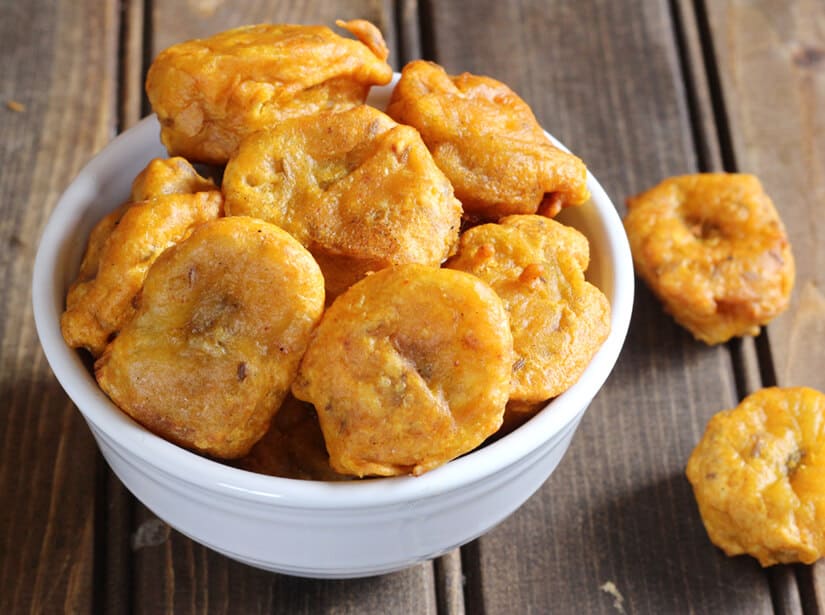 This recipe is generally served as an evening snack along with tea or coffee. The batter used in the recipe can also be used to fry cauliflower, eggplant, potato, capsicum, breadfruit etc. The plantains used in the recipe should be extra-ripe, generally those whose skin / peel have turned black. Click here for more information.
This is also called pikkale kele bajo in konkani where pikkale means 'ripe', kele means 'banana' and bajo means 'fried in chickpea flour batter'. Traditionally Nendrabale banana is used in the recipe. Today I have used Burro banana available here in United States (grown in Mexico) which is of same variety.
In this recipe, I have added chickpea flour and few spices of my choice. You can vary the amount of spices in the recipe below or skip the spices completely and fry the plantains using a simple seasoned chickpea flour batter. I have also shared links for other similar recipes here:
If you want to avoid frying then check out pan fried sweet plantains recipe.
Preparation time : 15 minutes
Serves : 3
Ingredients for Fried Sweet Plantains
Chickpea flour - ½ cup
Ripe plantains - 3
Cumin seeds - 1 tsp
Turmeric powder - ¼ tsp
Asafoetida / Hing - ¼ tsp
Red chile powder / Cayenne powder - ½ tsp
Water - approx ½ cup
Salt - to taste
Vegetable oil - for frying
Steps to prepare Fried Sweet Plantains
Heat oil in pan for frying. The pan should contain about 2-3 inches of oil.
Peel and slice the plantains to ½ inch thick circles or rectangles. See that the plantain you are using is extra ripe.
In a bowl, add chickpea flour and water, mix well. See that there are no lumps.
Now add cumin seeds, turmeric powder, hing, chilli powder, salt to taste, to form a medium thick batter.
Once the oil is hot, dip each plantain in the batter so that it is well coated and fry till they are golden brown in color.
Transfer it into paper towel to absorb any excess oil.
Repeat the process for remaining plantains.
Fried Sweet Plantains are now ready. Serve hot and enjoy.
Tip:
See that the oil is not too hot or too cold. If its hot then plantains will become dark brown and if its too cold it will absorb excess oil.
To check if the oil is hot, just drop little batter and check if it sizzles and come up.
Do not overcrowd the pan.