Pan Fried Sweet Plantains are irresistible, incredibly delicious with caramelized texture on the outside and is chewy on the inside. This recipe is vegan and gluten free and can be prepared in less than 15 minutes.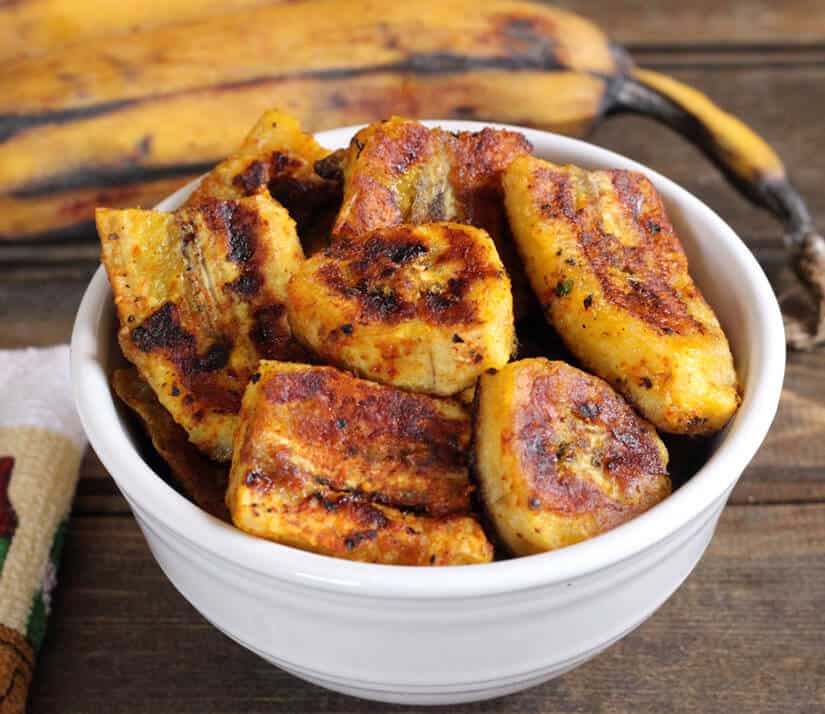 This is my favorite preparation with plantains since childhood. These are super easy to make, but the only thing is that you will have to wait for the plantains to become extra ripe to enjoy its taste. When the plantains are extra ripe, their skin/peel turns black in color. If the plantain has not ripened the dish will not be sweet and will taste starchy like a potato.
This is also called pikkale kele podi in konkani where pikkale means 'ripe', kele means 'banana' and podi means 'fried'. Traditionally Nendrabale banana is used in the recipe. Today I have used Burro banana available here in United States (grown in Mexico) which is of same variety.
In the recipe below I have added few seasonings of my choice. You can sprinkle some salt or ignore all of them completely and just pan fry the sliced plantains. To make it vegan, I have pan fried using oil. You can also use butter instead. I always slice one extra banana as this is so tasty that I start eating it during the cooking process 🙂
Preparation time : 15 minutes
Serves : 2
Ingredients for Pan Fried Sweet Plantains
Plantains - 3
Cayenne powder / Red Chile powder - to taste
Pepper powder - to taste
Turmeric powder - pinch
Salt - to taste
Vegetable oil / Coconut oil - approx 3 tbsp
Steps to prepare Pan Fried Sweet Plantains
Peel and slice the plantains to ½ inch thick circles or rectangles. See that the plantain you are using is extra ripe.
Add the seasoning to the sliced plantains and toss them gently so that it is coated.
Heat a non - stick pan. Drizzle oil.
Place the plantains in the pan. Do not over crowd the pan.
Drizzle little oil again on each of the plantains and fry them on each side until they reach caramelized brown color or approximately 3 to 4 minutes on both the sides on medium flame. Transfer this to a plate.
Pan fried Sweet Plantains are now ready. Serve hot and enjoy.
For more recent updates, follow me on Pinterest, Facebook, Instagram, Twitter, GooglePlus. 
***Click below to save it on Pinterest***