Fruit and Nut Chocolate is a quick and easy to make chocolate recipe that is crunchy, filled with full of rich flavors and will melt in your mouth. Its always fun to make chocolates at home and surprise your loved ones.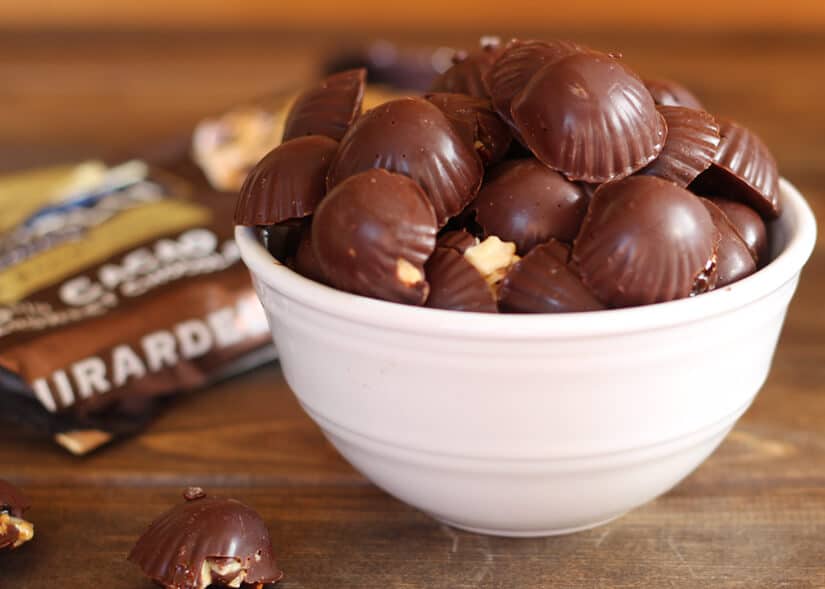 If you have left over chocolate chips in your pantry then give this recipe a try. I have used Ghiradelli chocolate chips as I just love them - they are low in sodium, have deep chocolate flavor and not too sweet and and the best part is they melt so smoothly unlike any other chips that I have tried.
I love dark chocolates and have used bittersweet chocolate. You can also use any semi sweet or white chocolate and any combination of dried fruits and nuts in the recipe. Today, I have used cashews, almonds and raisins. While you can use the nuts as is in the recipe, I have gone ahead and roasted them. Roasting the nuts gives an additional flavor to the end product, and also a nice crunch. While roasting nuts for any recipe I always add an extra handful than what the recipe calls for as I have the habit of munching on them when they roast. These dried fruits and roasted nuts are mixed with honey before adding it to the chocolate.
Preparation time : approx 30 minutes
Serves : 30 chocolates
Ingredients for Fruit And Nut Chocolate
Chopped nuts - ¼ cup
Raisins - 1 ½ tbsp
Chocolate chips - 1 cup
Honey - 2 tbsp
Steps to prepare Fruit And Nut Chocolate
Step I
Melt the chocolate in microwave stirring it for every 20 seconds.
To each cavity of a silicone chocolate mold, add teaspoon of this melted chocolate and tap it so that it is evenly spread.
Keep the mold in the freezer for 5 minutes
Step II
Meanwhile finely chop the nuts (I have used almonds and cashews) and dry roast them on medium flame till you get a nice aroma. This will enhance the flavor.
In a bowl add the roasted nuts, other dried fruits, honey and mix well.
Step III
After 5 minutes remove the mold from the freezer, add some fruit and nut mixture in each cavity of the mold that now has frozen chocolate.
Fill the rest of the mold with the remaining melted chocolate and tap it so that it evenly spreads.
Keep it in freezer for 20 minutes.
Remove the chocolates from the mold and store it in an air tight container.
Fruit and Nut chocolate is ready. Serve and enjoy.
Tip:
I usually seal them in air tight container and then refrigerate. You can also keep it in any cool place. But always eat them at room temperature 🙂
For more recent updates, follow me on Pinterest, Facebook, Instagram, Twitter, GooglePlus.
***Click below to save it on Pinterest***