Grilled Corn On The Cob is a very simple, yet so delicious recipe where the sweetness of the corn combined with the flavorful (chatpata) seasoning makes your mouth water. This can also be added as a side dish to your meal, potluck or next party.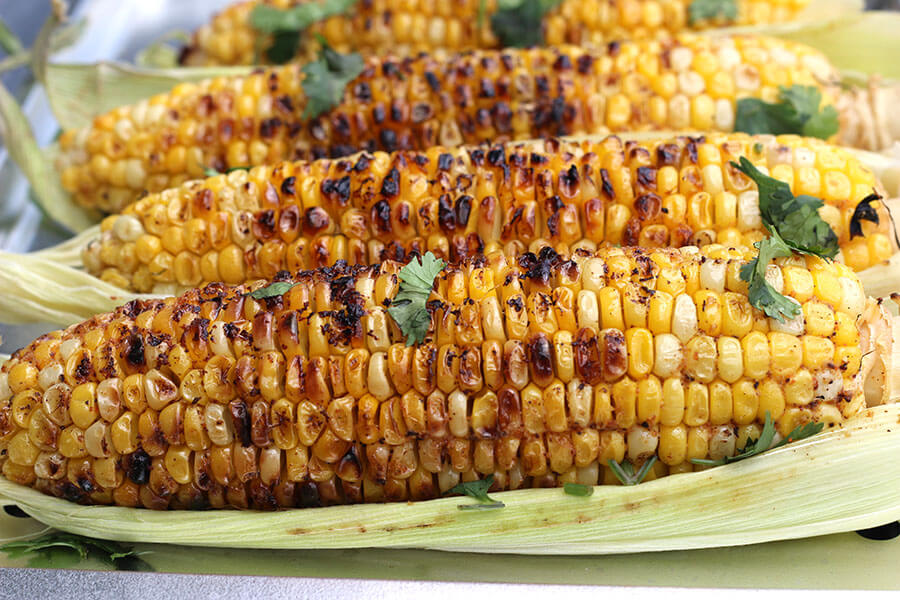 This time we really had a long winter and I was eagerly waiting for the warm days to start outdoor activities. The first best thing that we brought home this spring was a charcoal grill. We had a barbeque (barbecue)  weekend 🙂 We inaugurated the grill by bbq ing our all time favorite corn on the cob, as they are in their peak season now. The grilled corn was sweet and spicy, with a perfect amount of smokiness and bite tot it. We also prepared many other dishes and I will soon post the recipes for the same.
Corn has been one of my favorite vegetable since childhood no matter how it is prepared : boiled (boiled corn with cajun seasoning), grilled or simply as an ingredient in the gravy (gajbaje). Corn on the cob is popular across the world.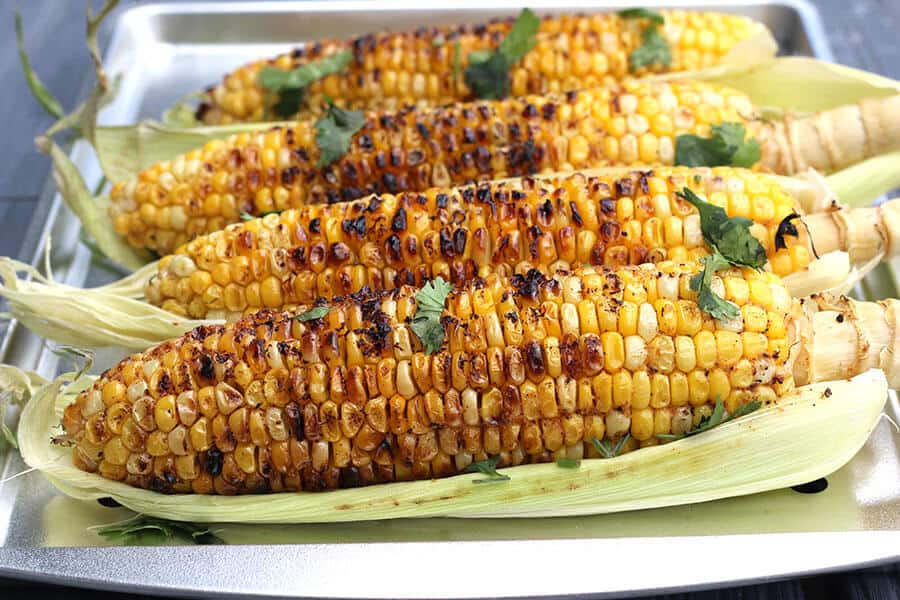 Back in India I was preparing this directly on a gas stove. I must say this is one of the classic Indian street food popularly known as street style bhutta (butta). There are many ways in which this can be prepared. Every region has its own unique way and you can find the carts preparing butta directly on the charcoal near the beaches, outside parks or popular shopping streets in India. Some of the popular seasonings include salt and lemon rub, spicy green chili chutney, salt and red chile powder, pesto, cheese etc.
When I prepare corn on the cob I make sure I add my family's favorite spices to the seasoning mix. Vary the ingredient amounts as per your taste. What is your favorite way to have it. I would love to hear and also try it out.

Ingredients for Grilled Corn On The Cob
Corn - 4
Butter - 4 tbsp
Garlic powder - ¼ tsp
Onion powder - ¼ tsp
Pepper powder - to taste
Salt - to taste
Red Chile powder / Cayenne - ½ tsp
Chat masala- ¼ tsp
Lemon juice - 1 tbsp
Coriander leaves - for garnish
Steps to prepare Grilled Corn In The Cob
Step I
Prepare an outdoor grill for high and direct heat.
Remove husks and silk from the corn.
Place the corn directly on hot grill.
Keep rotating the corn as dark spots appear and kernels develop some char spots on all sides and they are uniformly cooked.(approx 10 minutes)
Step II
Melt the butter. Add garlic powder, onion powder, pepper powder, salt, red chile powder, chat masala and mix well.
Rub each corn with lemon juice followed by the butter-spice mixture prepared above.
Place the corn on the grill for additional 30 seconds to 1 minute if desired.
Grilled Corn On The Cob is now ready. Serve and enjoy.
Tips:
Vary the spices as per your taste.
For more recent updates, follow me on Pinterest, Facebook, Instagram, Twitter, GooglePlus. 
***Click below to save it on Pinterest***