Indian Flag Cake or Tri-Coloured Tiranga Cake is our sincere effort to show loyalty and devotion to our nation that has given us everything.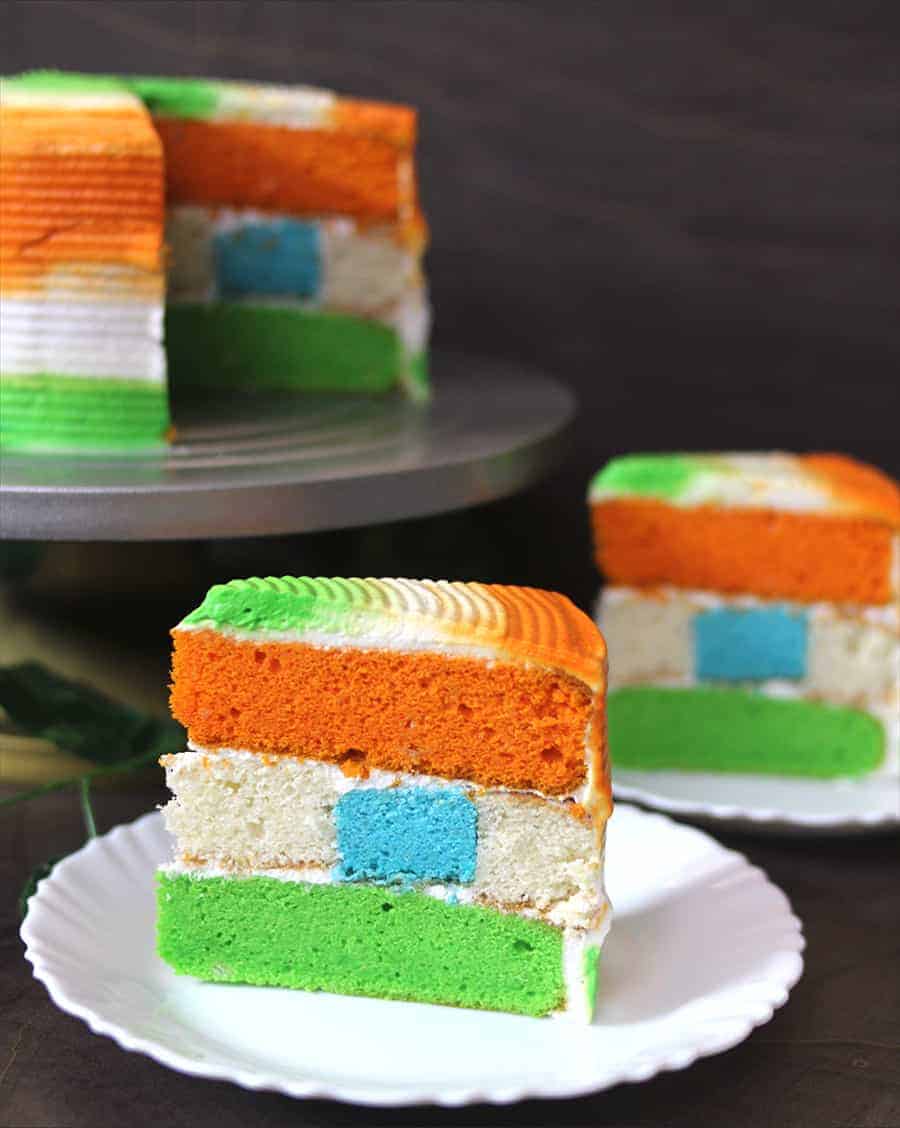 India will celebrate its 75th Independence Day on August 15, 2022. I wish you all a very happy 75th Independence day. I am proud to be an Indian.
These days when I send my son to school, I am bombarded with a lot of questions - mommy, is today a half day or a full day? Who is our Prime Minister? Why does the USA not have a Prime Minister? Will I get to meet Modi and so on. He is always curious about everything that happens in school, the prayers, our National anthem, etc. It reminds me of my school days - especially celebrating days of importance such as Independence day, Republic Day, School day, etc.
Jump to:
How did we celebrate Independence Day back in school?
On these special occasions, we used to wear white uniforms with tri-colored hand bands. The day used to begin early with flag hoisting at 7:30 am, followed by singing our National Anthem (Jana Gana Mana) with enthusiasm and pride. This used to be followed by mass P.T. by all students, followed by speeches by guests and students reminding us of the great sacrifices of our freedom fighters and national heroes. Finally, sweets used to be distributed, and then we used to come back home to watch television programs where cultural activities and nostalgic movies used to be screened/played on the National Channel (Doordarshan).
Only when I reached high school did I get to know and understand the importance of living in an independent democratic India and the sacrifices that our freedom fighters had made to ensure that future generations can excel and pursue their dreams and bring glory to India. As a result, India is one of the best developing countries in the world and one of the fastest growing economies.
Since graduating from school/college, every year, our family joins hundreds of millions of Indians who sing the national anthem as our Prime Minister hoists our national flag at the Red Fort in Delhi. This year along with that, because it is azadi ka amrit mahotsav, i.e., India's 75th Independence Day, we wanted to make it more special and a memorable one.
So we are celebrating India's Independence Day with a beautiful three-layered tri-color sponge cake. How are you going to celebrate this Independence day?
Tiranga Cake by my better half
When you have a partner who not only supports you but also takes part in your cooking projects, this is how the end result will be. It was his idea, his favorite sponge cake recipe.
I was actually not planning on making this cake as it needs a lot of time and effort to put everything together and requires proper planning. You have to bake four different cakes first, to represent the colors in India's National Flag - i.e., saffron, white, green, and blue. But because he took a special interest in paying tribute to our country and supporting the #harghartiranga campaign, we ended up making this cake.
And the outcome, both look-wise and taste-wise, was so satisfying that it was worth the effort. Don't you feel so?
I was so happy and proud when the first slice was cut that I started singing some of my favorite patriotic songs like ae watan, vande mataram, bharat hamko janse pyara hai. I thoroughly enjoyed the photoshoot.
It's a different feeling when you see your tri-colored flag or listen to any patriotic song. Agree?
How to make tri-colored flag cake or Indian national flag cake?
To make this tri-colored flag cake, follow the same recipe shared here for basic vanilla sponge cake.
You will have to make four different cakes to make a saffron layer, a white layer, a green layer, and a blue layer.
If you plan correctly and have two baking pans, you can bake two cakes at a time, and once it cools down completely, wrap them tightly and keep it in the refrigerator till you are ready to do the frosting. This way, your cake remains fresh, soft, and moist. Plus, by making these cakes ahead of time, you don't have to do everything on the same day and enjoy the entire process. (Day 1)
On Day 2, arrange the layers and do the frosting.
Arranging the cake layers!
Flatten the tops and trim the outermost edge of each of the four cakes.
We will use the saffron and green layer as the top and bottommost layers in our cake. For the second layer or middle layer, we will use white and blue-colored cakes. Cut both white and blue cakes into three concentric circles/rings/discs and arrange them like a puzzle. Keep the outermost ring white, followed by a blue ring and the innermost disc white. This is 2nd layer of your cake. You can use unused cake rings/discs in other build-on recipes or munch on them as you prepare the tri-colored cake.
On your cake stand or cake board, place the green cake. Apply a layer of whipped cream, and place the second cake layer (prepared in the above step) on top of it. Apply another layer of whipped cream and place the orange/saffron-colored cake. Use the whipped cream to apply a crumb coat. Follow this with any final coat of your choice. I have used colored whipped cream to give a tricolor look. You may simply apply another layer of whipped cream and decorate with sprinkles.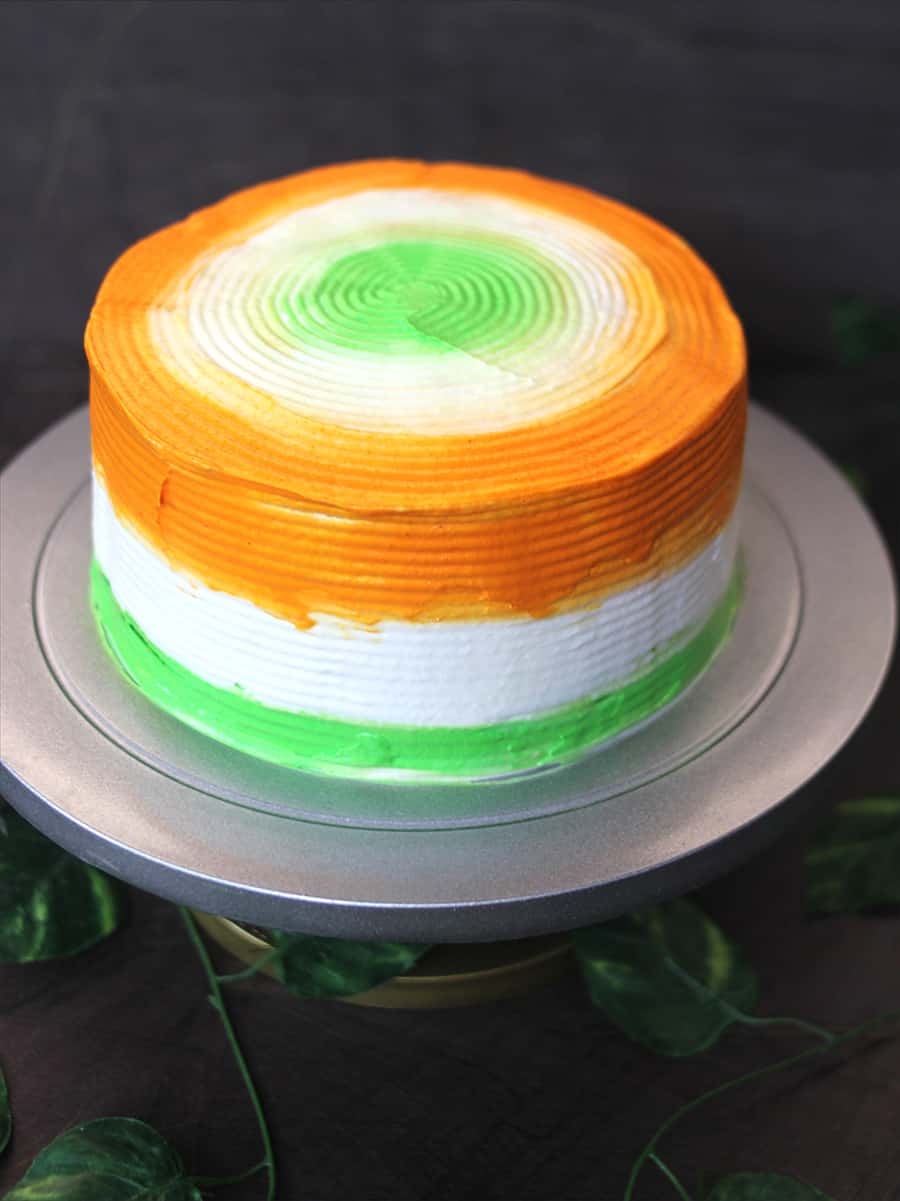 Video Recipe
Video recipe for MAKING OF INDIAN NATIONAL FLAG CAKE | 75TH INDEPENDENCE DAY SPECIAL | MY COUNTRY MY PRIDE
Step by step recipe
Detailed recipe for Indian National Flag Cake, tri-color Food Ideas, Patriotic Themed dessert
Recipe card
INDIAN FLAG CAKE | TRI COLOR SPONGE CAKE | INDEPENDENCE DAY SPECIAL RECIPE
Indian Flag Cake or Tri-Coloured Tiranga Cake is our sincere effort to show loyalty and devotion to our nation that has given us everything.
India will celebrate its 75th Independence Day on August 15, 2022. I wish you all a very happy 75th Independence day. I am proud to be an Indian.
Ingredients
Basic White Sponge Cake
3

Egg (yellow & white separated)

½

cup

Sugar ( 90g ), add in thirds

¼

teaspoon

Salt

1

teaspoon

Vanilla extract

1

cup

 All purpose flour (110g) in parts

2

tablespoon

Oil

1 ½

tablespoon

Milk
For Saffron Layer Cake
⅛

teaspoon

Red color powder or gel

⅛

teaspoon

Yellow color powder or gel
For Green Layer Cake
⅛

teaspoon

Green color powder or gel
For frosting
Use cool whip, non-diary whipping cream powder/liquid & follow instructions OR

1

cup

Heavy whipping cream

½

teaspoon

Vanilla extract

2

tablespoon

Sugar

Add drops of food color as needed
Instructions
Follow the same recipe and bake 4 cakes.
Grease 8-inch baking pan and keep this aside. Preheat the oven to 350 degrees F or 170 degrees C.

Whish the egg whites until foamy. Add sugar in thirds and whisk each time for 30 seconds.

To the egg yellow, add salt and vanilla extract and mix well. Add 2 tablespoon of whipped egg white mixture from above and mix.

Add this back to the whipped egg mixture and fold gently until combined.

Next, add the flour in parts and mix until combined

Finally, add the oil and mix. (at this stage add the color drops or powder if using ). Pour the prepared batter into greased baking pan

Bake in preheated oven for 40 minutes. Remove it from the oven when the toothpick inserted comes out clean.

Let it cool for 10 minutes before removing it from the pan.
To prepare whipped cream frosting
You can use cool whip, non-dairy whipped cream powder, or any of your favorite whipped cream recipes OR

In a chilled bowl, add cream, sugar, and vanilla extract and beat until stiff peaks are formed. Keep it in the refrigerator until you are ready to use it.
Arrange the tri colored cake or national flag cake
Flatten the top and trim the edges of each cake.

Cut the blue and white cake into three concentric circles/rings and keep it ready.

Place the green layer on your cake stand or serving plate. Just spread a thin layer of whipped cream.

Place the outermost concentric circle/ring of white-colored cake and apply whipped cream to the inner edge. Place the 2nd circle/ring of the blue-colored cake followed by the small circle/disc of the white-colored cake. Check out the video here.

Spread a thin layer of whipped cream and place the saffron-colored cake.

Now apply more whipped cream or decorate the way you desire. Be creative, and do tag us with your creations.

Happy Independence Day to all of you.
For more recent updates, follow me on Pinterest, Instagram, and Twitter.
***Click below to save it on Pinterest***