Onion Capsicum Masala is a vegan, spicy and a delicious recipe prepared in less than 20 minutes and can be served as side dish with steamed rice or breads like naan, oats chapati, kulcha

I always like to prepare recipes with variations when serving it with flat breads or rice. The recipe below is prepared using simple ingredients and has a unique flavor which makes it finger licking and irresistible. This dish will be loved by people of all age groups. I have served it with oats chapati and this combination is definitely worth a try.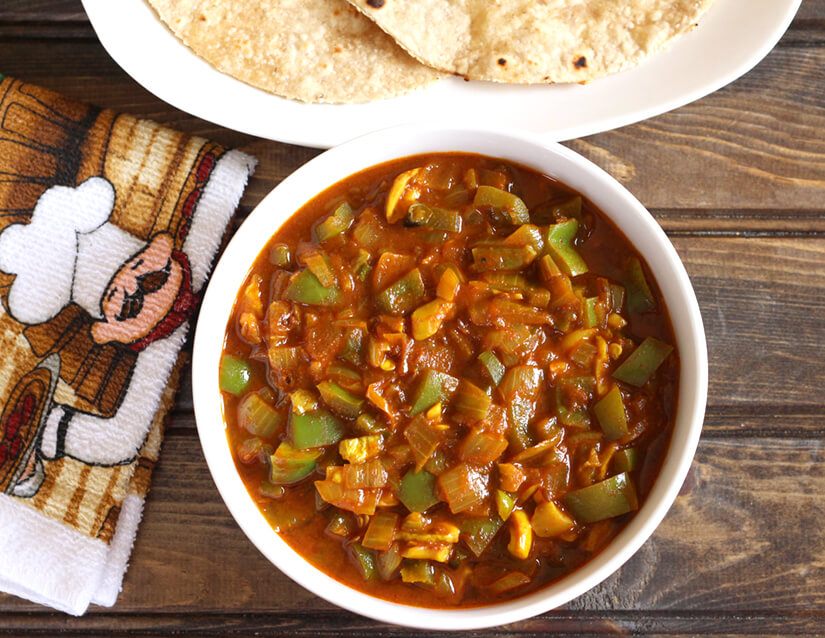 Preparation time : 20 minutes
Serves : 3
Ingredients for Onion Capsicum Masala
Big Onion chopped - 1
Capsicum chopped - 1
Garlic cloves chopped - 2
Green chilies chopped - 2
Ginger grated - 1 inch
Cumin seeds - 1 tsp
Turmeric powder - ½ tsp
Cashews - 1 tbsp
Asafoetida / Hing - ¼ tsp
Tomato Ketchup - 3 tbsp
Garam masala powder - ½ tsp
Red chile powder - 1 tsp
Salt - to taste
Vegetable oil - 1 ½ tbsp
Steps to prepare Onion Capsicum Masala
Step I
Heat oil in a non-stick pan. Add cumin seeds, turmeric powder, cashews and hing and saute till cashews become light golden in color.
Add onion, ginger, garlic, green chilies and saute till onion becomes translucent for about 6 to 8 minutes. You can add salt while sauteing the onion, as this makes it cook faster,
Step II
Now add tomato ketchup, garam masala, red chile powder and mix well.
Add the finely chopped capsicum, water for desired consistency, salt to taste and cook for about 5 minutes till the capsicum is cooked.
Onion Capsicum Masala is now ready. Serve hot with oats chapati and enjoy.
Tip:
You can substitute tomato ketchup with the fresh tomatoes. The taste may vary accordingly.
You can deseed the green chilies to reduce the heat.
You can also add one potato in the recipe if desired.
I have used 1 big capsicum(green bell pepper) and onion in my recipe. Depending on the amount of the onion and capsicum used, adjust the spices as per your taste.
For more recent updates, follow me on Pinterest, Facebook, Instagram, Twitter, GooglePlus.