Orange Chicken – best and easy chicken side dish or appetizer for any dinner party. Crispy fried chicken thighs are tossed in flavorful and finger licking, homemade orange sauce.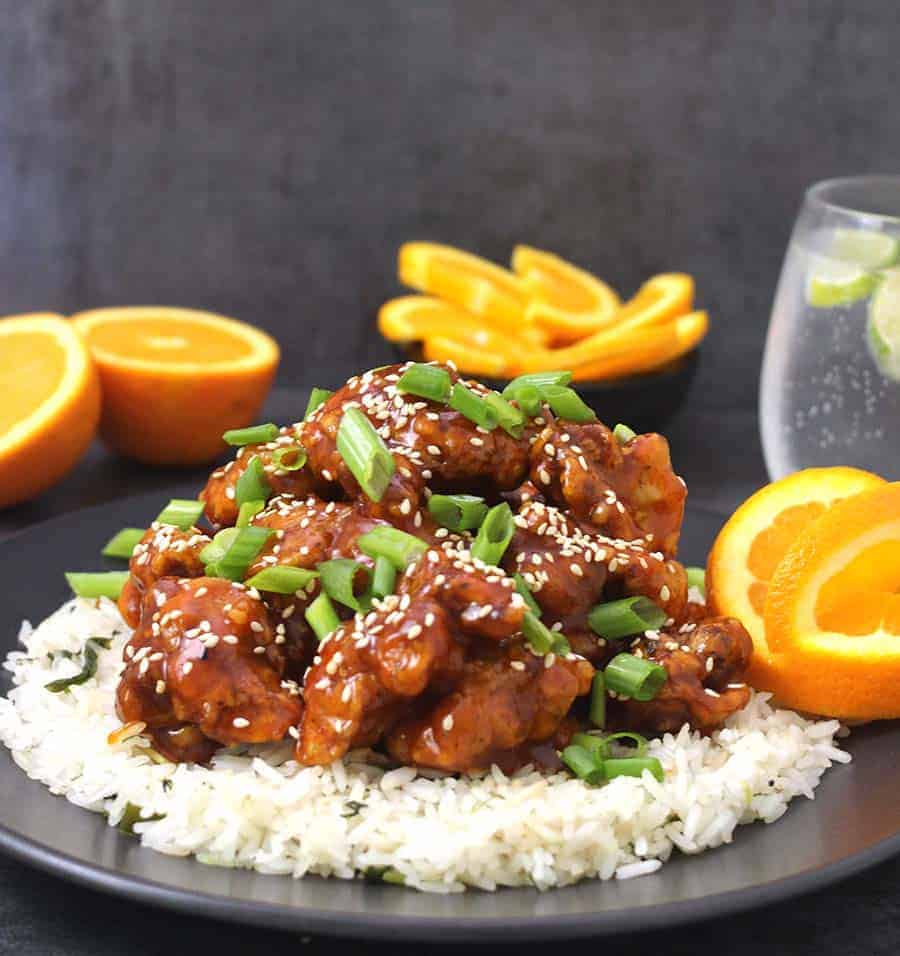 You can also call this dish or appetizer as tangerine chicken, orange peel chicken, orange flavored chicken, etc. I wanted to copycat Panda express but let me tell you, this recipe is better than any restaurant take out.
One of the best side dish or appetizer or even main dish when served with steamed rice for Thanksgiving dinner, Christmas dinner, Football or Super Bowl party, Easter brunch, tailgating events, picnic or potluck.
I first had this dish in America at Panda Express which is a popular American-Chinese fast-food chain. It was one of the popular, signature item in the Panda Express menu. When I read more about this dish, I found out that this dish is purely American invention and not a Chinese inspired one. You will not find this in any authentic Chinese restaurants.
Does orange chicken taste like orange?
You are not alone. This was the first thought I had when I saw this item on the Panda Express menu. Because orange juice is used in the preparation of the sauce, this definitely has an orange flavor. Plus, its sweet and salty, with the right amount of spiciness.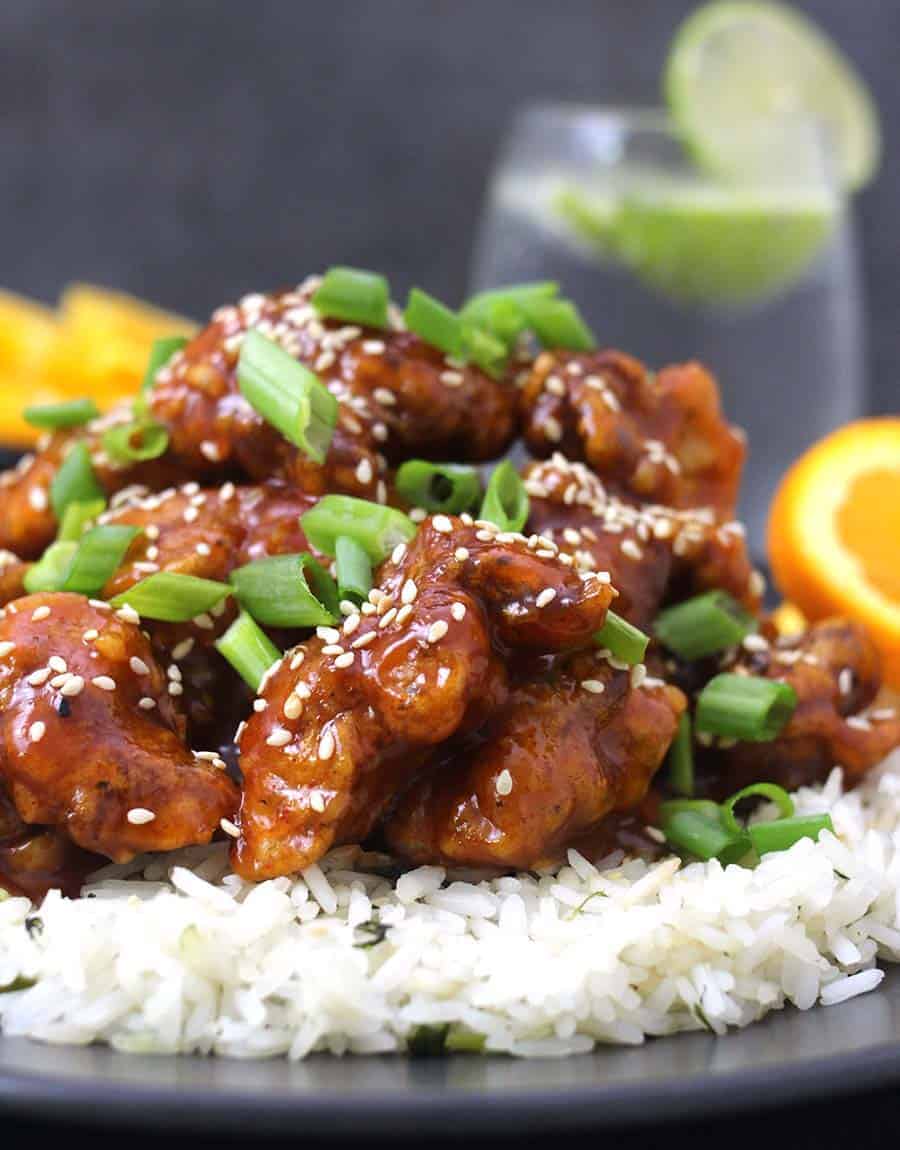 Is orange chicken healthy?
Traditionally, this chicken recipe is deep fried. If you want to go for a healthier version, you can either stir fry the chicken thighs or use air fryer. It tastes great both the ways.
What is orange chicken sauce made of ? Panda Express copycat Orange  sauce
Orange sauce is a mixture of freshly squeezed orange juice and its zest to give the fresh orange flavor, soy sauce, vinegar, sugar, cayenne powder or red chile powder, sesame seeds, and oil. For extra flavor I add garlic cloves and ginger.
Is Orange chicken Spicy?
This chicken dish is generally sweet and sour with savory glaze. It is not spicy or hot because the red chilies or cayenne powder used in this dish is optional ingredient.
What is the difference between Orange chicken, General Tso's chicken and Sesame Chicken?
All three dishes are quite similar, chicken is fried and coated in sauce but all the difference comes in sauce with addition or subtraction of just one ingredient. In this dish below, sauce is mainly based on flavor from orange, General tso chicken is chile based, its sweet but with little more heat from chiles and served with broccoli and carrots. Sesame chicken uses sesame oil which makes it salty and nutty.
How do you make orange chicken from scratch?
First, you will have to marinate the chicken thighs in orange juice and keep it in refrigerator for at least 30 minutes. Next, double fry or deep fry or air fry or stir fry the chicken according to your preference. Then, toss the chicken into the prepared orange sauce till it is well coated.
You can also call this dish or appetizer as tangerine chicken, orange peel chicken, or orange flavored chicken.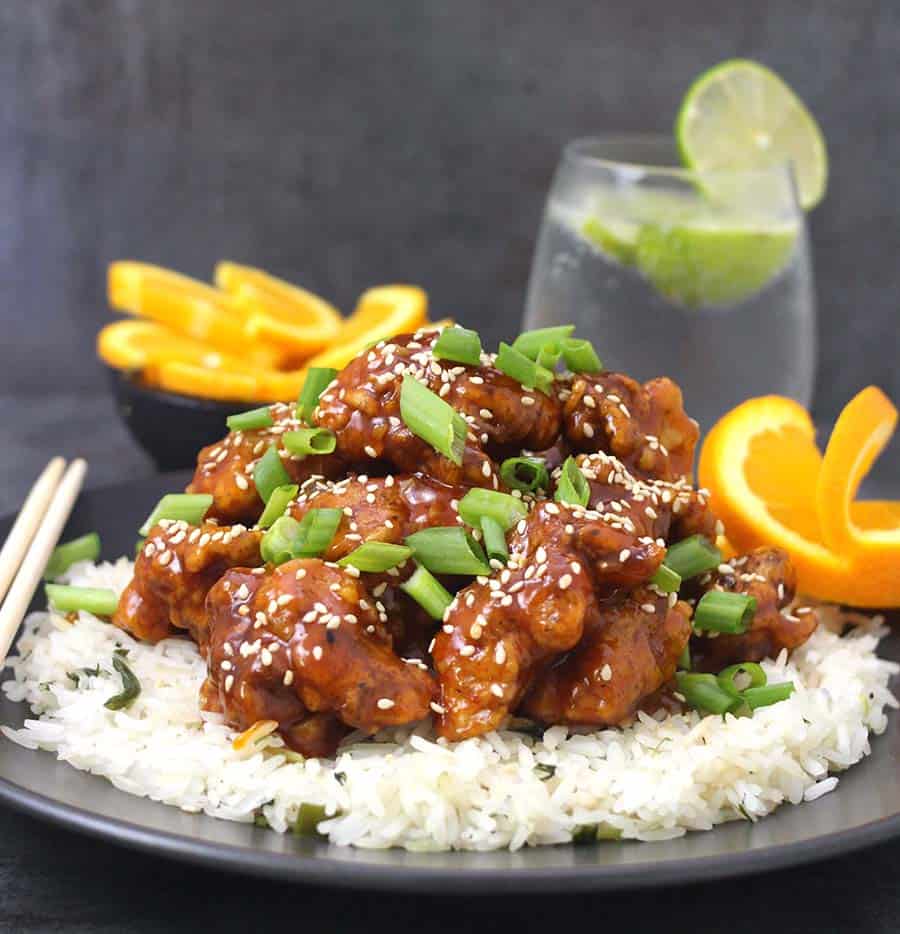 Orange Chicken Marinade
It is recommended to marinate the chicken.  Marinating chicken makes lot of difference. Marinade prevents chicken or any meat from drying out and becoming chewy. It makes chicken more tender and juicy.
For the marinade, I have used freshly squeezed orange juice, black pepper powder and salt and kept it in refrigerator for 30 minutes. You can also use the zest of orange for marination if desired.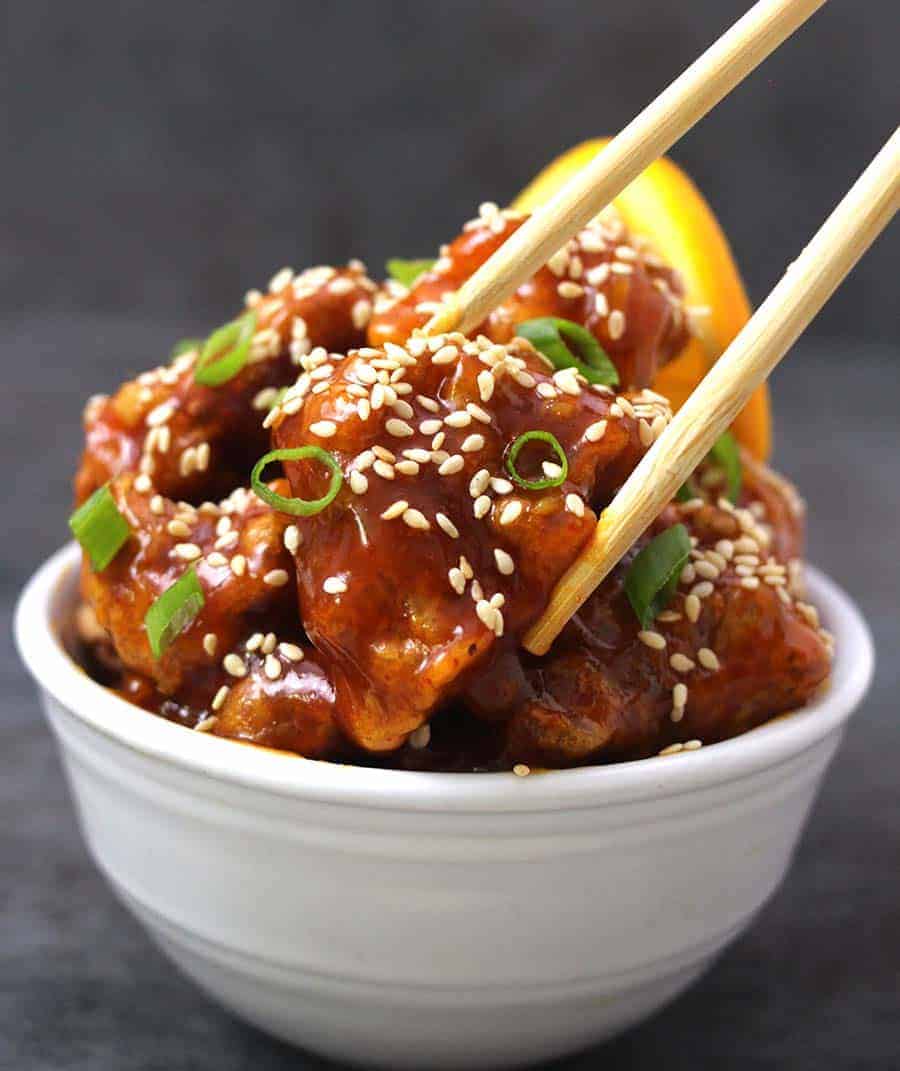 Orange Chicken Batter
I have kept the batter for frying the chicken thighs as simple as possible. In a bowl, whisk egg and corn starch together. To this mixture, add the marinated chicken and mix until well coated. Now, double fry in oil till they are crispy and golden brown in color.
Can I make orange chicken vegan?
Yes, yes, yes. All vegetarians and vegans can now enjoy this orange sauce. Simply substitute chicken with tofu or combination of veggies like mushroom, cauliflower and tofu along with some onions and bell peppers. For the batter instead of egg use milk or non dairy milk. Rest of the ingredients and steps remain the same. You can add this version to your menu for Thanksgiving vegan sides and surprise your guests.
Make ahead or Freezer Orange Chicken
This is one of the best make ahead sides for Thanksgiving or Christmas and Holiday gatherings, your next football party or game night. Simply add all the ingredients mentioned under orange sauce in the recipe below and whisk so that there are no lumps. This can be kept in a container or jar for upto 3 days. Or you can simply put the sauce in sealed bag or freezer container and keep it in freezer. Place the cooked and fried chicken in another freezer bag. Use as and when required. For cooking instructions see the following section.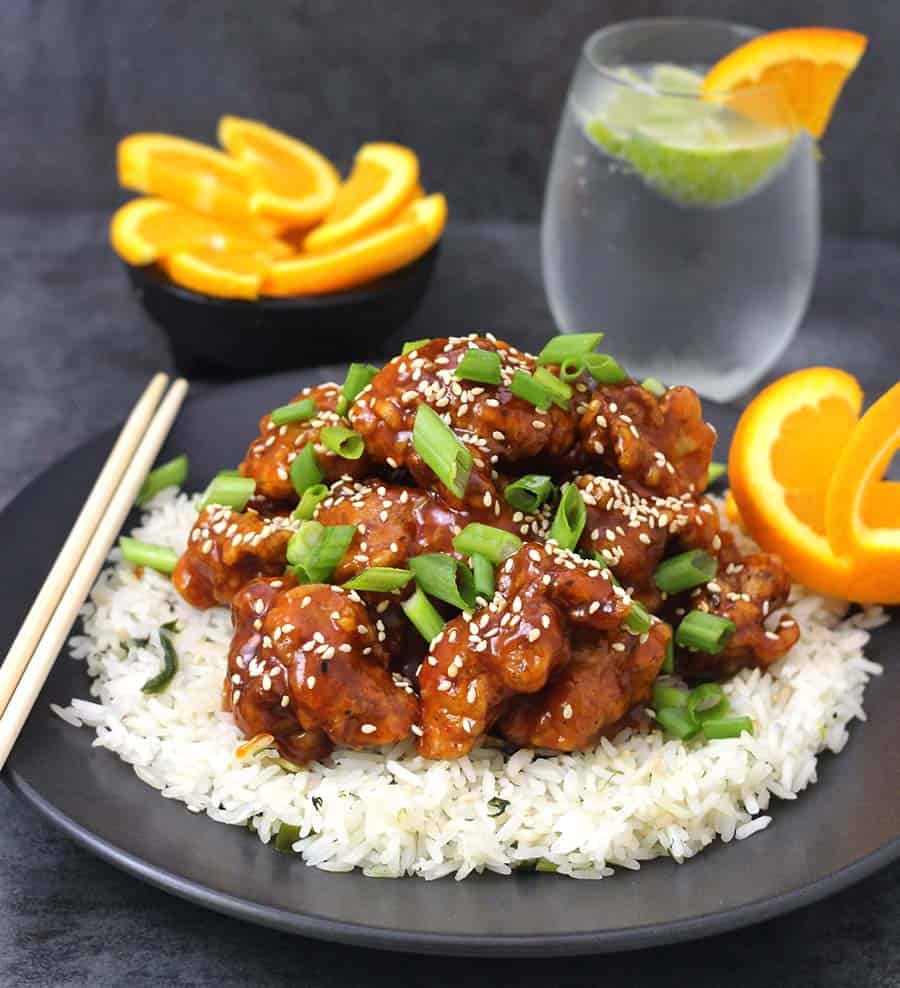 How to reheat orange chicken?
Thaw the frozen sauce mix. Preheat the oven to 350 F degree . Place the frozen chicken onto baking sheet. Bake for 12 to 15 minutes or until it is heated through completely.
Pour the thawed orange sauce in a pan. Bring it to boil, stirring it continuously. Reduce heat to low and simmer till the sauce is thickened. Pour the sauce over chicken thighs and enjoy.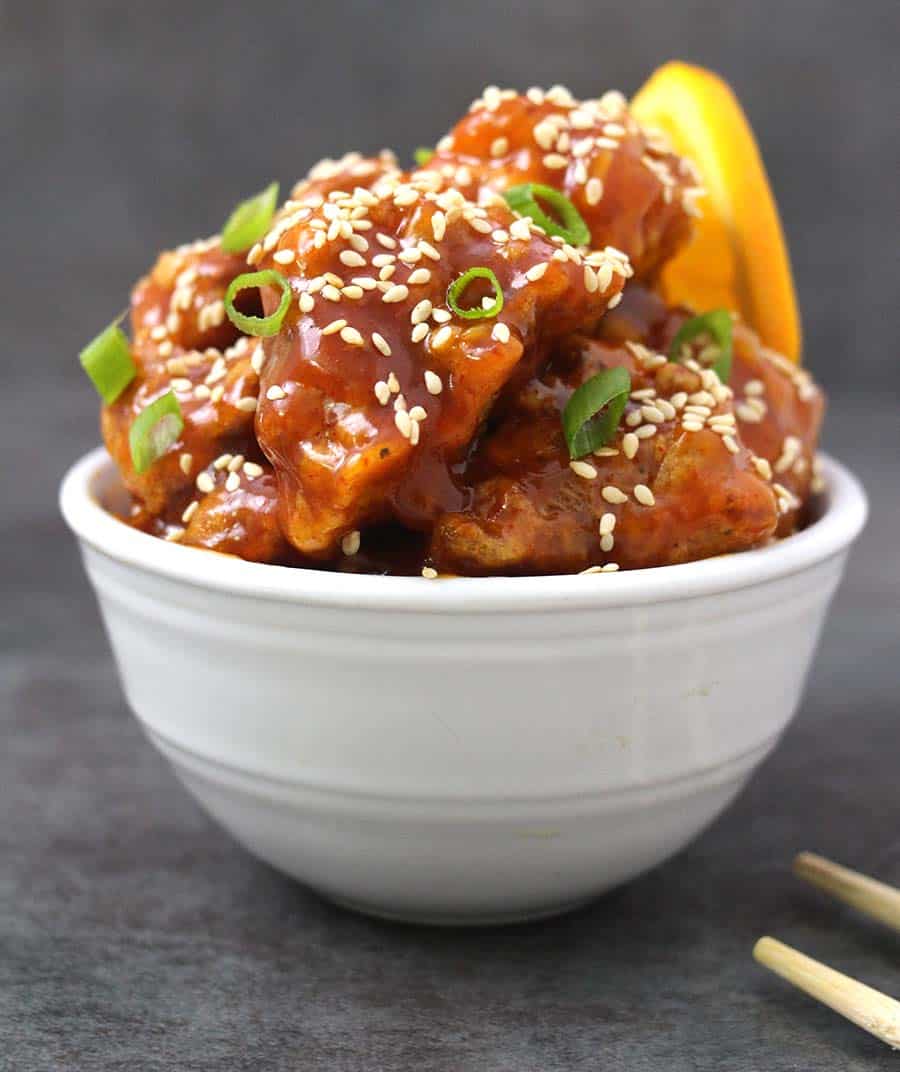 Happy Thanksgiving 2020
Detailed Recipe for Simple and Easy Homemade Orange Chicken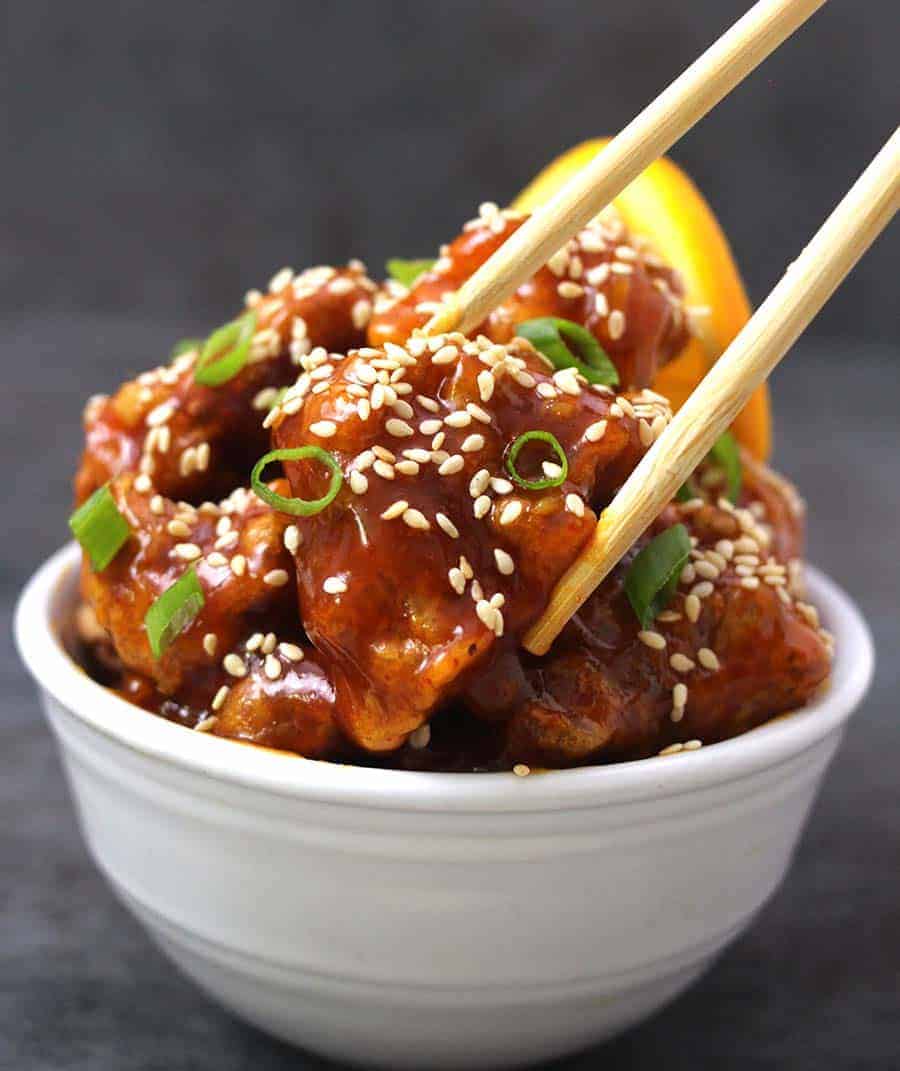 SIMPLE AND EASY HOMEMADE ORANGE CHICKEN
Course:
Appetizer, Dinner, Entree, Lunch, Side Dish
Cuisine:
American, Chinese
Keyword:
Best Chicken recipes, chicken thighs, football party food, general tso's chicken, healthy and simple meal recipe, honey sesame chicken, orange sauce, sesame chicken, sticky chicken thighs, Super Bowl Food, sweet and sour chicken, Thanksgiving Dinner, Thanksgiving sides
Ingredients
Orange Chicken Marination
4

Chicken thighs, chopped to 1 inch thick

1

tsp

Black pepper powder

1/4

cup

Orange juice, freshly squeezed

(approx. 1 orange)

1

tsp

Salt

2

Eggs

1

cup

Corn starch

2

cups

Oil, for frying
For the Orange Sauce
2

tbsp

Oil

2

tbsp

Garlic cloves, finely chopped

1

tbsp

Ginger, finely chopped

1/2

cup

Brown sugar, packed

(check tips)

1/2

cup

Orange juice, freshly squeezed

(approx. 2 oranges)

1

tbsp

Orange zest

1

tbsp

Honey

(optional)

4

tbsp

Soy sauce

2

tbsp

Vinegar

1

tsp

Red chile powder or Cayenne powder

(optional) check tips

1

tbsp

Corn starch

1

tbsp

Water

2

Green onions, chopped

(for garnish)

2

tbsp

Sesame seeds, roasted

(for garnish, optional)

1/2

tsp

Salt

(optional)
Instructions
For the chicken Marination
In a large bowl, add chopped chicken thighs, salt, black pepper powder, and 1/4 cup freshly squeezed orange juice and mix well. Keep this is refrigerator for 30 minutes.
Double Fry Chicken thighs
In a frying pan on medium high heat, add two cups of oil and let it come to temperature.

Meanwhile, in a bowl crack in two eggs and whish until light yellow.

To this add a cup of corn starch and continue whisking until there are no lumps, and the batter is smooth and shiny, about 3 minutes.

To this add marinated chicken and mix until all the chicken pieces are coated.

Fry the chicken for the first time for 4 to 5 minutes in two or three batches. The fried batter will look pale yellow, but that is okay.

Rest the fried chicken for at least 10 minutes before frying them again in two batches for the second time. The frying time will be about 5 minutes per batch, or until the chicken is golden brown and crispy. Remove from oil and drain on paper towels.
For Orange Sauce
In a large pan or wok on medium heat, add oil and finely chopped ginger and garlic and saute until it is fragrant, about 2 minutes.

Add freshly squeezed orange juice, zest, brown sugar, honey, and simmer for 5 minutes.

To this, add soy sauce, vinegar, chilli powder, salt, corn starch slurry (mix 1 tbsp of corn starch with 1 tbsp of water), and mix well. Reduce the heat to medium low and continue to simmer until the sauce has thickened.

Add double fried chicken thighs into this thickned sauce and toss until well coated.

Your dish is now ready. Garnish with toasted sesame seeds and chopped green onions, and serve. Enjoy.
Recipe Notes
You can use red pepper flakes instead of chile powder.
You can add orange zest about 1 tsp to marinade for fresh flavor if desired. 
Brown sugar can be substituted with fine sugar.
Please go through this post above to check how to make ahead  or freezer orange chicken and then reheat the same 
If you like this chicken recipe,
Don't miss to check out Vienna bread that garnered more than a million page views which makes perfect side dish for Thanksgiving dinner. also check out other delicious side dishes recipes that can be served for lunch or dinner.
For more recent updates, follow me on Pinterest, Instagram, Twitter
***Click below to save it on Pinterest***