I am sharing Thanksgiving dinner menu ideas and food recipes with all of you that include soups, bread and rolls, side dishes, appetizers, entrées, and desserts to make your dinner table more impressive and have a wonderful feast with family and friends this holiday season.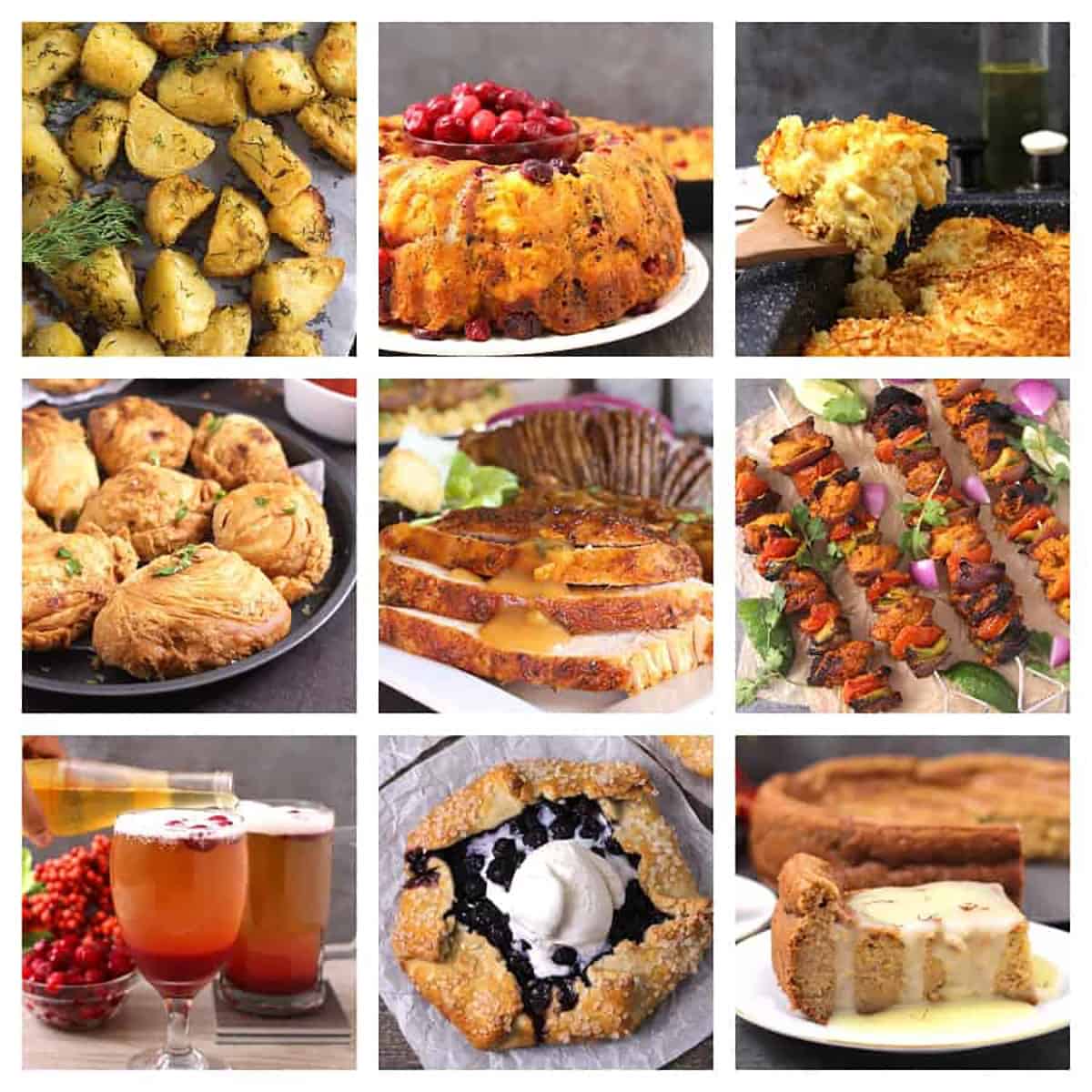 Jump to:
Ultimate Thanksgiving Dinner Menu
We are already almost at the end of the year 2022. Thanksgiving and Christmas are around the corner. One of the best seasons to spend time with family and friends, go shopping, watch football, and eat the best food.
I just can't forget how I always wait to eat some of the traditional and popular Thanksgiving delicacies. From perfectly roasted browned turkey, green beans casserole or cheesy potato casserole, roasted carrots, spaghetti squash or butternut squash pasta, and roasted sweet potatoes, to some amazing desserts like pumpkin pie, apple pie, and persimmon pudding or cranberry tart with my family and friends.
Happy Thanksgiving 2022 to all my lovely readers. I really appreciate the love and support you guys have been giving me in my blogging journey and making it a successful one.
The ultimate or traditional classic Thanksgiving dinner menu consists of dinner rolls, one salad recipe, mashed potato or sweet potato casserole, cranberry sauce, corn casserole, and pumpkin pie, along with roasted Turkey.
I have made different sections below that include recipes for bread, bun, rolls, side dishes, salad, main course, entree, and desserts, followed by a few special holiday drink recipes. Thus based on whether you have a large or small crowd or family to entertain, you can choose the dishes you want to prepare.
I highly recommend you check out all the options listed in each section and then build your menu. There are some interesting and easy recipes that you can make to surprise your guests on Thanksgiving.
This post is my way of saying thanks to all who have been supporting me in my journey by giving a list of recipes with which you can prepare your Thanksgiving dinner or potluck menu in one go.
Bread, buns, rolls
Bread, bun, and rolls are very important for any meal. Spread the butter on warm bread and start off your meal; serve it with soup and salad, or use it to soak all the gravy on your plate. I have recipes for special pull-apart bread, dinner rolls, corn bread, and traditional rolls. Pick your favorite from the list.
Salads
When you have a heavy main course or entree on your dinner plate, you definitely need something light and refreshing to balance out your meal, right? Below I share some of the best, simple, and easy-to-make salad recipes to brighten your Thanksgiving meal.
Thanksgiving Side Dishes
Any great meal is incomplete without delicious side dishes that complement it. I have recipes for simple thanksgiving side dishes that include garlic roasted potatoes, sweet potatoes, squash, corn, and mushroom. Pick your favorite
Vegetarian & Vegan Main dishes for Thanksgiving
This section is all about vegetarian and vegan main dishes that are going to be a total crowd pleaser at your Thanksgiving dinner table. Having said that, if you are going to serve this with roasted turkey, then you can even take these as sides, but definitely, these are worth trying for your Thanksgiving dinner.
I have recipes for cheesy-loaded cauliflower, potato casserole, gratin potatoes, burgers, pasta, savory pie, and more.
Turkey & Meat
I have one turkey recipe followed by other meat recipes like chicken and shrimp. I agree that turkey is a classic and traditional recipe for your Thanksgiving dinner. But this year, why not cook a small turkey and then cook another showstopper recipe from the one below if you really want to go with meat?
If you want to go with showstopper vegetarian and vegan dishes for your thanksgiving dinner table, then just pick one from the section below.
If you are looking for a small turkey with boneless breasts and a complete meal idea for a small crowd check this recipe below.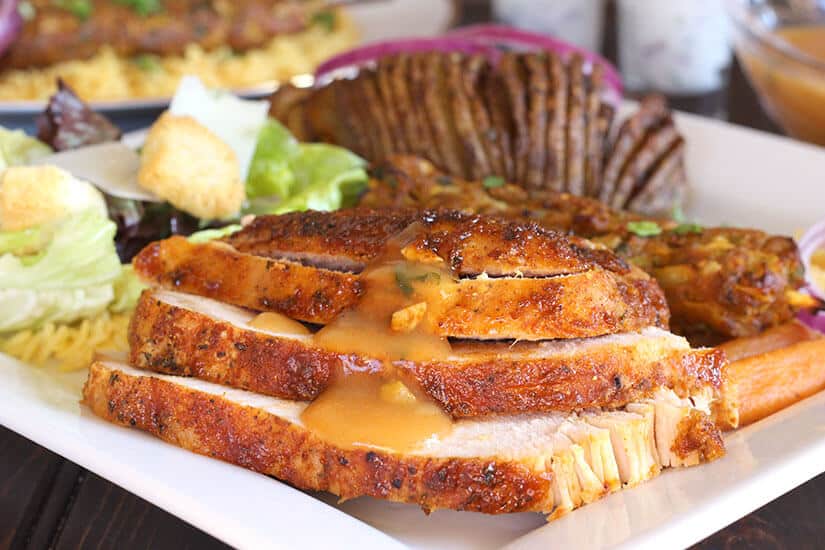 Desserts
There is always room for dessert even after a heavy Thanksgiving dinner. In this section, I have shared some of the best dessert recipes, from pumpkin pie, mixed fruit pie, apple cake, and cookies, to peanut butter fudge. Pick your favorite.
Some Special Drink recipes
Finally, I share some simple, unique, and special drink recipes to brighten your Thanksgiving dinner table.
Detailed recipes for Thanksgiving dinner, Potluck, or Party food that includes soups, salads, bread, rolls, buns, side dishes, appetizers, entrée, desserts, and drinks
Recipe card
How are you planning to celebrate Thanksgiving 2022?
Let us know how you have planned and organized for your Thanksgiving dinner table!
Wish you all a very Happy Thanksgiving 2022
For more recent updates, follow me on Pinterest, Instagram, Twitter.
***Click below to save it on Pinterest***