Best Thanksgiving Side dishes & Thanksgiving Stuffing Recipes - The main star of Thanksgiving dinner is the variety of side dishes served along with the perfectly roasted turkey. I have covered all recipes from potatoes to cauliflower, squash, green beans, Brussel sprouts, sweet potatoes, cranberries, and stuffing.
In this post, you will have traditional and classic recipes for Thanksgiving like mashed potatoes, sweet potato casserole, savory pie, green beans casserole, some new dishes like a mushroom in cream sauce, savory cranberry pull-apart bread, and butternut squash pasta.
If you are looking for the ultimate Thanksgiving dinner menu, then check out our complete list and menu ideas for Thanksgiving here.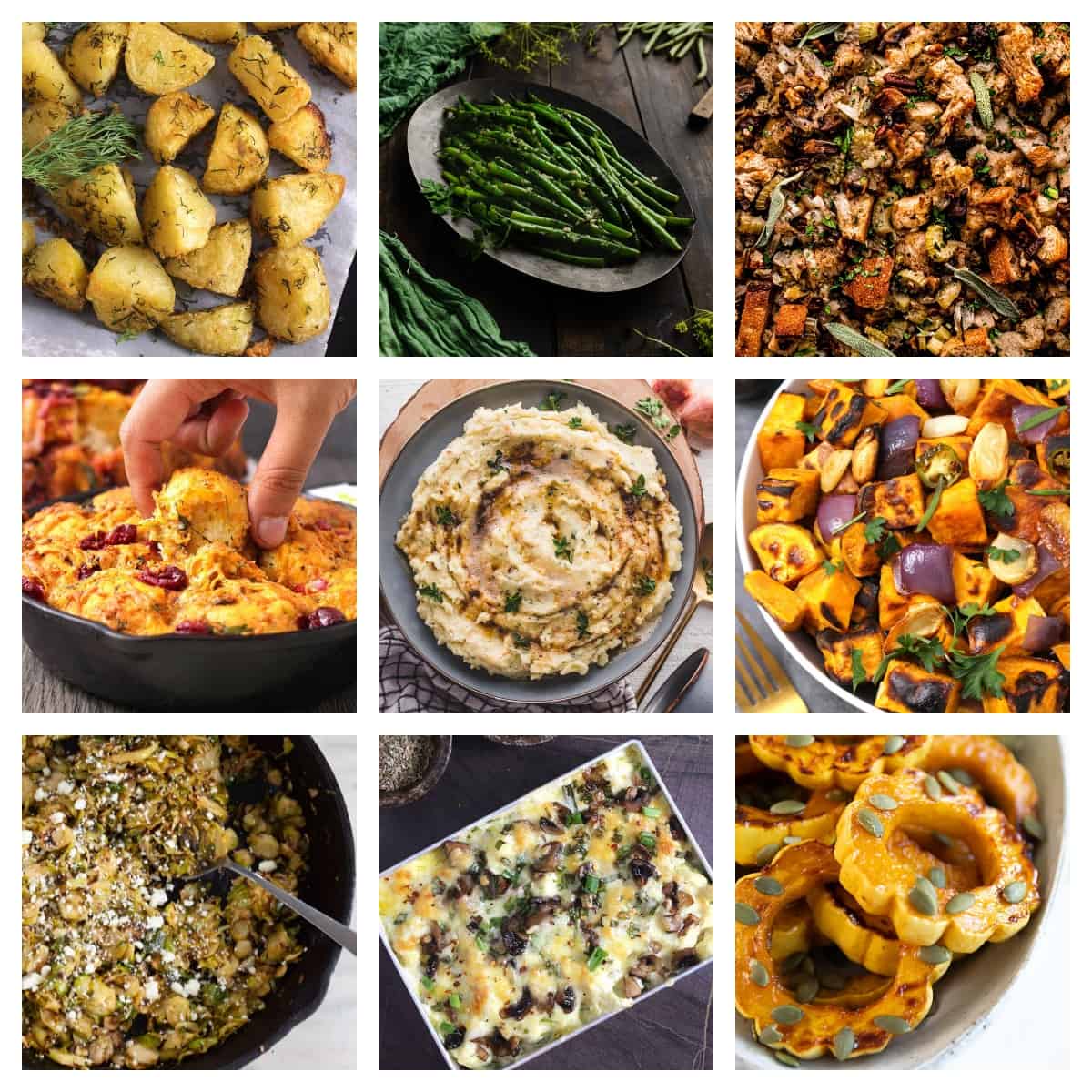 Jump to:
Potatoes
Roasted or Mashed potatoes are everyone's favorite. In this section, you will have interesting potato side dishes for Thanksgiving, from garlic roasted potatoes to mashed potatoes, au gratin, casserole, and more. One of these potato-based recipes is the right choice for your Thanksgiving table. Let us know which holiday potato dish is your favorite from our list.
Green Beans
The Thanksgiving dinner table is incomplete without a green beans recipe. Agree? I have shared five green bean recipes you can make for Thanksgiving dinner. Let us know what your pick is!
Brussel Sprouts
Brussels sprouts are another great and healthy addition to your Thanksgiving dinner. I am sharing four interesting recipes with sprouts that even sprout haters would taste and return for the second serving.
Butternut Squash
To make the Thanksgiving dinner table colorful and add variety to your meal, try to prepare a butternut squash recipe. Butternut squash can be roasted, grilled, mashed, etc., to prepare delicious sides. Or you can puree cooked butternut squash to prepare several sauces, dips, etc.
Cauliflower
Some of the best cauliflower recipes to try as a side dish for Thanksgiving are so tasty that these will be a regular feature for all your future parties. If you are not a cauliflower fan, you can even replace them with potatoes.
Mushroom
Mushrooms recipes are one of the best addition as a side dish to your Thanksgiving dinner table. Mushrooms are generally loved by a wide audience because of their earthy and meaty flavors - and they pair well with almost anything.
Sweet Potatoes
Sweet potatoes are a Thanksgiving staple in many families. I have got you all covered with a wide variety of dishes, including roasted sweet potatoes, sweet potato casserole, mashed sweet potatoes, and more.
Cranberries
Cranberries have been featured at Thanksgiving dinners since the first feast prepared by pilgrim fathers. Cranberry sauce is mainly prepared and poured over turkey, pork chop, or paired with your cocktails. I have two exciting recipes with cranberries below if you want to try something new.
Corn
Make your Thanksgiving dinner extra special with creamed corn casserole and my signature cornbread.
Carrots
I have shared some of the easiest and best side dishes you can make with carrots to impress little ones and people of all age groups.
Vegetable Side Dishes & Salads
Use a variety of seasonal vegetables and roast them or prepare a salad to make your Thanksgiving spread healthy, colorful, and wholesome.
Thanksgiving Stuffing
Below I have shared some interesting Thanksgiving stuffing recipes that have crunchy edges, soft insides, filled with herbs, and neutral flavors that go well with any dish.
Make ahead & store Thanksgiving Side Dishes.
Some of the Thanksgiving side dishes shared here can be made ahead of time and stored in the refrigerator for 3 to 4 days. Check each recipe for detailed steps.
Making recipes ahead of time can make your job easier on the day of Thanksgiving.
Salad prep can also be made the previous day and stored in airtight containers. Just mix when you are ready to serve.
To Reheat
The best way to reheat is to preheat the oven to 300 degrees F. Heat it for 5 to 10 minutes until it is warmed and heated through.
Recipe card
For more recent updates, follow me on Pinterest, Instagram, and Twitter.
***Click below to save it on Pinterest***