Puff Pastry Pizza is a easy to make, delicious recipe with the light, crispy and golden flaky texture prepared in less than 30 minutes. You can add in any toppings of your choice. This is a perfect dish for your holiday gatherings, your next weekend party or any other occasion. Creating a mouth watering pizza is now even simpler using these Puff Pastry Sheets.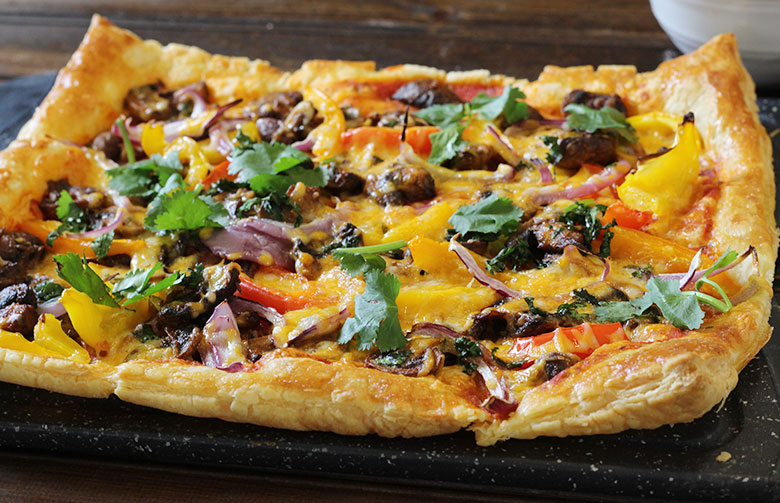 Today I have partnered with Pepperidge Farm® Puff Pastry to prepare this irresistibly tasty and delicious pizza using their Puff Pastry Sheets.
Spring is here and it is this time of the year between both formal entertaining settings such as Easter and more casual occasions like a springtime brunch, baby shower or bridal shower simple, easy and delicious recipes are must. Puff Pastry Sheets makes your task easy. Thaw-fill and bake. It is a no fail product and comes out perfect every single time.  The baked pastry is super light and crispy with a flaky texture and filled with deliciousness. The only thing you need to be worried is how to handle compliments once you bake and serve these treats. Prepare these beauties this spring season, serve it and surprise your guests. 
Remember to always keep a package of Pepperidge Farm® Puff Pastry in your freezer. Whenever some new inspiration strikes, just remove the Puff Pastry Sheets from the freezer, thaw for few minutes and get started on creating the recipes. While you are here do not forget to check out many different Puff Pastry recipe ideas and products on their website for your Easter gathering and other spring celebrations. Also sign up for the Puff Pastry newsletter for even more recipes, tips and exclusive offers every month.
The recipe below is super simple. I have used basic toppings from my pantry. Feel free to add in any toppings and sauce of your choice. You will be surprised with the outcome. Now making pizza at home is even more easier.
You can also check out some interesting recipes that I have prepared using these Puff Pastry
Preparation time : 25 minutes
Thaw time : 45 minutes
Serves: 4
Ingredients for Puff Pastry Pizza
Pepperidge Farm® Puff Pastry Sheet - 1
Pizza sauce - 5 tbsp
Pizza toppings - ¾ cup
Grated cheese of your choice - ½ cup
Egg - 1
Pizza toppings that I have used 
Onion chopped - ½
Capsicum / Bel peppers - ½
Mushroom sauteed - 5 to 6
Garlic sauteed - 1
Olive oil - 1 tbsp
Cheese
Coriander leaves / Cilantro - 1 tbsp
Steps to prepare Puff Pastry Pizza
To see the quick steps on how to make these delicious Puff Pastry Pizza check the video below:

Step I
Follow the instruction on the pastry sheets box to thaw the sheets. I have thawed them for 45 minutes at room temperature.
While the Puff Pastry Sheets thaw you can prepare the toppings. Feel free to use any toppings of your choice.
Heat 1 tablespoon of olive oil in pan. add chopped garlic cloves and sautee for few seconds.
Now add the chopped mushrooms, pinch of salt and pepper if desired and continue sauteing for 3 to 4 minutes till the mushrooms are cooked and liquid is gone completely.
Step II
Preheat the oven to 400 degree F.
Using a rolling pin, roll the Puff Pastry sheets until they are about an inch longer on both sides.
Mark the pastry with a fork, so that the pastry does not puff excessively while baking.
Spread a light layer of pizza sauce, and add the prepared toppings. Spread grated cheese.
Step III
In a small bowl crack an egg, add 1 tablespoon of water and beat well to get wash. Apply egg wash along the edges of the pastry, as this will give it a beautiful golden brown color upon baking.
Bake for about 20 minutes or until the edges turn golden brown. Allow it to cool for 5 to 10 minutes before slicing!
Puff Pastry Pizza are now ready. Serve and enjoy.
For more recent updates, follow me on Pinterest, Facebook, Instagram, Twitter, GooglePlus. 
***Click below to save it on Pinterest***