Spicy Tomato Curry is a tangy and spicy, finger licking and easy to make dish prepared using tomatoes and red chilli powder. This is a no onion no garlic recipe and can be prepared in less than 20 minutes.

If I have to prepare a different accompaniment for dosas other than chutney, I go with this recipe. Specially during vrat / upvas days where the options are limited I end up doing this curry. Today, I have served it with an interesting sabudana dosa and the combination was yummy. Will soon share the recipe for the same.
I generally don't measure any ingredients while preparing the recipe. You can always vary the amount as per your taste. Other ultimate combination with this curry would be steamed rice or flat breads (parathas).
Preparation time : 20 minutes
Serves : 3 - 4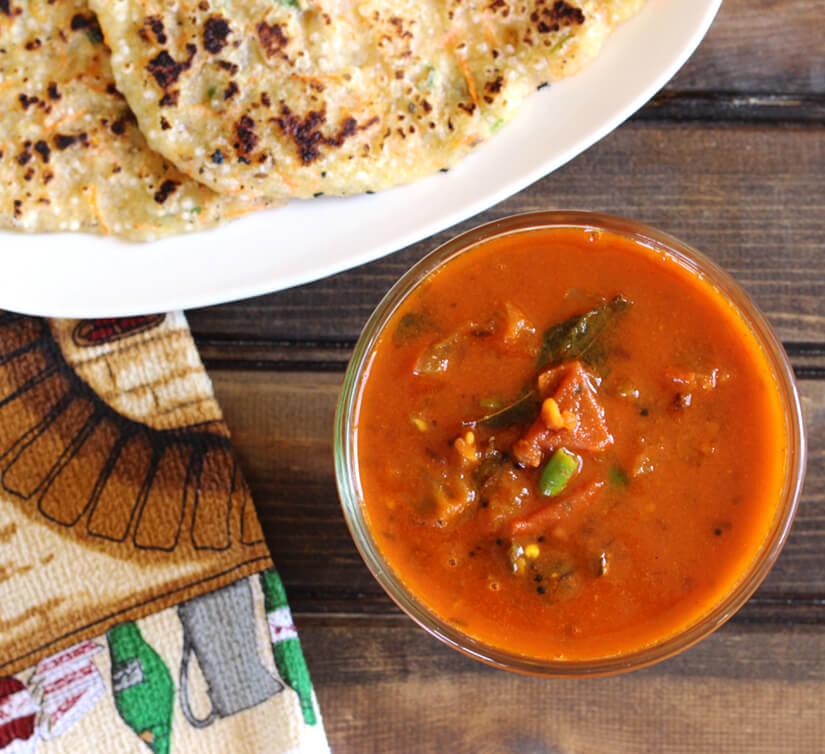 Ingredients for Spicy Tomato Curry
Big Tomatoes chopped  - 2
Vegetable oil - 1 tbsp
Cumin seeds - 1 tsp
Mustard seeds - 1 tsp
Urad Dal - 1 tsp
Chana Dal - 1 tsp
Curry leaves - 6
Asafoetida / Hing - ⅛ tsp
Turmeric powder - ¼ tsp
Green chile chopped  - 1
Red chile powder - 1 to 1 ½ tsp
Salt - to taste
Steps to prepare Spicy Tomato Curry
Heat oil in pan. Add mustard seeds and cumin seeds. When they start to splutter add urad dal, chana dal and curry leaves.
Once it becomes golden brown add the asafoetida, tomatoes and sprinkle some salt and cook till the tomatoes becomes soft.
Now add turmeric powder, red chilli powder, salt to taste, and water for desired consistency. Bring it to a nice boil and then simmer for 5 minutes.
Spicy Tomato Curry is now ready. Serve and enjoy.
Tip:
Vary the amount of chilli powder and green chillies as per your taste. This taste the best when its spicy and tangy. I have added green chilli today as the red chilli powder was not spicy enough. So you can add or skip the green chillies 🙂
Depending on the desired consistency, add the amount of water in the recipe.