Spring Dosa is a spicy, cripsy and delicious recipe prepared using regular dosa batter and vegetables of your choice. The recipe below is vegan and gluten free.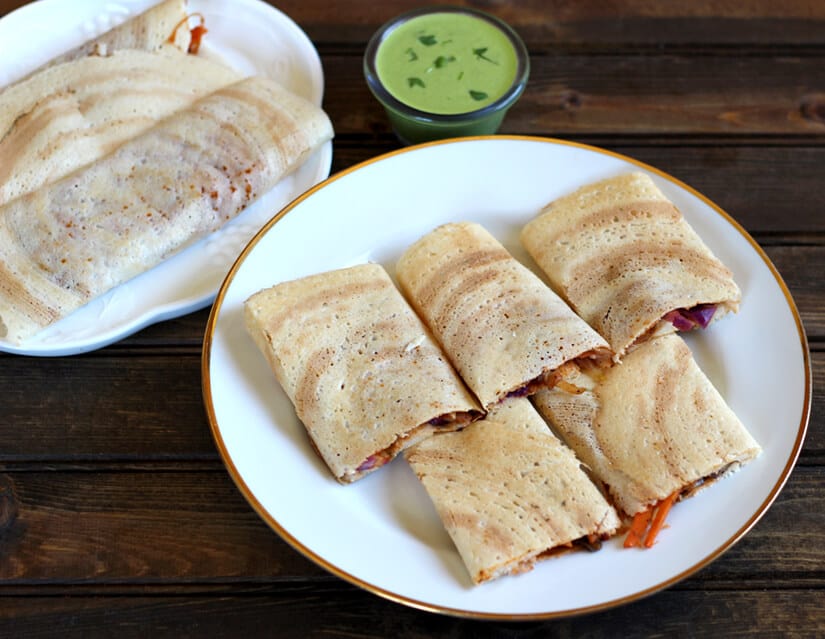 Traditionally butter or ghee is added to cook the dosa. However to make the dosa healthier I have not used any oil or butter, but this requires the use of a non-stick pan. The dosas did turn out crispy and tasty - just like the ones that you get at a restaurant.
This dosa is available in most South Indian restaurants and you can see that there are many variations in the filling. So use any vegetables and spices of your choice in the recipe. I also add cheese sometimes along with the veggies and it tastes awesome. If you want to make it Chinese style - add soy sauce, vinegar and chilli sauce along with noodles for the stuffing. If you like coconut then add in some grated coconut and peanuts to the stuffing. I can go on with the options as I have tried variations every time according to my family's taste and they have loved it.
You can also enjoy different recipes like idli, uttapam, masala dosa, appe using the same batter. I prepare batter that is sufficient to make at least three different recipes. You can use the batter for upto 6 days when you store it in refrigerator every time after use. This will not only save your time but also make you feel relaxed every morning because you do not have to worry on what to prepare for breakfast.
I have prepared a simple plain dosa batter today and used vegetables available in my pantry. You can also check my another version of cripsy plain dosa for which I have received positive feedback from lot of my visitors. This dosa can be served alone or with green coconut chutney or sambar. This dosa is also a perfect lunch box recipe.
Preparation time : 20 minutes
Fermentation : overnight
Serves : 8 people
Ingredients for Spring Dosa
Rice - 2 cups
Urad dal - 1 cup
Fenugreek seeds / Methi seeds - ¼ tsp
Onion chopped lengthwise - 1
Green chilies chopped - 1
Ginger chopped - 1 inch
Garlic cloves chopped - 5
Mushroom chopped - 4 oz
Carrot chopped lengthwise - 1
Cabbage chopped -  ½ cup
Coriander leaves chopped - 5
Red chile powder - 1 tsp
Tomato ketchup - 2 tbsp
Pepper Powder - ½ tsp
Vegetable oil - 1 tsp
Salt - to taste
You can also check out no fail cripsy plain dosa.
Steps to prepare Spring Dosa
Step I (prepare the batter)
Wash and soak rice, urad dal and fenugreek seeds in water for 4 – 5 hours. Drain them completely.
Grind this by adding water to form a smooth thick paste. The batter should not be thin. Transfer it to a big bowl. Cover and keep it in a warm place. Allow it to ferment overnight.
Next morning, after the batter has fermented, add salt and mix well.
Step II (prepare the stuffing)
Heat oil in a pan. Add onions, ginger, garlic cloves and green chilies and saute them till onions turn translucent.
Add mushroom and saute till its cooked.
Now add carrot, cabbage, chilli powder, pepper powder, tomato ketchup, salt and saute for a minute. Let the veggies be cripsy.
Add the coriander leaves / cilantro and switch off the flame. Stuffing is ready.
Step III (prepare the spring dosa)
Heat non-stick tava or griddle or pan on medium-high heat.
Pour a laddle full of batter and spread to make very thin dosas. Roast till it becomes light golden brown in color and crisp. Do not flip the dosa.
Now add the vegetable stuffing in one end  or at the center and fold over to form a roll.
Remove it from the pan and cut it into pieces using knife or pizza cutter.
Repeat the process for remaining batter.
Spring dosa is now ready. Serve hot with green coconut chutney and enjoy.
Tip:
You can prepare 8 dosas with stuffing.
Vary the spices in the recipe as per your taste.
If the weather is cold, then grind the batter using warm water or preheat the oven to 150 degree F, switch off the oven and rest the batter.