Tandoori Chicken Wings are irresistibly delicious appetizer were the crispy and juicy chicken are infused with exceptional flavors and right amount of spiciness making it a perfect accompaniment for any parties, game night or super bowl.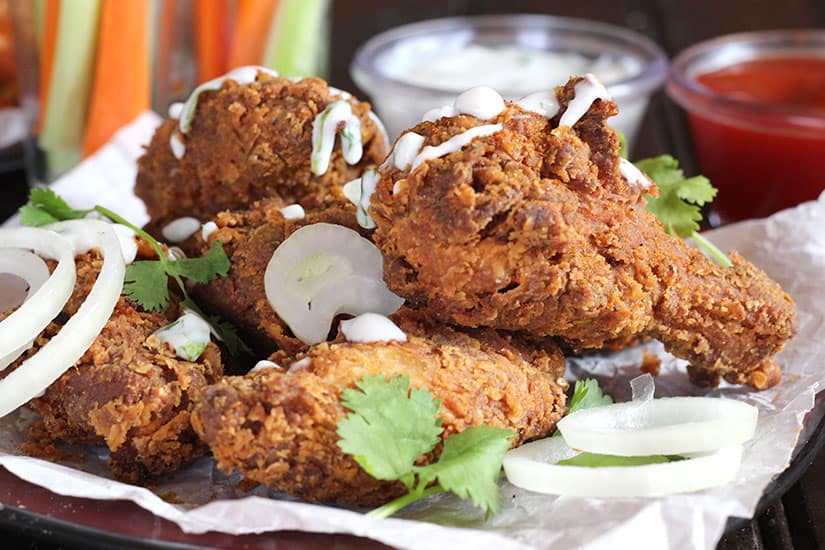 Tandoori flavor is among my favorites in Indian cuisine and tandoori chicken is the best of all 🙂 It may be fried wings, in curry or even biryani. these tandoori flavors takes the dish to the next level. This appetizer can be served alone or with flavored yogurt of your choice. I would love to add some black salt, mint leaves and green chilies to flavor my yogurt.
Once in a while we get craving of fried chicken and it is specially during the weekends while watching movie or any game and instead of going out to any restaurants I prefer making them at home. The only reason is because of many unhappy restaurant servings. Either its soggy, or not spicy or there is no enough flavors as desired.
The best part making it at home is you can play around the spices and prepare it as per your taste. This recipe is very simple to make giving your wings a chatpata flavor. It's spicy, tangy and yummy 🙂 I have added the flavors that my family loves. You can also add in some turmeric powder, cumin powder and coriander powder if desired.
Don;t forget to try this out and share your comments and variations. While you are here don't forget to check out most liked chicken recipes - Chicken Tikka Biryani, Spicy Sriracha Chicken Wings, Butter Chicken.
Preparation time : 30 minute
Marination : 1 to 2 hours
Serves : 8 pieces

Ingredients For Tandoori Chicken Wings
For Marination
Chicken wings - 8 pieces
Chickpea flour / Besan -  ¼ cup
Salt - ½ tsp
Red chile powder / Cayenne powder - 1 tsp
Tandoori masala powder - ½ tsp
Amchur powder - ¼ tsp
Black salt - ⅛ tsp
Garlic cloves grated - 3
Ginger grated - ½ inch
Green chile/ Serano pepper grated - 1
Dried mint leaves - ¼ tsp
Yogurt - 3 tbsp
For coating and dredging:
All purpose flour / Maida - ¾ cup
Tandoori masala powder - ½ tsp
Chat masala - ½ tsp
Salt - ½ tsp
Cayenne powder / Red chile powder -  ½ tsp
Egg - 1
Vegetable oil - for frying
Steps to prepare Tandoori Chicken Wings
Step I
Marinate the chicken with all the ingredients mentioned above in 'For marination' list
Keep it in refrigerator for atleast 1-2 hours. preferably overnight.
Step II (dry-wet-dry method)
Whisk the egg and keep it aside.
In a plastic cover add in the flour, tandoori masala, chat masala, salt, cayenne powder.
Add in the chicken wings to the flour mixture and give this a nice mix so that the flour gets distributed on the wings equally.
Keep the left over flour aside and use it for next coating. You can also use fresh flour or bread crumbs here if required.
Coat each of these wings in the egg and then coat again in the flour.
Step III
Heat oil in a heavy bottomed pan for frying.
Once the oil is hot, drop chicken wings in batches and fry on medium to medium high flame till they are crispy and golden brown in color. Do not overcrowd the pan.
Transfer this to paper towel to absorb any excess oil.
Repeat the process for remaining wings.
Tandoori Chicken Wings are now ready. Serve with yogurt dip or tomato ketchup and enjoy.
Tip:
To check if the oil is hot enough, drop a small piece of wings and check if it sizzles and comes up.
Vary all the spices as per your taste.
For more recent updates, follow me on Pinterest, Facebook, Instagram, Twitter, GooglePlus. 
***Click below to save it on Pinterest***