Chicken Tikka Masala is an addictive, classic dish for lunch or dinner where the chicken marinated in aromatic spices is first grilled and then mixed in a finger licking sauce or tikka masala.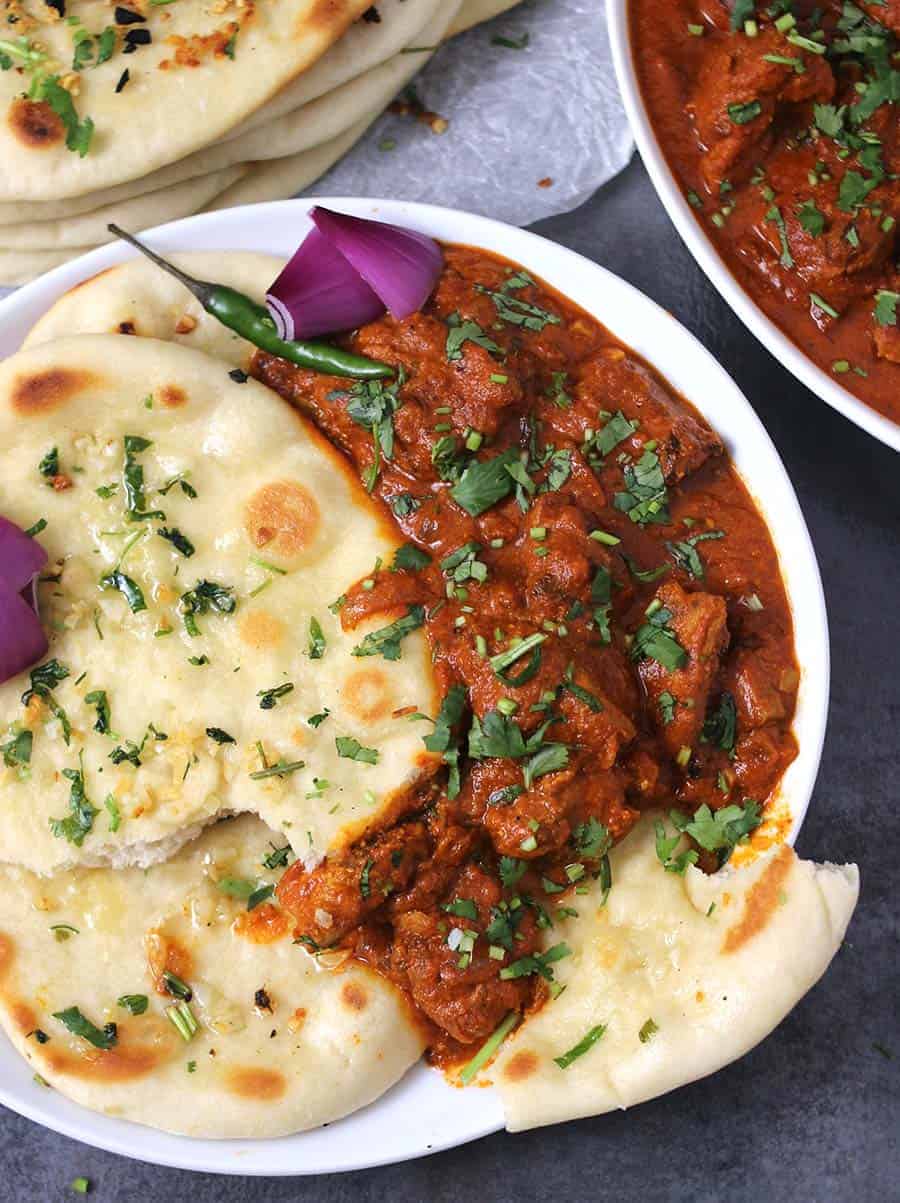 It's very easy to make at home than you actually think. Homemade tikka masala or sauce tastes better than any restaurant or dhaba.
What is chicken tikka masala?
Chicken tikka masala is one of the popular chicken dishes around the world. Marinated chicken pieces in Indian spice mix are grilled to perfection in tandoor or oven or barbecue and then tossed in a spicy gravy or curry called masala. Tikka masala is a smooth and silky blend of onion, tomato and Indian spices.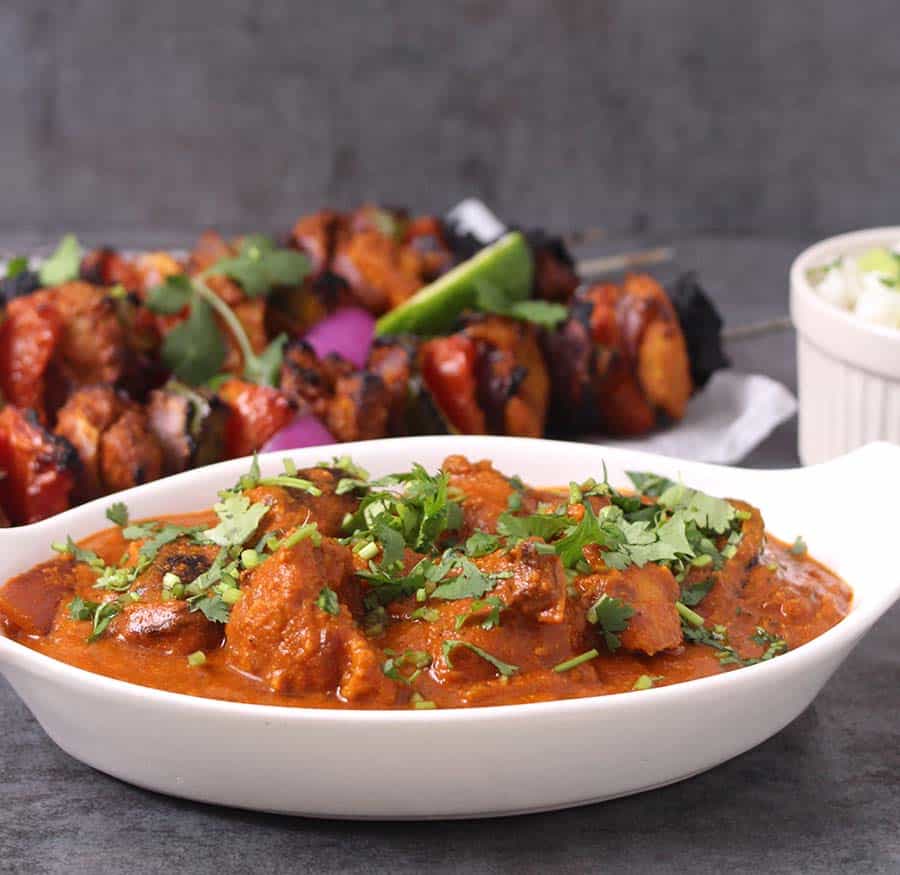 WHAT IS THE DIFFERENCE BETWEEN BUTTER CHICKEN (MAKHANI) AND CHICKEN TIKKA MASALA?
Both are popular dishes around the world. Butter masala or makhani originates from Delhi, North India and tikka masala is a British invention.
Kundal lal Gujral , who ran a restaurant in Delhi called Moti mahal did not want any leftover cooked meat in his restaurant to dry out. To avoid this, he cooked them in aromatic-spiced tomato-based gravy along with butter and cream adding richness to the overall dish and named it Butter chicken or Murgh Makhani.
On the other hand, tikka masala was developed in UK by a person from subcontinental region. Chicken tikka refers to pieces of chicken grilled on skewer and masala means Indian spice blend used to make tikkas or gravy. Butter masala is on the sweeter side and Tikka masala on the spicier side.
This delicious entree can be prepared for your upcoming tailgating events or game nights (football or super bowl) or potluck or Easter, Thanksgiving, and Christmas holiday dinner parties!
WHAT IS DIFFERENCE BETWEEN CHICKEN TIKKA AND CHICKEN TIKKA MASALA?
Chicken tikka is a dry item served as side or starter or appetizer, where marinated chicken in Indian spices are grilled to perfection on bbq (tandoor) or stovetop or oven.
Chicken tikka masala is nothing but chicken tikka cooked in a tomato-onion gravy along with additional spices, thus making it more hot and spicier. This can be served as an entrée or main dish with Indian breads like naan or roti.
All ingredients required for tikka and tikka masala are very basic and available at any Indian stores. But these days you can find at all big stores like Walmart, Target, Kroger.
Is Chicken Tikka Masala Keto?
Homemade version of tikka masala has low carbs, no sugar and is one of the best chicken dishes option for ketogenic diet.
How to make the best chicken tikka masala at home ?
In short, its just 4 easy steps
Marinate the chicken
Cook the chicken on skewers - grill (tandoor), barbeque, oven or stovetop
Make the tikka sauce or masala or gravy
Combine tikka masala sauce and Chicken tikka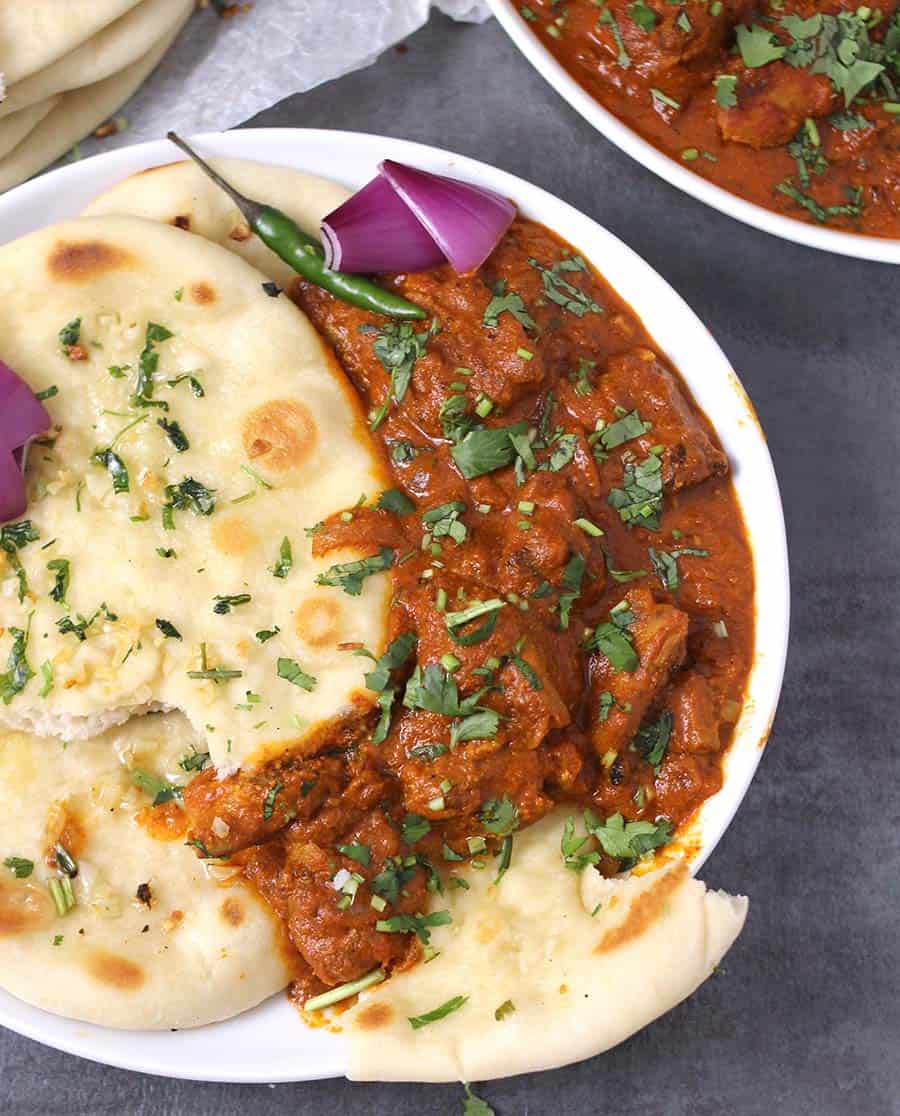 Once you have the Chicken tikka or paneer tikka or any meat or vegetarian tikkas ready, preparing the masala (gravy or curry or sauce) is super easy. This recipe below gives you a spicy curry and that is what my family and friends love. But based on the heat level you can tolerate adjust the amount of red chili powder you add to the dish. You can even skip adding red chilli powder to the tikka masala to obtain a milder gravy.
In USA, you really get good tomato sauce and thus I have substituted tomatoes with this tomato sauce. If you do not find store bought tomato sauce, add 2 pureed tomatoes to the recipe. (Tomato sauce in USA is different from what we get in India)
To start with chicken tikka masala, heat oil in a pan, add cumin seeds. When they splutter add onions, garlic, ginger and sauté till they become translucent.
To this add sour cream, tomato sauce, all the spice powders like chili powder, garam masla powder (tandoori masala), and coriander powder as per your taste. Because I had some extra marinade from preparing chicken tikkas I have added it to the gravy - this is completely optional.
Once this comes to a simmer, add the prepared chicken tikkas along with the grilled veggies if desired and continue to simmer for additional 5 minutes.
And you are done. Finally, add butter to this and serve with your favorite bread!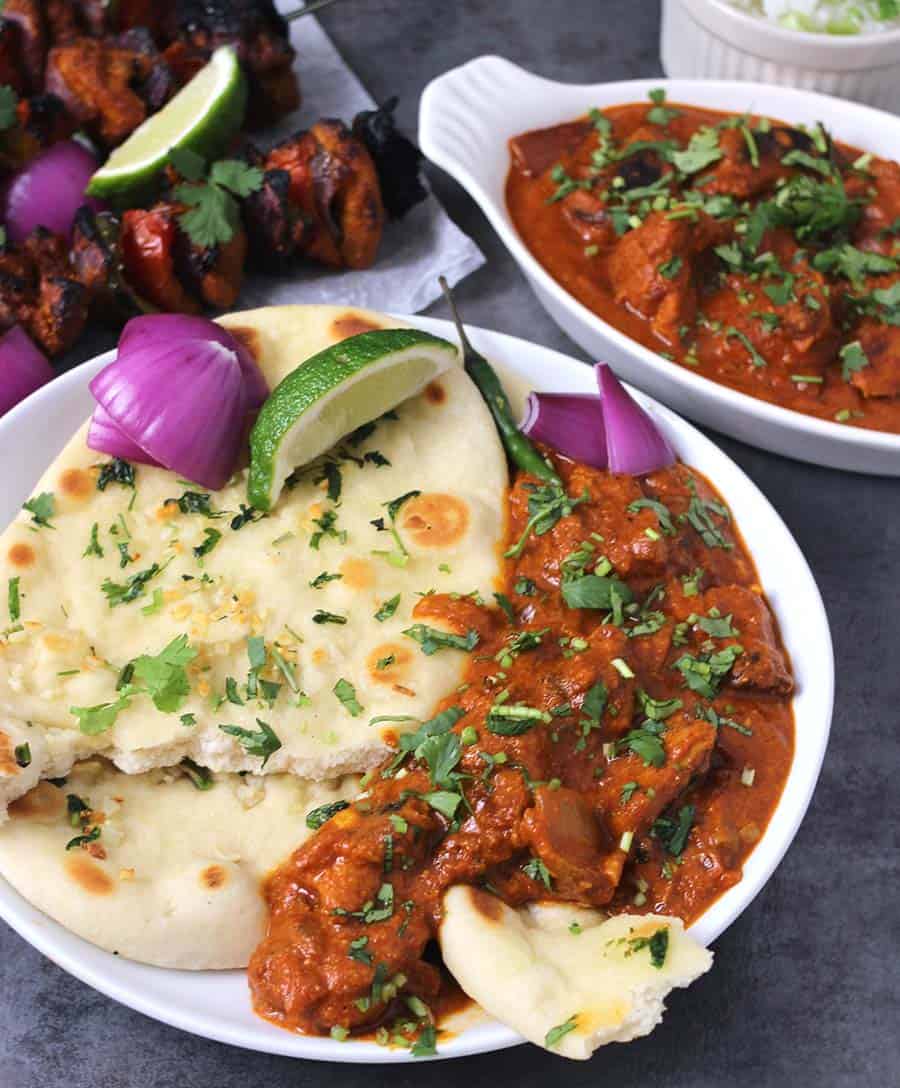 Which works best for tikka - chicken thighs or chicken breasts?
Both chicken thigh and breast meat works equally good - but I generally prefer using thighs over breasts as I love the fact that the meat is tender and juicy when cooked. An additional plus point is that the marination time for thighs is less compared to breasts. If you want to prepare this dish as quickly as possible even for your weeknight dinner, then use chicken thighs.
If using chicken breasts for health reasons make sure you marinate it a little longer. Overnight would give you the best results. And let the breast meat rest for a few minutes after it is cooked before serving or slicing through to retain its juiciness.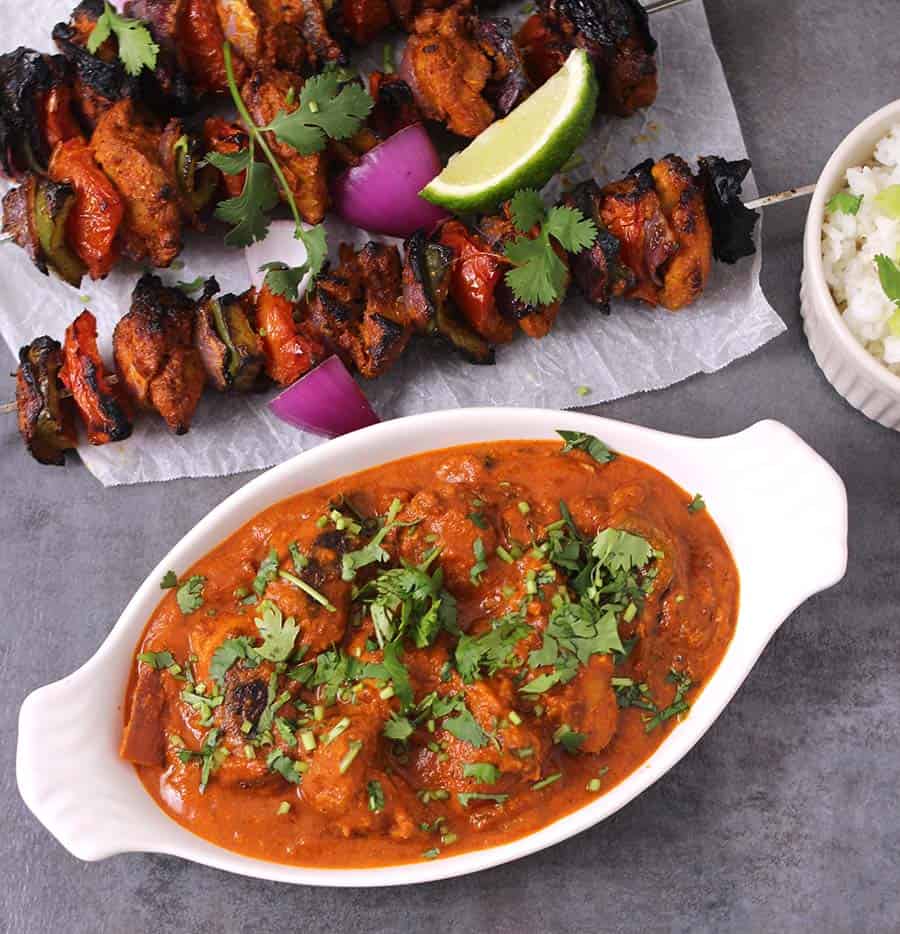 How to prepare paneer tikka masala or vegetarian tikka masala?
Vegetarians can still prepare this tikka masala sauce by substituting meat with paneer or tofu, cauliflower, babycorn or mushroom.
SOME OF THE BEST POPULAR CHICKEN RECIPES TO MAKE AT HOME
SOME OF MY FAVORITE, BEST AND EASY, POPULAR FLATBREAD (ROTI, NAAN) RECIPES THAT ARE PERFECT ACCOMPANIMENT FOR TIKKA MASALA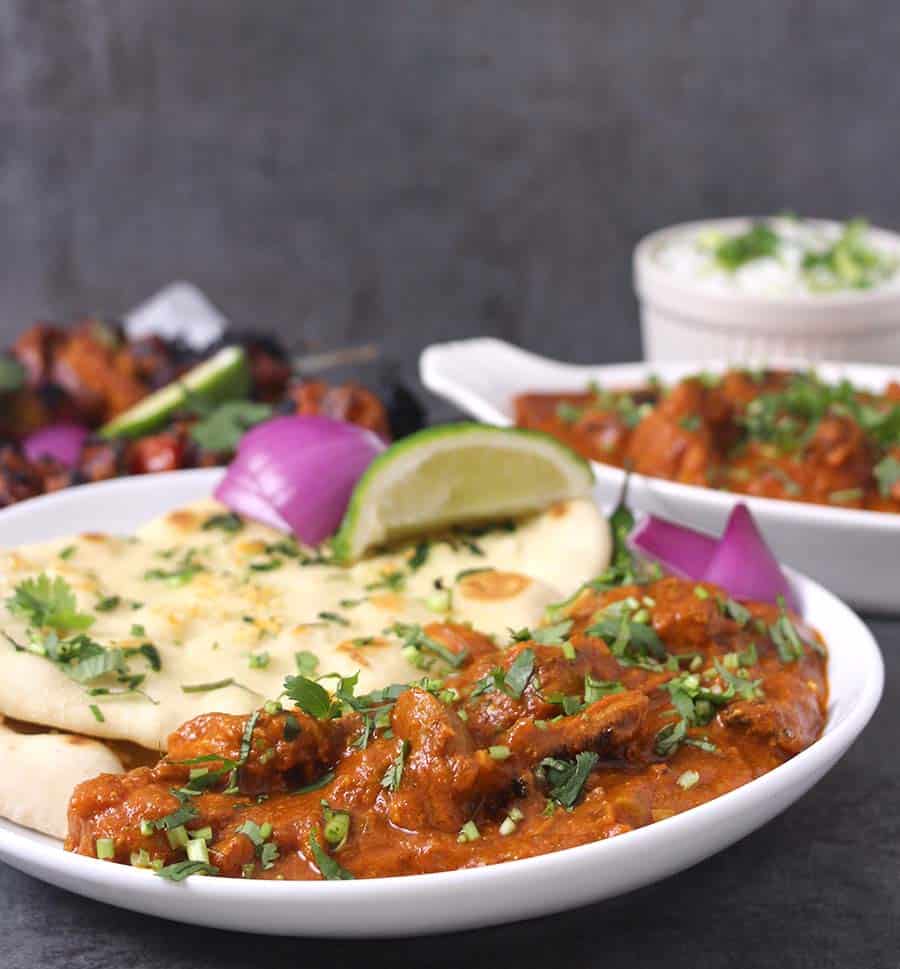 What to serve with chicken tikka masala?
Tikka Masala is a classic accompaniment for breads like naan, roti, chapatis and ghee rice or brown butter rice. Today, I have served with Garlic butter naan and this is one of the best combination ever.
Make ahead chicken tikka masala?
This dish can be made 2 days ahead of time. Cover and refrigerate it. Dishes like this which uses lot of spices enhances the flavors over the dish over time as it has chance to infuse its aroma in the dish.
Can you freeze chicken tikka masala?
You can freeze this dish upto 2 months and reheat and use as desired. Make sure you store in a zip lock bag and lay them flat.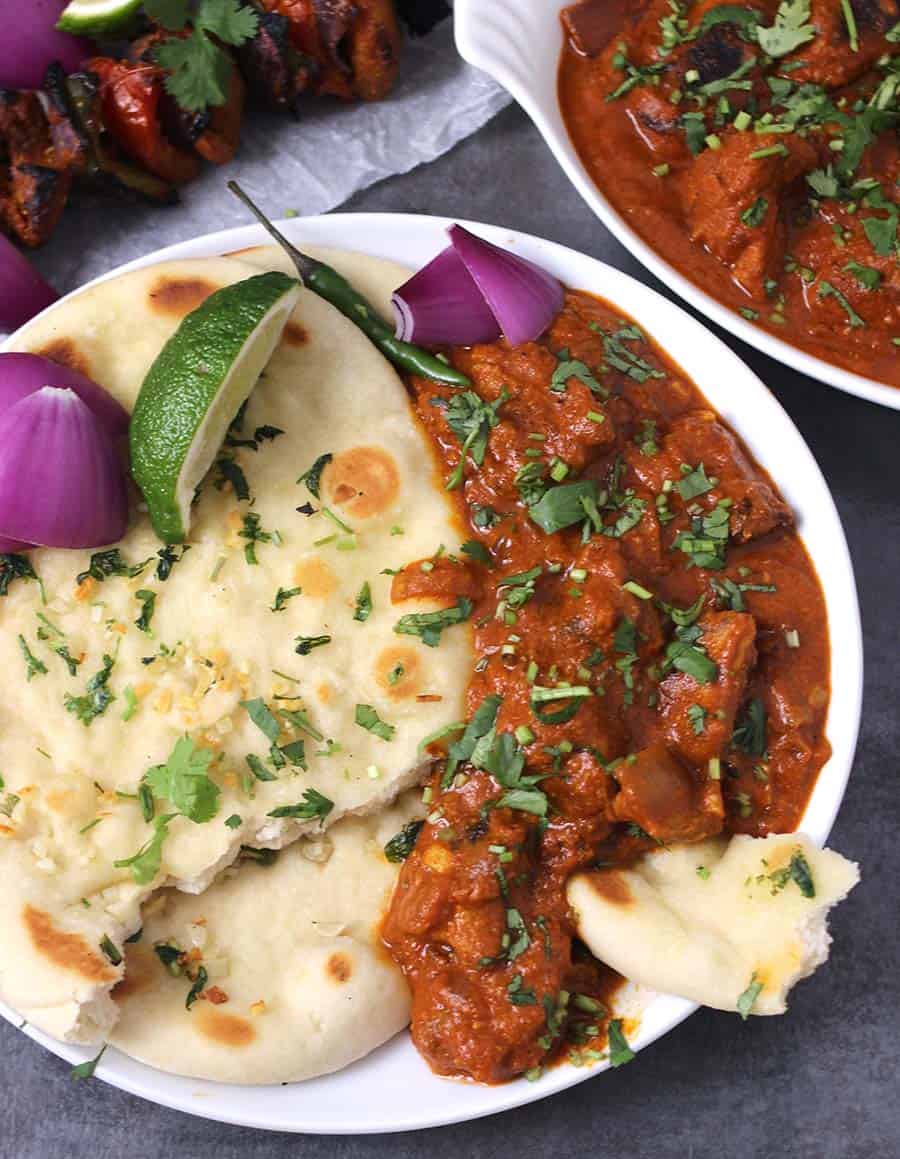 Follow me on Instagram and tag me with #cookwithkushi so that I get a chance to see all the recipes you make and give it a ♥
Detailed recipe for homemade chicken tikka masala or tikka sauce
Chicken Tikka Masala | Best Homemade Tikka Masala Recipe
Chicken Tikka Masala is an addictive, classic dish for lunch or dinner where the chicken marinated in aromatic spices is first grilled and then mixed in a finger-licking sauce (masala). Vegetarians can prepare tikka masala with the same recipe but substitute meat with paneer, baby corn, mushroom, tofu, potatoes, or a combination of all.
Ingredients
4

skewers

Chicken tikka skewers

use our recipe, check tips, four 12-inch long skewers

1

teaspoon

Cumin seeds

1

Onion

finely chopped

2

Garlic cloves

finely chopped

½

inch

Ginger

finely chopped

1

tablespoon

Cooking oil

1

can

Tomato sauce

8 oz can or puree from 2 large tomatoes

2

tablespoon

Sour cream

or heavy cream, check tips

1

tablespoon

Kashmiri red chile powder

for color

1

teaspoon

Red chile powder

for spiciness, adjust to taste, check tips

1

teaspoon

Garam masala

powder or Tandoori Masala Powder or Curry powder

2 to 3

teaspoon

Coriander powder

1

teaspoon

Salt

adjust to taste

1

tablespoon

Butter

or Oil

¼

cup

Water

2

tablespoon

Chicken tikka marinade

completely optional
Instructions
Step I
In a saucepan on medium heat, add oil and cumin seeds.

1 tablespoon Cooking oil,

1 teaspoon Cumin seeds

When cumin seeds turn light brown, add finely chopped onions, garlic, and ginger and saute until onions turn light golden brown. This should take about 5 to 8 minutes on medium flame.

1 Onion,

2 Garlic cloves,

½ inch Ginger
Step II
Add tomato sauce, water, sour cream, Kashmiri chile powder, spicy chilie powder, garam masala powder, coriander powder, salt, and leftover marinade (optional), and mix well.

1 can Tomato sauce,

2 tablespoon Sour cream,

1 tablespoon Kashmiri red chile powder,

1 teaspoon Red chile powder,

1 teaspoon Garam masala,

2 to 3 teaspoon Coriander powder,

1 teaspoon Salt,

2 tablespoon Chicken tikka marinade,

¼ cup Water

Once this comes to a simmer, add chicken tikka (and grilled veggies if preferred) from four 12-inch skewers and continue to simmer for another 5 minutes.

4 skewers Chicken tikka skewers

Chicken Tikka Masala is ready. Add a dollop of butter and serve with your favorite rice or naan.
Notes
The complete recipe for chicken tikka 
I have used tandoori masala instead of garam masala powder.
I added veggies from one skewer and served the rest as a side.
This gravy was spicy, so you may reduce the extra spicy red chile powder by half or skip it completely if you prefer mild curries.
Kashmiri red chile powder gives this dish the signature red color.
If you have any leftover marinade from preparing chicken tikka, add it with tomato sauce. I had about 2 tablespoon of marinade left over from preparing chicken tikka, which I added to this dish.
You may easily substitute chicken with grilled veggies or Indian cottage cheese (paneer), baby corn, mushroom, or even tofu in this dish to make it vegetarian.
Always adjust all the spices to taste. 
Be sure to marinate chicken for better results. check chicken tikka 
If you want a creamy, sweeter dish then check our butter chicken recipe. 
You can substitute sour cream with yogurt or heavy cream. If you feel adding cream will curdle the gravy, simply take sour cream into a bowl, add a small amount - say a few tablespoons - of hot gravy and mix it well, and then add this back to the gravy.  
Nutrition
Calories:
266
kcal
Carbohydrates:
19
g
Protein:
11
g
Fat:
18
g
Saturated Fat:
4
g
Polyunsaturated Fat:
5
g
Monounsaturated Fat:
9
g
Trans Fat:
0.1
g
Cholesterol:
48
mg
Sodium:
888
mg
Potassium:
298
mg
Fiber:
3
g
Sugar:
4
g
Vitamin A:
1388
IU
Vitamin C:
7
mg
Calcium:
42
mg
Iron:
2
mg
If you like this chicken tikka masala or chicken curry (gravy) recipe,
Don't miss to check out other delicious bread and flatbread, Indian curry and gravy recipes
For more recent updates, follow me on Pinterest, Instagram,Twitter.
***Click below to save it on Pinterest***