Brown bread is an easy to make, soft and incredibly delicious vegan bread prepared using wheat flour, cocoa powder and coffee powder.

When it comes to baking bread at home, you can consider me as a fanatic. I thoroughly enjoy the process of baking and I always strive to learn new techniques and recipes. As a result the oven in my kitchen rarely gets a chance to rest. Call it a blessing - that my family loves to clean off the baked goodies in no time! Now you know the reason behind this vicious cycle of baking-eating in my kitchen 🙂 Of all the baked goodies, my family loves to gorge on warm freshly baked bread along with some salted butter. So when we visit most of the Italian or American restaurants we make sure to order some bread along with salted-butter or honey-butter or flavored olive oil.
The Cheesecake Factory is one such restaurant that serves warm loaves of bread when you order entrees for lunch or dinner. My husband loves the brown bread loaves that they serve, and most of the time ends up filling on them thereby leaving little or no room for their delicious desserts.
Since my husband loves this bread very much, I decided to bake some for him recently. This was the first time I was combining cocoa powder, coffee powder, and molasses for a bread recipe. These ingredients give the bread its signature flavor and color. The bread is really easy to bake, and is soft when served warm and simply melts in your mouth. Do give this Cheesecake Factory inspired Brown Bread recipe a try and I am sure it is going to be a regular feature on your dinner table.
Also don't miss to check out shrimp scampi pasta, also inspired from The Cheesecake Factory. I am sure you will love this one as well along with simple and quick no-knead baguette bread and 12 easy to make vegan flatbread recipes.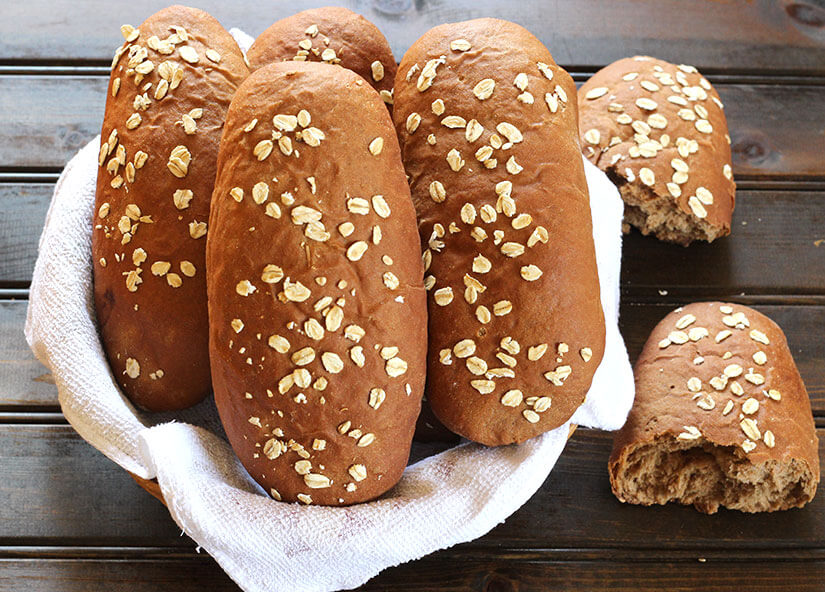 Preparation time: 4 hours 30 minutes
Serves : 6 loaves
Ingredients for Brown Bread
Warm water - 1 ½ cups
Active dry yeast - 2 ½ teaspoon ( 1 packet)
Sugar - 2 tsp
Whole wheat flour - 1 ½ cup
All purpose flour / Maida - 2 cups
Salt - 1 tsp
Cocoa powder - 3 tbsp
Coffee powder / Espresso - 2 tsp
Vegetable oil / Shortening - 2 tbsp
Honey / Agave nectar - 2 tbsp
Molasses - 2 tbsp
Oats - to dust on top of the bread
Steps to prepare Brown Bread
Step I
In a bowl, mix sugar and warm water. Sprinkle yeast. Cover it and keep it undisturbed for 5 minutes or until the yeast activates.
Add wheat flour, all purpose flour, salt, cocoa powder, coffee powder, vegetable shortening, honey, molasses and knead it for about 8 to 10 minutes till you get a soft and smooth dough. This dough will be tacky when compared to other bread dough.
Place the dough in bowl that has been lightly coated in oil. Cover it and let it rise in a warm place for about 2 hours or until doubled in size.
Step II
Divide the dough into 6 equal pieces and shape them into mini baguette logs.
Place these logs on a baking sheet. See that there is enough space between them as they are going to double in size. I have used a silicone baking sheet. If you do not have a silicone baking sheet, then dust with some all purpose flour or corn meal to prevent the bread from sticking to the sheet.
Wet top of each loaves lightly with some water and sprinkle some oats on top.
Cover it and keep it in warm place for about 1 hour to 90 minutes or until it doubles in size.
Step III
Preheat the oven for 350 degree F.
Bake for about 25 to 30 minutes or until done. The crust of this bread is going to be soft.
Let it cool for about 10 minutes before serving.
Brown Bread is ready. Serve with butter or your as a side with favorite pasta and enjoy.
Tip:
The amount of flour required may vary depending on the weather conditions and brand of flour used.
You can use agave nectar instead of honey for vegan version.
This recipe is adapted from kitchentrials.com.