Eggless Apple Pancakes are easy to make soft and chewy, delicious and filling breakfast recipe prepared in less than 30 minutes. These pancakes also remain moist and fluffly for a long time and therefore perfect to be packed in a lunch box.
I hope you guys have enjoyed all the apple recipes that I have shared over the last few weeks. When apples are available in plenty, specially during Fall, I try to include them whenever possible in my recipes. They are so versatile that I use them while preparing smoothies, salads, breads and other baked goodies, desserts, and even entrees! The recipe below is for all my lovely readers who had requested me to post a recipe for eggless pancakes. At our home, we have pancakes or dosa for breakfast on a regular basis. Though I had prepared apple pancakes several times I never got a chance to present them in my blog. Because of repeated requests, I decided to prepare them for Sunday morning brunch and clicked a few photos before serving them to my family.
To prepare eggless apple pancakes you require very basic ingredients. If you are not an apple lover, feel free to replace it with any fruits or berries of your choice. My other got to fruit choices are bananas, blueberries, strawberries, blackberries etc. 🙂 Given how simple and delicious these pancakes are, you should definitely prepare them as a breakfast item for upcoming Thanksgiving and Christmas holidays! I am sure everyone in your family will love it!
I have used homemade Apple Butter in the recipe to to make these pancakes extra special. If you do not have them on hand, just saute chopped apples in butter with some sugar before adding it to the batter. I hope you give this recipe a try soon and do not forget to let me know how it turned out. While you are here, also do check out some of my recent apple recipes!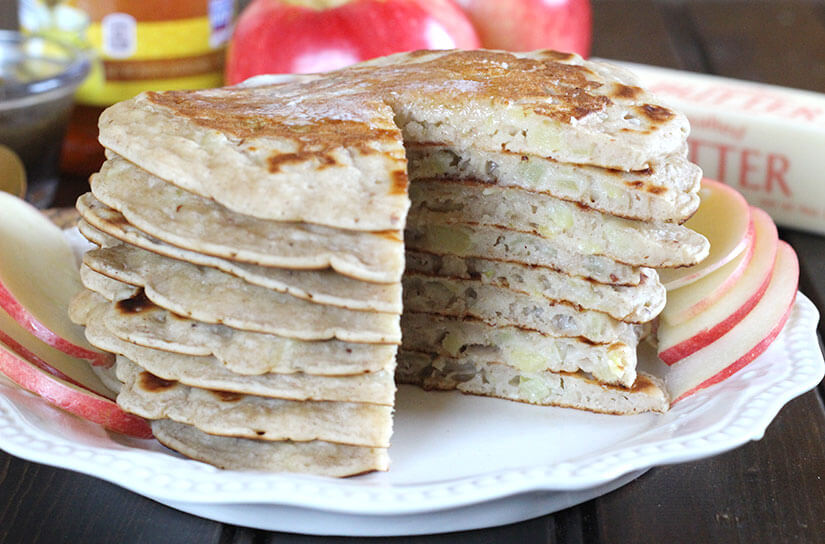 Preparation time : 30 minutes
Serves : 8 pancakes
Ingredients for Eggless Apple Pancakes
All Purpose Flour - 1 cup
Cinnamon powder - ½ tsp
Baking Powder - ½ tsp
Sugar - 2 tsp
Freshly grated nutmeg - pinch
Whole milk - 1 cup
Vegetable Oil - 1 tbsp
Vanilla Extract - 1 tsp
Apple Butter - 1 ½ tablespoon (check tip for substitute)
Apple finely chopped - 1
Butter - to cook pancake
Steps to prepare Eggless Apple Pancakes
Step I
In a large bowl, add flour, cinnamon powder, baking powder, sugar, nutmeg and give it a mix.
To this add milk, oil, vanilla extract, Apple Butter, chopped apples and water little by little and whisk it to form a batter. See that there are no lumps. I have added approximately ½ cup of water. The amount of water may vary depending on your flour brand.
Step II 
Heat a non-stick pan or skillet over medium heat. Once it is hot grease the pan with butter.
Add about ¼ cup or laddle full of batter. Once it's cooked on one side for 2 minutes (note: holes will appear on the surface) flip it and cook on other side for additional 2 minutes. If required apply extra butter.
Repeat the process for remaining batter.
Eggless Apple Pancakes are now ready. Serve hot and enjoy.
Tip:
If you do not have apple butter, saute chopped apples in butter with little sugar till it develops some color and add it to the batter.

Vary the sweetness as per your taste.

You may replace all purpose flour with wheat flour, although this will make your pancakes slightly dense.

I have used a non-stick pan.
For more recent updates, follow me on Pinterest, Facebook, Instagram, Twitter, GooglePlus. 
***Click below to save it on Pinterest***