Eggless Banana Bread is a soft and moist vegan bread that is a perfect accompaniment with a cup of coffee or tea.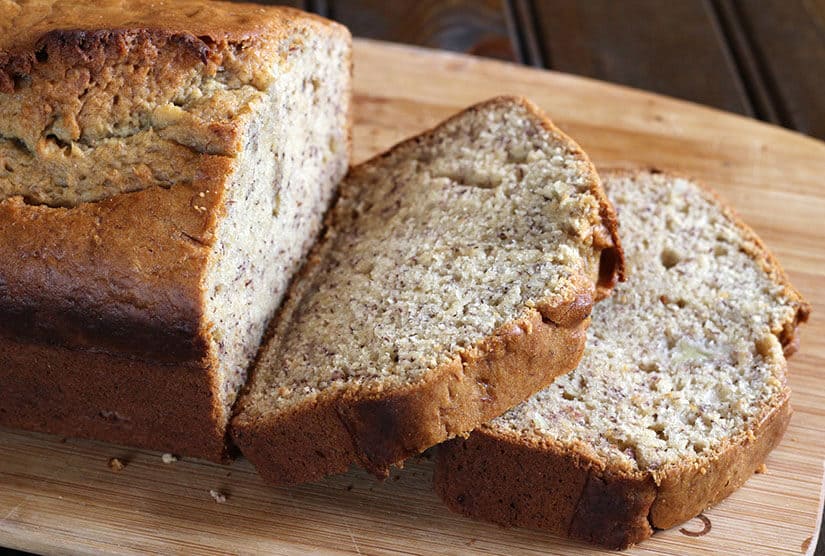 I bake banana bread often for so many reasons. It is one of the easiest and quickest bread that to prepare. It stores well in a air-tight container both outside as well as in a refrigerator. By choosing vegan ingredients you can transform this bread into a source of healthy carbs. Provides the best means to use over ripened fruits, specially bananas. On its own it can be served as a healthy and filling meal for breakfast, lunch, or dinner - and it can also double down as a dessert.
This bread is loved by both young and old in my family. Remember to save a slice of this bread for yourself as it will get over in no time. I have added almonds in the recipe as I love the crunchiness it provides to the bread. I get lot of requests from my readers to post eggless or vegan bread recipes. So, this post is for all those who have asked for an eggless and vegan version of the popular banana bread recipe. For non-vegan version you can substitute coconut milk with whole milk, and vegetable shortening with butter. Rest of the recipe remains the same. Also check out my other bread recipes while you are here vegan apple dates bread, eggless dates cake, banana bread.

Preparation time : 15 minutes
Serves : 1 loaf
Ingredients for Eggless Banana Bread
Brown Sugar - ¾ cup
Vegetable shortening - ⅓ cup
Baking soda - ½ tsp
Baking powder - 1 tsp
Vanilla extract - 1 tsp
Salt - ½ tsp
Half and half cream / Coconut milk - ¾ cup
All purpose flour - 2 cups
Ripe bananas - 3
Almonds - ⅓ cup
(check for substitutions in tip section)
Steps to prepare Eggless Banana Bread
Preheat the oven to 350 degree F.
In bowl of an electric mixer fitted with paddle, cream together vegetable shortening and sugar.
Add the baking soda, baking powder, salt, vanilla extract, cream / coconut milk and mix.
Now add lightly mashed bananas, all purpose flour, chopped almonds and mix until everything comes together. Do not over mix.
Transfer the batter to a greased loaf pan that has been lined up with parchment paper.
Bake it for 50 minutes to 1 hour or until done. Allow it to cool for 10 minutes before removing from loaf pan.
Eggless Banana Bread is now ready. Serve and enjoy
Tip:
You can use whole milk for non-vegan version and butter instead of shortening.
You can use regular sugar instead of brown sugar if desired.
You can also add in cashews and raisins in the recipe
Over ripe bananas are the best .