Ethiopian bread is a sweet and savory bread, packed with delicate aroma of ground ginger and cardamom. It pairs really well with hot chai-tea latte.


As you all know, I love baking breads and I post a bread recipe every Wednesday. Today, I am presenting my take on the traditional Ethiopian bread, also known as Himbasha. I learnt about this bread while reading an article on popular breads from across the world. The two unique ingredients that go into its making are cardamom powder and dry ginger powder. My husband loves the flavor of cardamom in desserts, and ginger is his all time favorite ingredient. His love for ginger is so much that I maintain fresh stock of dry ginger root, dry ginger powder, fresh ginger root, ginger flavored sugar crystals, homemade ginger-pepper throat drops (only to name a few) in my pantry. He starts his day with a tall glass of freshly squeezed lemon juice with grated ginger, and almost always ends his day with hot ginger tea.  Therefore, I knew deep within that he would be thrilled if I prepared this bread that calls for two of his favorite ingredients! I gave it a shot, and surprised him by the time he was back from the office. He not only loved it, he gobbled up an entire skillet-sized bread in no time.
The recipe calls for very basic ingredients from your kitchen. So making the dough is super easy. You can get as creative as you can as far as decorating this bread goes. I am not a good artist, but I tried my level best to score patterns into this bread as per the traditional recipe 🙂  You can also check more details about this bread on Wikipedia (Himbasha). If you guys try this bread do share your pictures and variations.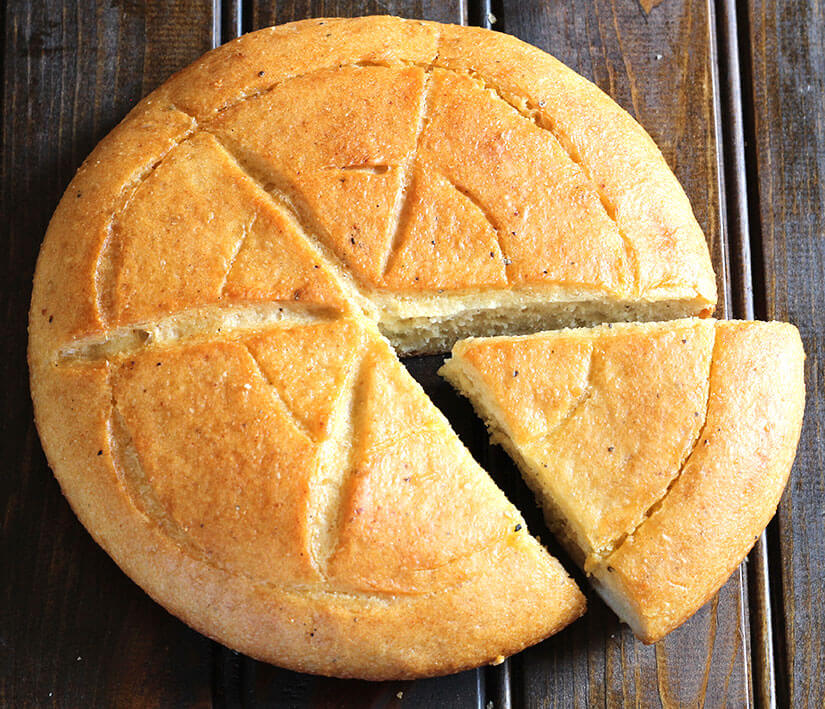 Preparation time : 1 hour 30 minutes
Serves : 2 small skillet breads (10″ diameter)
Ingredients for Ethiopian Bread
Active dry yeast – 1 packet ( 2 1/4 tsp)
Warm water – 1 cup
Sugar – 1/4 cup
Salt – 1 tsp
Ground dry ginger powder – 1 tsp
Ground cardamom – 1 tsp
All purpose flour – 2 3/4 cup to 3 cups
Semolina – 1/4 cup (optional), for more details see the tip section.
Butter / Vegetable oil – to brush, grease the pan and coat the dough.
Steps to prepare  Ethiopian Bread
Step I
In a large bowl, add warm water and 1 tsp of sugar. Sprinkle yeast.
Cover it and leave it undisturbed for 10 minutes. Let the yeast activate.
Step II
To the yeast mixture, add sugar, salt, ground cardamom, ginger, flour and semolina and mix to form this dough.
Dust the working surface. Transfer the dough and knead it for at least 5 minutes to form a soft and smooth dough.
Coat the bowl with oil. Place the dough. Cover and keep it in warm place for 1 hour or until doubled in size.
Step III
Preheat the oven to 350 degree F.
Divide the dough into two equal portions. Roll it to the size of your skillet pan.
Place the rolled dough onto the two greased skillet pans. Using a knife or a blade, score 3 to 4 cuts across the rolled dough intersecting through the center. Then draw concentric circles to form a wheel pattern.
Brush with generous amount of butter.
Bake for about 20 to 25 minutes or until it is golden in color.
Ethiopian Bread is now ready. Serve with additional butter if desired and enjoy.
Tip:
I have added  1/4 cup of semolina thus 2 3/4 cup of flour was sufficient. If you skip semolina adjust flour accordingly.
Again the amount of flour may vary depending on the weather conditions and the brand of flour used.
This is a light version of bread. If you like the strong flavors then vary the amount of cardamom, ginger.
I have used this pan only for presentation. Please use oven safe dish for baking.
You can also add in 1/4 cup of butter or oil to the dough if desired.
*Click below to save it on Pinterest*