Multi Flour Artisan Bread is a vegan, healthy and nutritious bread with sweet and nutty flavor that is definitely worth try!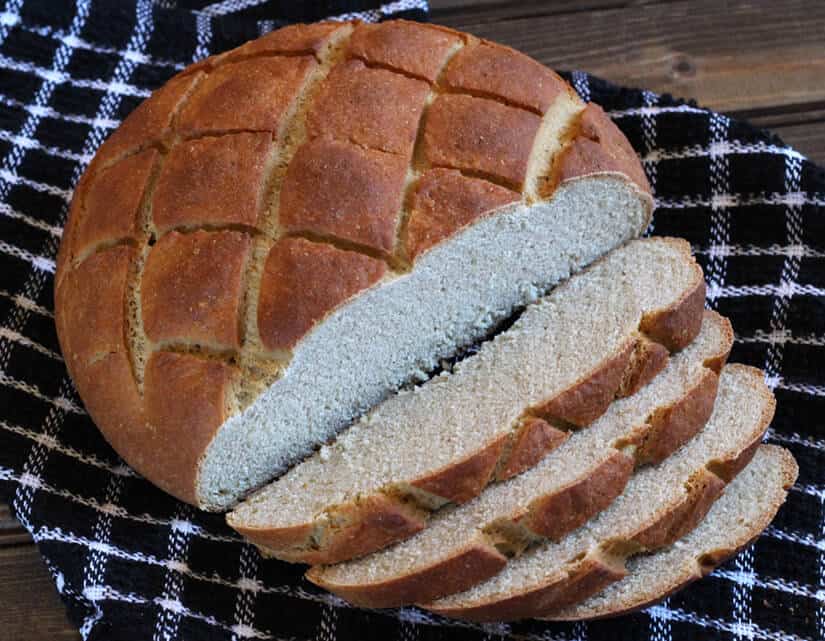 My family loves the multi flour chapati (flat bread), and I am happy because instead of just making them eat a bread prepared using one type of flour, a multi-flour version is a healthier alternative. I decided why not use the same combination of flours and try baking them and that is how I ended up preparing this beautiful and tasty bread. The bread was dense, yet soft & moist and it was loved by all.
If you do not prefer dense breads, then increase the amount of all purpose flour in the recipe. This bread can be used for making sandwiches, and can also be served along with soups or even make a good toast.
Preparation time : 3 hours
Serves : 1 loaf
Ingredients for Multi Flour Artisan Bread
All purpose flour / Maida - 1 ½ cup
Whole wheat flour - ¾ cup
Jowar flour / White millet flour - ¾ cup
Bajra flour / Pearl millet flour  - ¾ cup
Soybean  flour  - ¾ cup
Salt - 2 tsp
Sugar - 2 tsp
Coconut Oil - 1 tbsp
Warm Water - 1 ½ cup
Active dry yeast - 1 packet (2 ¼ tsp)
Steps to prepare Multi Flour Artisan Bread
Step I
In a large bowl, add warm water (luke warm) and sugar. Sprinkle yeast.
Cover it and leave it undisturbed for about 10 minutes till the yeast activates.
Add all the flours mentioned in the ingredients list, salt, coconut oil and knead for about 5 minutes to form a soft dough.
Cover the dough and leave it undisturbed in a warm place for about 1 hour or until it is doubled in size.
Step II
Transfer the dough to the working surface and form a ball shaped loaf.
Place the dough on a baking sheet. Cover and keep it in warm place until it is doubled in size for about 1 hour.
Step III
Preheat the oven to 450 degree F. Place an oven safe bowl filled with water on the bottom rack. This is done to get good amount of moisture in the oven, which helps to give the bread a nice crust.
Using sharp knife or blade, score it.
Just before placing the dough in the oven, spray some water using a spray bottle. The fine mist on the surface of the dought helps develop nice crispy crust. You may repeat the process midway through the baking process.
Bake for about 35 to 40 minutes until you get golden crust or hollow sound when tapped from bottom.
Allow it cool down completely even before you slice them.
Multi Flour Artisan Bread is ready. Prepare your favorite sandwiches or simply spread some butter on the bread slices and enjoy.
Tip:
You may have to increase or decrease the amount of flour in the recipe based on the weather conditions and the brand of flour you use.
For warmer temperature preheat the oven to 150 degree F, switch off the oven, and then rest the dough.