Mushroom Cheese Pasta is a super delicious and flavorful comfort food ready in less than 25 minutes only because of this sauce.

Happy Friday, everyone! This week I have partnered with RAGÚ® to prepare a delicious meal using their new homestyle sauce. 
Last month was our three-year wedding anniversary - and that special day happened to fall during the middle of the week. I knew in advance that my husband had a packed schedule for the entire week, so we had decided to celebrate our anniversary during the weekend. On our anniversary, we stuck to our usual routine. My husband had an early meeting, so he was off to work by 7 in the morning. I did some household chores, had an early lunch, worked for a bit and then went out as usual to do some shopping and hit the gym. When I reached home I was in for a big surprise! My house was filled with a wonderful aroma. There was a gift, bottle of wine, candles and romantic music playing in the background. For a moment I was emotional with joy, but then I snapped out of it and my mind was diverted towards the source of this delicious aroma. My husband insisted that I should not enter the kitchen, and he would join me at the dinner table after he gave some finishing touches to the meal he was preparing.

The dinner came on the table and my husband plated spaghetti pasta coated in beautiful red sauce and cheese and garnished with freshly grated parmesan. The taste and flavor was just amazing and I could not stop eating it. Generally homemade pasta sauce takes lot of time and patience to prepare, and I knew my husband would generally not venture into preparing something from scratch. But this sauce was very fresh, hearty and flavorful that I had to believe he prepared on his own. It was only later when saw an empty bottle of sauce, I knew what the magic was. I saw the label Homestyle and was curious to know more about this sauce. I checked online on RAGÚ® website. I love their sauces and I use them frequently, but this homestyle sauce was in a different style than what I'm used to from RAGÚ®. This was truly a winner. The first thing that I did the next day was I bought not 1 but 3 bottles of sauce with different flavors. I must add that each of those three sauces tasted really good, and now these bottles are always available in my pantry. Guests are welcome any time and I am ready to surprise!
It's been extremely hot this summer, and staying on the top floor is not helping much. Air-conditioners are working non-stop for a futile cause! Honestly, for past month or so, I have been planning meals that can be prepared in a snap. Pasta is one such meal, that takes literally few minutes to prepare if you have some pasta sauce on hand. But homemade pasta sauces take a lot of time and effort to prepare, and their final taste is usually dependent on the ingredients that go into making it. Thus there is a lot of uncertainty. This is where RAGÚ® homestyle sauce steps in and makes things easy. If your family loves pasta like mine does, then it is the time for you to do the happy dance because this sauce tastes perfect every single time. You just have to saute some onion, garlic and mushrooms or your favorite meat and beautiful meal is ready in less than 25 minutes. If you don't find time for sauteing then just heat the sauce and mix with your pasta 🙂
You can also check out their other delicious recipes . I have tried and loved many of them.
Why  RAGÚ Homestyle sauce has become my family's favorite : This  RAGÚ' pasta sauce has an authentic taste that every pasta lover craves for. It is thicker and heartier and hugs the pasta perfectly. It has no artificial flavors, no colors and no high fructose corn syrup. The bold combination of tomatoes, onions and fragrant herbs, makes this sauce super delicious. This is actually even better than homemade. You can serve straight from the jar, and all you have to do is heat! What I also particularly liked is that RAGÚ is encouraging consumers to reuse the bottles to start their own kitchen garden, and provides sachets of basil seeds to get started.
Today I have used RAGÚ's Homestyle thick and hearty traditional sauce and created mushroom cheese pasta. If you are mushroom and cheese lover and want to prepare something quick and easy for your guests or family and get lot of praise then this recipe is for you! What are you waiting for? Check out the simple recipe given below and have a pasta blast this weekend with your family and friends.
Also don't miss to check out many other easy and delicious recipes here created using RAGÚ's pasta sauce.
And don't forget this delicious dish can be prepared for your upcoming tailgating events or game nights or potluck or Easter, Thanksgiving, and Christmas holiday parties!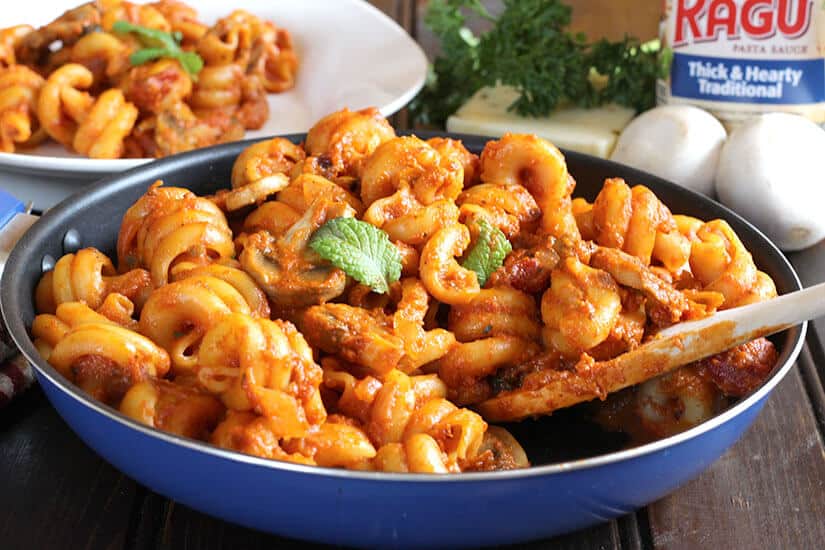 Preparation time : 25 minutes
Serves : 5
Ingredients for Mushroom Cheese Pasta
Pasta of your choice - 450 g
Olive oil - 1 ½ tbsp
Onion chopped - 1
Garlic cloves chopped - 2
Mushroom chopped lengthwise - 10
Pasta sauce - 1 jar (652 g)
Cayenne powder / Red chile powder - 1 tsp
Fresh parsley chopped - 3 tbsp
Black pepper powder - to taste
Mozzarella / Pepper jack cheese grated - 1 cup
Salt - to taste
Mint leaves - 6 to 8
Steps to prepare Mushroom Cheese Pasta
Cook pasta according to the package instructions.
Heat olive oil in a non-stick pan. Add onion and garlic cloves, pinch of salt and saute till onion becomes translucent.
Now add mushroom and saute it till its cooked and develops some color.
Add in the jar of RAGÚ® sauce, red chilli powder, fresh parsley, torn mint leaves, pepper powder and cook on medium heat for  2 to 3 minutes.
Add grated cheese, drained pasta and toss till everything is combined.
Mushroom Cheese Pasta is now ready. Serve hot and enjoy.
Tip:
You can reserve some water used for cooking the pasta. This can be used to loosen the sauce.
Garnish pasta with mint leaves and parmesan if desired.
Vary the amount of cheese as desired.
Mint leaves can be substituted with other herbs of your choice (e.g. Basil, Parsley etc.)
*Click below to save it on Pinterest*