Schezwan Samosa are mouth watering appetizer with cripsy and flaky texture on the outside and delicious and spicy potato filling inside. I bet you cannot stop eating one. A perfect snack or side that can be served in game night, any gathering or party anytime of the year!!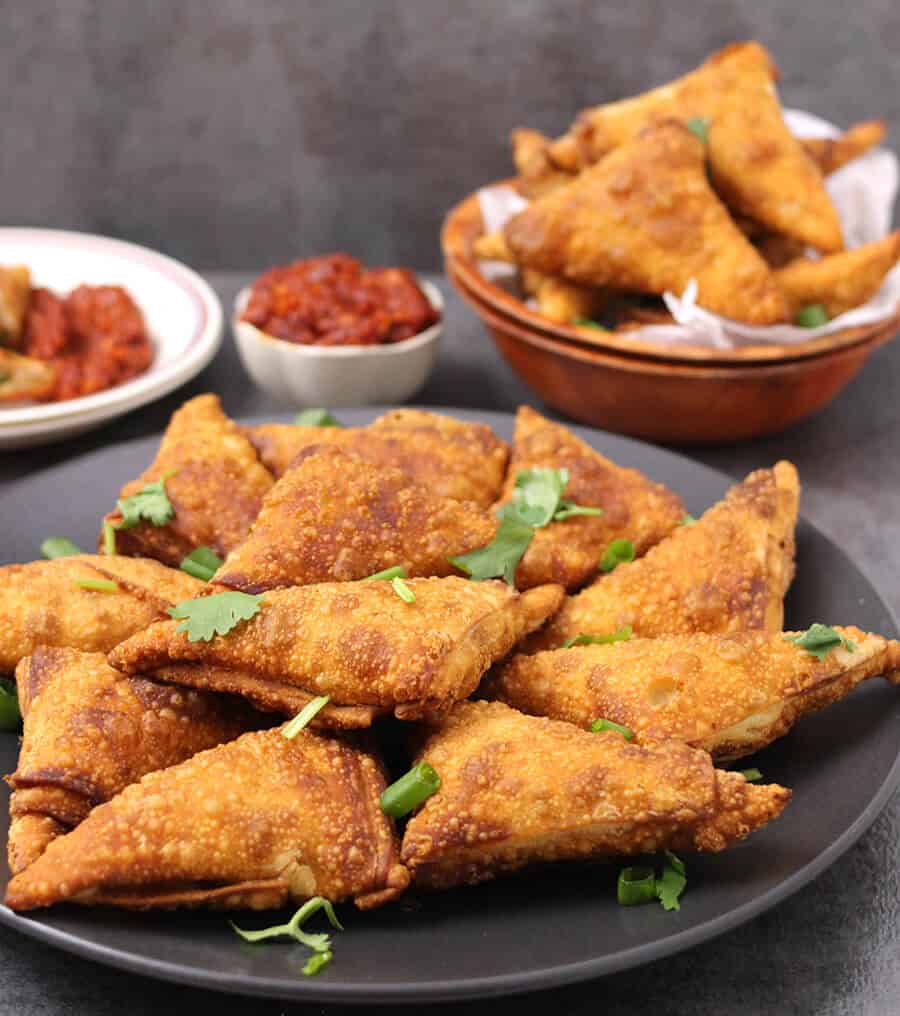 I have not met any person who would say that he / she does not love Samosas. For me any occasion is incomplete without them. This holiday season, I have decided to prepare Samosa with two twist and surprise my family and friends.
I have not prepared any dough. Instead used Twin Dragon Asian Egg Roll Wrappers (Vegan, No Trans Fat, No Msg, Thicker Premium Wrappers) which makes it a easy, no fuss recipe with perfect crispiness and flakiness on the outside.
For the potatoes filling, to give it Indo-Chinese flavor, I have added Schezwan sauce. I have prepared sauce at home. I will share the recipe for the same. But you can use any store bought schezwan sauce or spicy chili sauce for the same.
I have kept the filling very simple. You will only have to adjust the spiciness by increasing or decreasing the amount of sauce you add. Don't worry if you do not know how to fold samosa. I have given detailed instruction as much as possible else you can simply even make simple triangle shape samosa and deep fry them.
Samosa can be served alone or with some schezwan sauce, peanut sauce or any chutney of your choice.
My favorite brand for Asian Noodles and Wrappers are JSL Foods.I have prepared recipes using their products frequently and I have never failed to impress my family and friends. If you have not checked already check recipe on Black Pepper Stir Fried Noodles  prepared using JSL's hot and spicy yakisoba noodles. I am glad that this was also content winning recipe.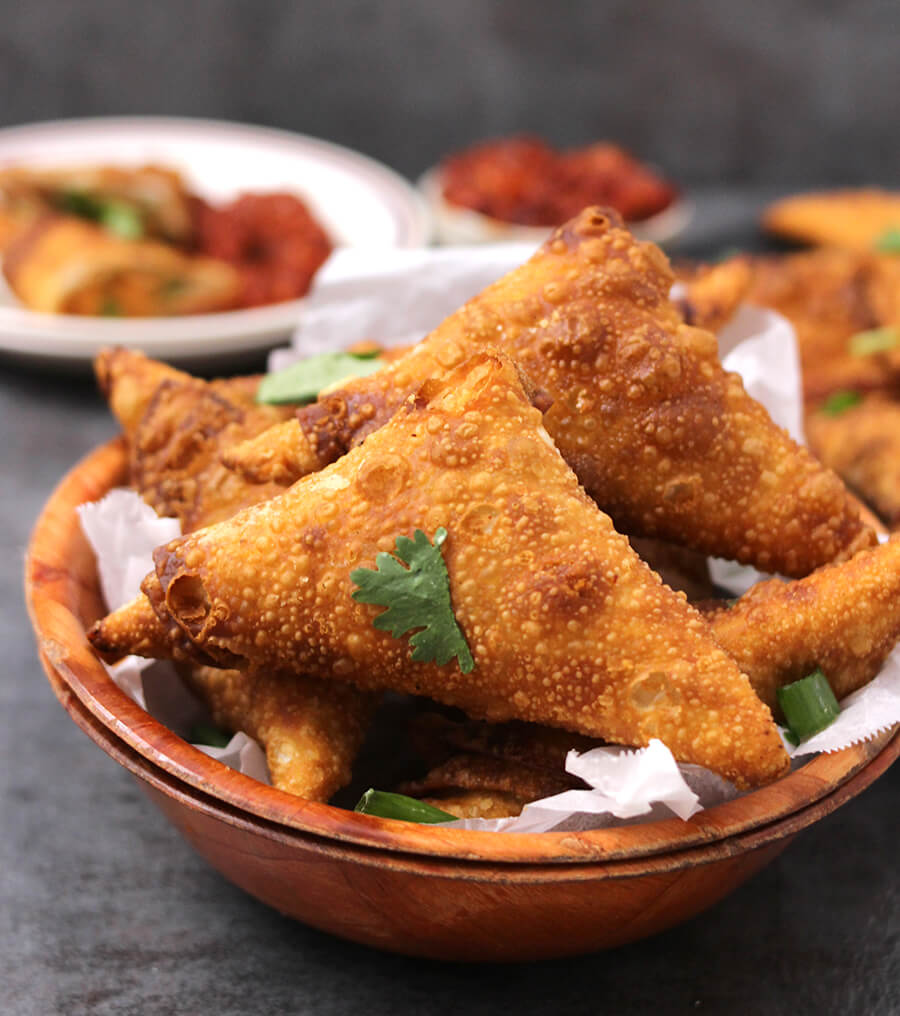 This year I decided to participate in Twin Dragon recipe challenge from JSL Foods. There are 3 categories Wonton, Gyoza (Potstickers) and Egg Roll. I am glad that I was selected to participate in this challenge. The folks at JSL were prompt is sending me their products and following up with me during the process. It has been a pleasure!
For more details you can visit JSL website,Facebook, Twitter. Plus you can purchase JSL Foods Twin Dragon products at Albertsons, Shaw's, Von's, Stater Bros, Lucky's, Food Maxx, Fred Meyer, QFC, Cub Foods, Rainbow Foods, Safeway, Associated Stores, Price Rite, Shop Rite, Winco, Price Chopper and Gelson's!
Isn't this amazing. Go and grab couple of these wrappers and prepare these delightful Samosa for Diwali, Thanksgiving, Christmas or wait even for super bowl and I am sure it will be a showstopper. A no fail recipe 🙂
While you are here don't for get to check out BEST INDIAN DESSERT RECIPES and my collection of DIWALI SWEETS RECIPES, DIWALI SNACKS RECIPES. And don't forget some of these recipes can also be used for your upcoming tailgating events or game nights or potluck, Easter, Thanksgiving, and Christmas holiday parties!
Follow me on Instagram and tag me with #cookwithkushi so that I get a chance to see all the recipes you make and give it a  ♥.
Detailed Recipe for Schezwan Samosa
Schezwan Samosa
Schezwan Samosa is a mouth watering appetizer with cripsy and flaky texture on the outside and delicious and spicy potato filling inside. I bet you cannot stop eating just one. A perfect snack or side that can be served during game nights, or any gathering or party anytime of the year!!
Ingredients
20

Twin Dragon Asian Egg Roll Wrappers / Spring Roll Wrappers

2

cup

Boiled and Mashed Potatoes

½

cup

Frozen Green Peas

¼

cup

Cilantro / Coriander leaves chopped

¼

cup

Spring Onions / Green Onions chopped

2

tablespoon

Schezwan sauce

Salt to taste
Other Ingredients
Oil for frying

1

tablespoon

Corn Flour / All purpose flour
Instructions
Step I
In a large bowl, add boiled and mashed potatoes, green peas, spring onions, cilantro, schezwan sauce, salt to taste and mix well. Keep this aside.

In a small bowl, mix 1 tablespoon of corn flour with 2 tablespoon of water and keep this aside.
Step II
Take a egg roll / spring roll wrapper and fold it over in half to form a rectangle.

The fold it into a triangular pocket or any desired shape. For folding ideas see the step-wise image below.

Use cornstarch or all purpose flour slurry to seal the loose ends.
Step III
Heat oil in pan on medium heat. Add a small piece of wrapper and check if it sizzles gently and comes up. This would be the right temperature.

Fry small batches about 3 to 4 samosas on medium flame till they are cripsy and golden brown on both the sides. (About a minute and half on one side and flip and fry one more minute on other side and they should be done). Transfer this to paper towels to absorb any excess oil. Repeat the process for remaining samosas.

Schezwan Samosa is now ready. Serve and enjoy.
For more recent updates, follow me on Pinterest, Facebook, Instagram, Twitter, GooglePlus. 
***Click below to save it on Pinterest***