Soybean Bread is a low calorie, delicious and aromatic bread prepared using soybean flour. This bread or roti is vegan and gluten free.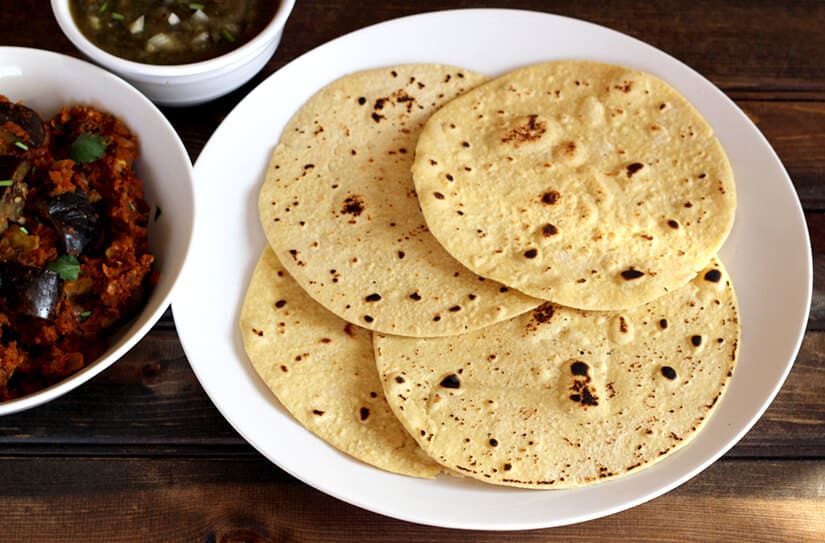 Soybean is a good source of protein, iron and dietary fiber. It is also low in cholesterol and sodium. Soybean flour reminds me of chickpea flour as it has a nutty flavor. This recipe uses only soybean flour with water and salt. The dough is little sticky when compared to any other flat breads. The lack of gluten will make it a little difficult to roll. You can roll it using hand or rolling pin.
This flat bread tastes the best when cooked and served immediately. To make it healthy, I have cooked it dry (without applying oil) on non stick pan and served it with roasted eggplant dip. You can add oil or butter for cooking this bread if desired.
Preparation time : 30 minutes
Serves : approx 6 to 8 flat breads
Ingredients for Soybean Bread
Soybean flour - 1 ½ cup
Warm water - ⅓ cup
Salt - to taste
Steps to prepare Soybean Bread
Step I
In a bowl add soybean flour, salt and mix. Now add warm water little by little and form a dough. The dough will be sticky/tacky compared to roti or other flat breads.
Cover it and keep it aside for 15 - 20 minutes.
Step II
Heat the tava / non stick pan / skillet on medium-high flame.
Dust the working surface with flour. Take a small piece of dough and roll it to a 6 inch diameter like a tortilla or roti.
Once the pan is hot place the rolled bread and cook until the underside has brown spots for about 30 seconds.
Then flip and cook on other side for another 30 seconds.
Repeat the process for remaining dough.
Soybean Bread is now ready. Serve hot with roasted eggplant dip and enjoy.
Tip:
You can add half portion of wheat flour or all purpose flour if desired in the recipe.
If you find it difficult to roll, make mini or coin bread using the dough.
Soybean flour and soybean powder are different. I have used flour in the recipe.