Tadka Chaas or Tempered Buttermilk is a spicy, appetizing and refreshing drink that you must not miss to try out this summer.

In coastal Karnataka (India), plain buttermilk also known as majjige (in kannada language) or taak (in konkani language) is served everyday at the end of the meal as it helps in digestion, washes the fat, and fights acidity. It is also a good source of calcium and vitamins. On a long hot and tiring day the first thing my family loves to have is tempered buttermilk (phanna taak). It helps keep your body cool and healthy.
I never liked yogurt or buttermilk until I had this tadka chaas during a family event. Yes, they serve this after a heavy meal during occasions or festivals. From then it has become my favorite and I just don't need any occasion to prepare it 🙂 . I always have a bottle of this drink ready in my fridge. Even today I really don't like plain yogurt or buttermilk but when spices are added I am the first one to have a glass.
There are different ways in which you can flavor the buttermilk. You can make it sweet or spicy. See the tips section for details on flavoring options. You may also check out other drink recipes like Grape juice, Iced coffee and Tomato juice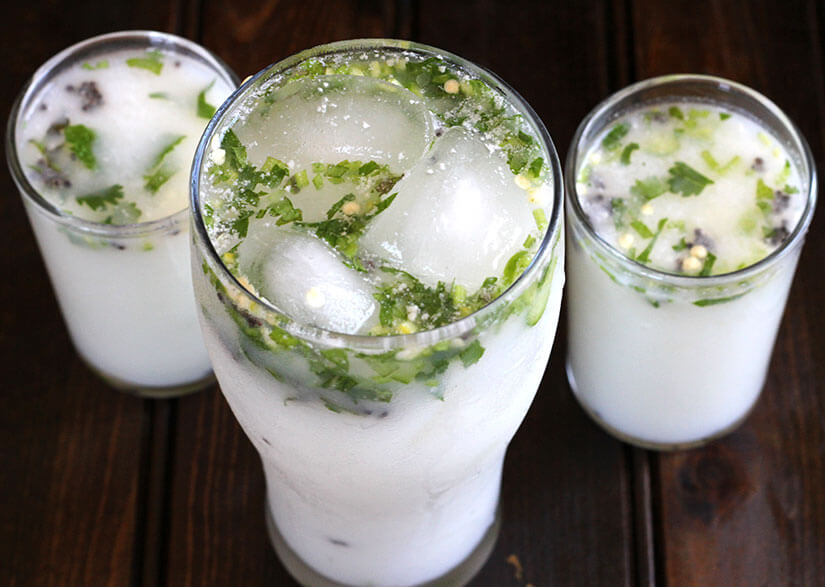 Preparation time : 5 minutes
Serves : 2
Ingredients for Tadka Chaas Or Tempered Buttermilk
Buttermilk - 2 glass
Coriander leaves / Cilantro chopped - 3 strands
Mustard seeds - 1 tsp
Vegetable oil - ½ tsp
Green chilies / Serrano pepper finely chopped - ½ or 1
Salt - ¼ tsp
Black salt - ¼ tsp
Steps to prepare Tadka Chaas Or Tempered Buttermilk
Heat oil in a pan. Add mustard seeds, when they start to splutter switch off the flame.
Add this tempering to the buttermilk along with coriander leaves, green chilies, salt, black salt and mix well. (For other options check tip*)
Pour this onto a serving glass along with ice cubes if desired.
Tadka Chaas is ready. Serve cold and enjoy.
Tip:
Vary the amount of green chilies and other ingredients as desired.
You can add grated ginger, cumin seeds, asafoetida and mint leaves (these are my favorite)*
For sweet version (called lassi) add sugar and use thicker variety of buttermilk. In this case you will not be able to add any salt or spices.
If you do not have buttermilk at home, then dilute well beaten yogurt with water and then add the spices. I will soon write a post on preparing butter and buttermilk at home.
For more recent updates, follow me on Pinterest, Facebook, Instagram, Twitter, GooglePlus. 
***Click below to save it on Pinterest***