Raspberry Lemonade is a refreshing and thirst quenching drink for summer prepared using just 3 ingredients.

Nothing can be better than fresh lemonade on a hot summer day. It hardly takes few minutes to prepare and when the lemonade is combined with fresh berries or any fruit of your choice, it adds that amazing flavor which takes this drink to a next level. Raspberries in particular provide the right amount of tartness to the drink and also gives it a signature pink color. This homemade raspberry lemonade beats any store bought counterpart both on taste and visual appeal hands down.
Only thing that I love about summer here is that I can enjoy lot of fresh berries, peaches and water melons. It's my third summer here in the States and this is that time of the year when temperature soars to new highs. This year in particular has been extremely hot and to keep ourselves hydrated I have made sure everyone in my family regularly drinks fresh homemade drinks.
While this recipe does call for addition of sugar as a sweetener, you may as well substitute it with other natural sweeteners like honey or agave nectar or you may feel free to skip it. Also for those who like to drink sparkling or fizzy drinks substitute water with club soda or sparkling water.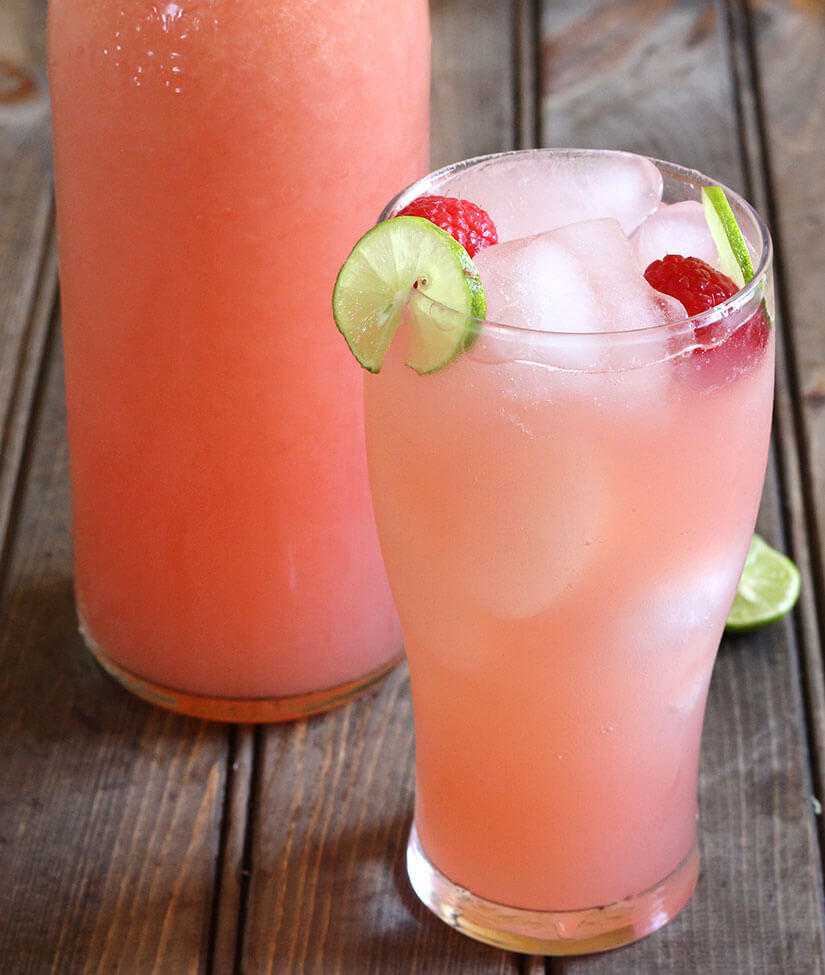 Preparation time : 10 minutes
Serves : 4
Ingredients for Raspberry Lemonade
Raspberries - 6 oz
Lemon juice - ¾ cup
Sugar - ¾ cup
Water - 4 ½ to 5 cup
Steps to prepare Raspberry Lemonade
Wash the raspberries and puree it in a blender and strain it to remove any seeds.
In a large bowl, add in sugar and water and stir it so that the sugar dissolves.
Now add the lemon juice, raspberry puree and mix well. Check for sugar and vary as desired.
Pour it into the serving glass with ice cubes.
Raspberry Lemonade is now ready. Garnish with lemon wedges and fresh herbs of your choice. Serve and enjoy.
You can also check out other summer recipes like :