Tropical Fruit Salad or Avnas Ambe Sasam is the best salad that I have tried so far. Every bite is flavorful thanks to the magical coconut dressing. It's sweet, spicy and sour! All in one dish that is perfect for any occasion. Serve this salad this summer and enjoy the way your family and friends gobble it. There will not be any leftovers. 🙂
The recipe is vegan and gluten free. No cooking is involved to make this gorgeous salad and is ready in less than 20 minutes. Prepare it and refrigerate till you are ready to serve. This salad is more tastier the longer you let the fruits soak in the coconut dressing. I prefer to refrigerate it for about 2 hours before I serve it.
This is a popular konkani dish that is specially served during summer when mangoes are in season 🙂 Avnas means 'pineapple', Ambe means 'mangoes' and Sasam means 'mustard seeds'. Most of the konkani dishes are vegan and coconut based. The addition of raw mustard seeds to the coconut based paste is what makes this dish out of the world with its unique taste. As all the tropical ingredients go into this recipe, I call it Tropical Fruit Salad 🙂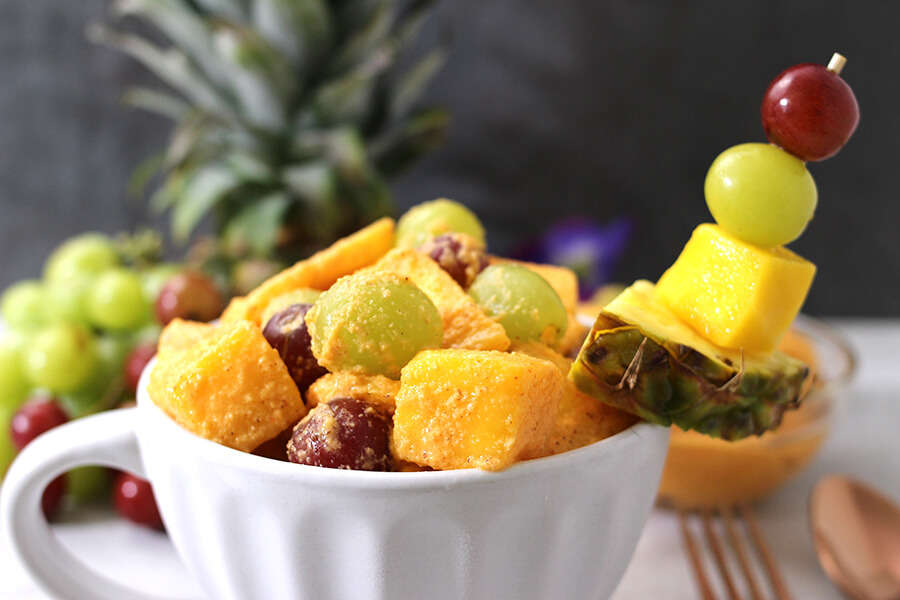 Some tips and substitutions : Traditionally mango and pineapple are added in the recipe along with some grapes. Fresh grated coconut and jaggery is used. Since it's difficult to find fresh ones I have used dry grated coconut and substituted jaggery with sugar. It tastes equally good. I have used dry red chile while grinding the coconut paste. If you cannot find it, substitute it with red chile powder or paprika to the recipe. Vary the amount of sugar in the recipe depending on the sweetness of the fruit. All the fruits that I have used today were sweet enough.
Feel free to add any fruits of your choice and it tastes amazingly delicious. Some of the fruits that I have tried with this are banana, kiwi, apple, papaya, and peaches.
If you are planning for barbecue, picnic, potluck or outdoor activities this summer, add this salad to your menu and be ready to get those compliments.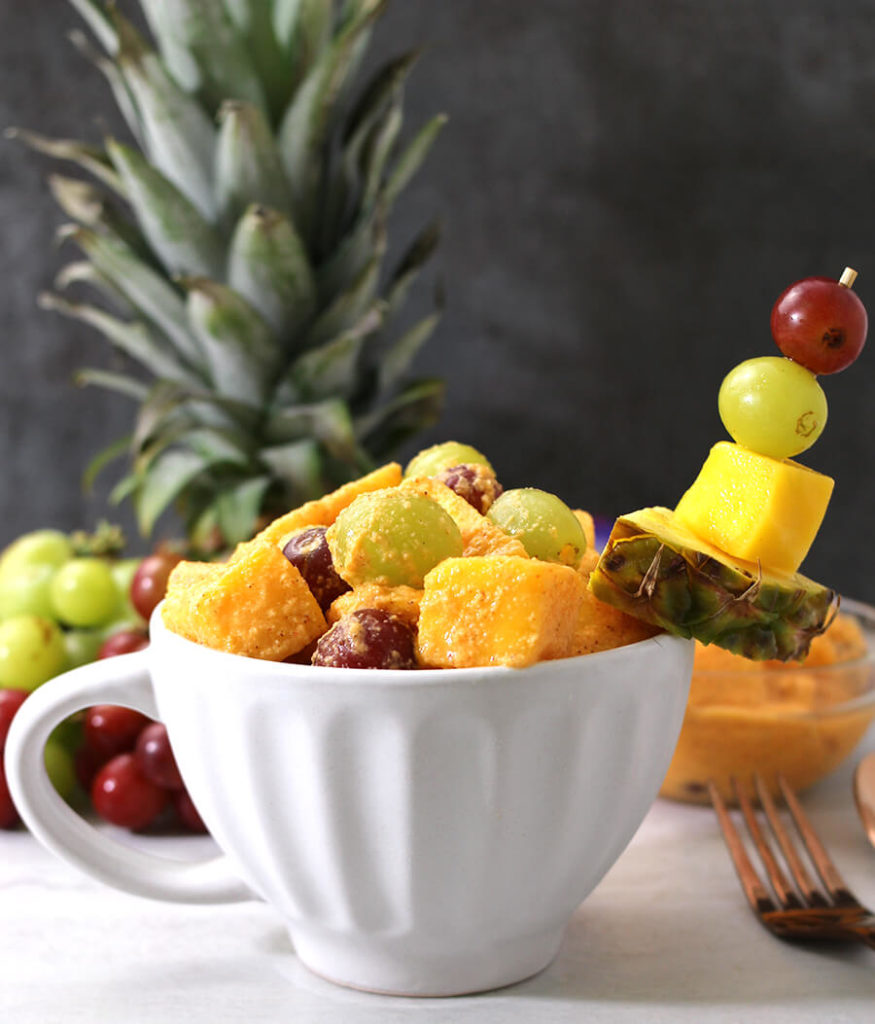 Preparation time : 20 minutes
Serves : 3
Follow me on Instagram and tag me with #cookwithkushi so that I get a chance to see all the recipes you make and give it a ♥.
Ingredients for Tropical Fruit Salad
Pineapple chopped - 1 ½ cups
Mango chunks - 1 ½ cup
Red grapes - ½ cup
Green grapes - ½ cup
Salt - ½ tsp
Sugar - 2 tbsp
Grated Coconut (fresh / dry) - 1 cup
Dry red chile - 2 (Vary as per taste)
Mustard seeds - 1 tsp
Water - 1 ½ cup
Steps to prepare Tropical Fruit Salad
In a large bowl add pineapple, mango, red and green grapes, salt, sugar and toss.
In a blender or mixer, add grated coconut, dry red chile, mustard seeds along with some water (start with ¾ cup and add in the rest as required) and grind it to smooth paste.
Add this ground paste to the fruit mixture and mix till its incorporated.
Keep it in refrigerator till you are ready to serve.
Tropical Fruit Salad is now ready. Serve and enjoy.
Tip:
Depending on how spicy you like, vary the amount of dry red chile. You can also use red chile powder or paprika instead.
Vary the amount of sugar as per your taste.
For more recent updates, follow me on Pinterest, Facebook, Instagram, Twitter, GooglePlus.
***Click below to save it on Pinterest***