Patriotic Fruit and Cream is a very simple yet delicious dessert that you should prepare during your 4th of July weekend.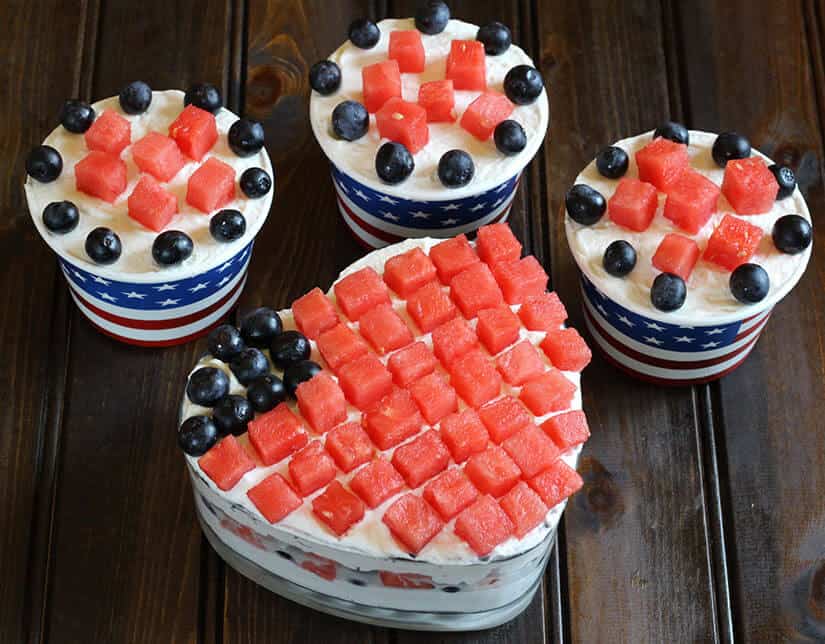 Ask your kids (or your friends) to decorate the cake to form stripes and stars using chilled watermelons and blueberries - a perfect way to get everyone involved in the Independence day celebrations. The combination of fresh watermelon and blueberries along with the lightly flavored whipped cream is truly a treat. It tastes even better if you prepare it a day in advance of your party, and let it chill in the refrigerator. A beautiful sweet treat that does not require you to turn on the oven 🙂
I always prepare berries with cream during summer. This time when I went to market, I got watermelon for a great deal and also it was super sweet. So I decided to substitute strawberries with watermelon. However, if you can get hold of sweet strawberries then feel free to use it in the recipe. My family loves it both the ways.
You can also check out strawberry / raspberry shortcake or strawberries with cream.

Preparation time : 15 minutes
Serves : 4
Ingredients for Patriotic Fruit and Cream
Watermelon chopped - 2 ½ cups
Blueberries - ¾ cup
Heavy cream - 1 pint (473 ml)
Sugar - ¼ cup
Vanilla extract - ½ tsp
Steps to prepare Patriotic Fruit and Cream
Wash the blueberries and keep it aside.
Cut the watermelon into squares or any desired shape.
Using a beater whip the heavy cream along with vanilla extract and sugar until stiff peaks are formed.
You can serve it in several ways. 1) You can add fruits in a cup, top it off with whipped cream and garnish with additional fruits. 2) In a large serving bowl add a layer of whipped cream, followed by a layer of watermelon and blueberries, topped with another later of cream. Garnish the top with additional fruits.
Patriotic Fruit and Cream is now ready. You may serve it right away or you can let this rest in the refrigerator for couple of hours or even overnight. Personally I feel it tastes the best when its chill all the way through.
Tip:
Vary the amount of fruits as desired in the recipe.
You can substitute water melon with strawberries or raspberries if you like.