Banana Chips or Plantain Chips is a salty, cripsy and irresistible snack that can be prepared using just 3 ingredients in less than 20 minutes and gets over in no time. This recipe is vegan and gluten free.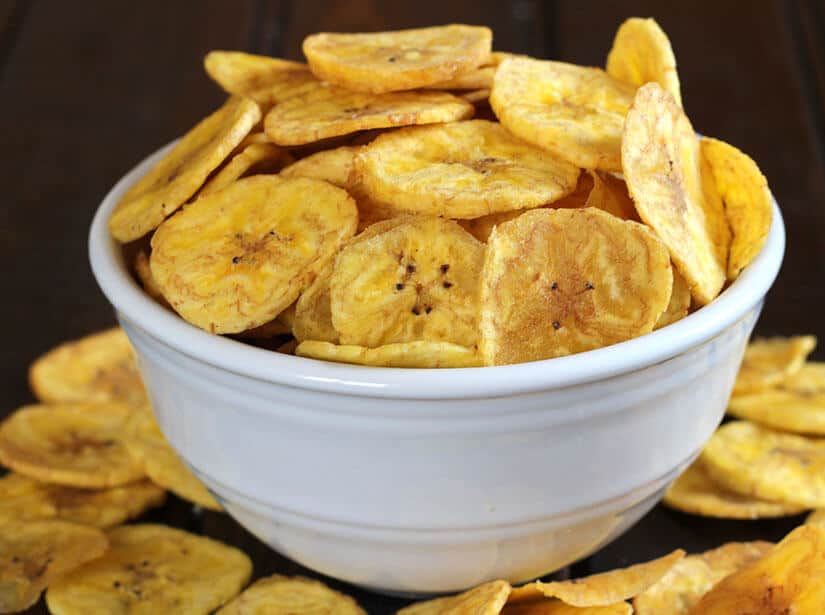 Its Friday again and I have prepared a quick snack so that I can munch these while watching my favorite TV series – F.R.I.E.N.D.S. Oh yes, I just love watching this series and cannot get enough of it. Most of the times, I go into auto tune mode and keep singing smelly cat smelly cat 🙂
And now coming back to these chips, raw bananas called Nendrabale (nendran) are used in India to prepare these chips. If this variety of banana is not available make sure you use a raw plantain like cavendish for making these chips. I have used chiquita brand plantains with the label "fry me" on it. So make sure you get the right variety for best results.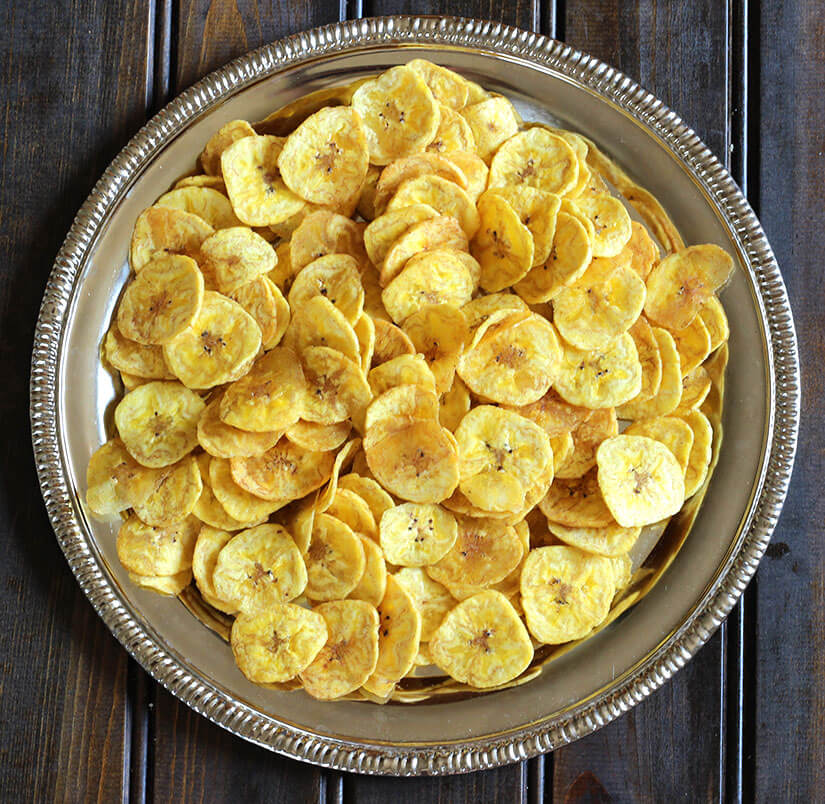 Until my engagement, I used to prefer only flavored banana chips. The most common flavors that were available in my hometown were 1) red chilli masala, and 2) black pepper masala. I never used to like simple salted banana chips, like the ones that I have presented here! After my engagement I came to know that salted banana chips were among my husband's favorite.
So when I tried these banana chips with him is when I really started to like it. In fact, the one thing that I have noticed is that, a lot of veggies, fruits and meat (I was a pure vegetarian) which I used to dislike earlier are now among my favorite. The same is true for my husband, and I suppose it is the case with many of you. I think it is not just about likes/dislikes of food, but also with rest of the things in life. It is just wonderful to see how we change and evolve with time and circumstances, mostly for good.
The banana chips recipe below is super simple. The end result will be a crispy and addictive banana or plantain chips. I have fried them in vegetable oil, but it is traditionally fried in coconut oil. Make sure you slice the bananas as thin as possible. Mine were about 0.5 to 1 mm thick. The more thick the slices are, more time it needs (on a medium flame) to crisp up. Also make sure you do not overcrowd the frying pan, instead fry in small batches. This will make it crispy and cook evenly.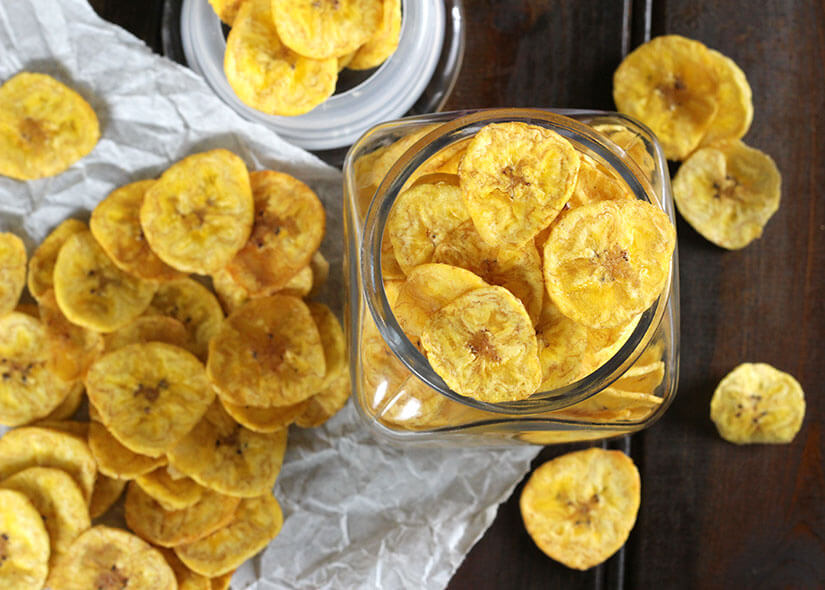 These chips are so addictive that by the time the second batch is ready, the first batch would have disappeared. However if you do manage to save some, I wanted to let you know that they store well in air-tight containers for couple of weeks. Why wait? Just get into kitchen and prepare some fresh chips for this weekend.
Also check out tukdi / spicy biscuits, chakuli / rice fritters / murukku and nippattu / savory crackers recipe.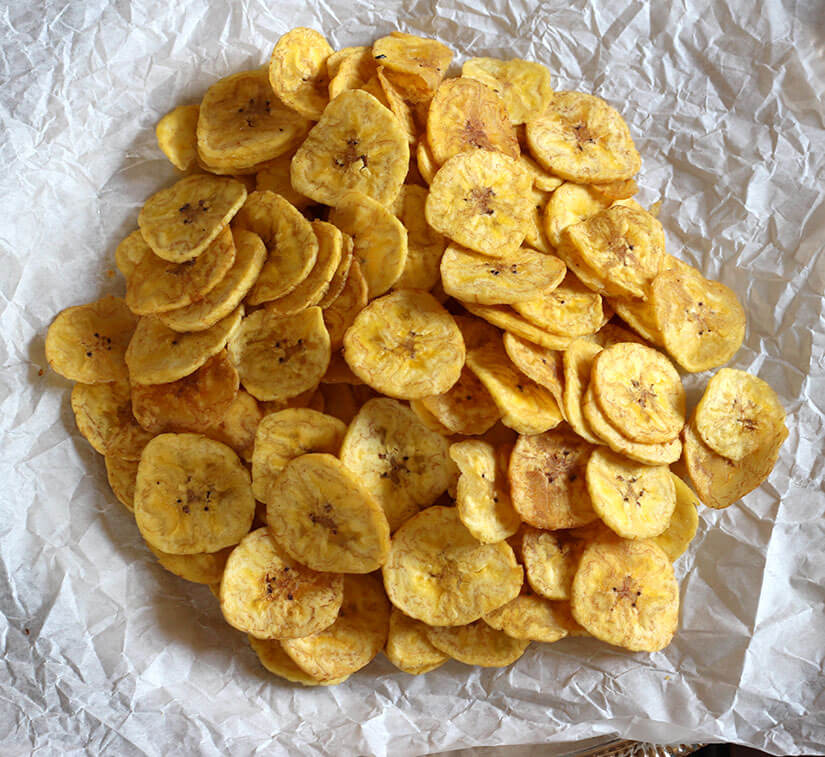 Preparation time : 20 minutes
Serves : 4
Follow me on instagram and tag me with #cookwithkushi so that I get a chance to see all the recipes you make and give it a ♥.
Ingredients for Banana Chips
Raw Banana / Plantain – 2
Salt – 3/4 tsp
Oil – for frying
Steps to prepare Banana Chips
Step I
Heat oil in a deep bottom pan for frying. Let the flame be between medium to medium high. I use a 6 inch deep pan and I fill it with about 1 1/2 to 2 inches of oil.
Prepare the salt solution: Dissolve 3/4 tsp of salt in 2 tbsp of water. You may vary this amount depending on how salty you like your chips to be.
Peel the skin of the bananas and cut them into thin slices. Mine were about 0.5 mm to 1 mm thick. Thicker slices would require longer frying times to crisp up, so adjust accordingly.
Step II
Once the oil is hot, drop few slices of bananas, and using a slotted spoon stir it every now and then so that they fry evenly. Do not overcrowd the pan.
You will notice that the color starts changing and the chips start floating. At this point add 1 tsp of salt solution *(check more details in tip section).
You will see that when you add salt water to hot oil it starts spluttering. Once the spluttering stops, remove the chips and transfer it to paper towel to absorb any excess oil.
Repeat the process for reaming banana slices.
Banana chips is ready. Let it cool down and if at all the chips remain, then store them in a air tight container. This will remain cripsy for at least 15 days.
Tips*
First and very important, be careful while frying these chips. Take special care while adding salt solution to hot oil, as it will cause extensive spluttering. Maintain safe distance from the pan, and definitely make sure that kids are not around when frying.
The salt solution is mainly added so that it gets distributed evenly. You can skip this and also sprinkle the salt at end after frying.
Oil must be between medium and medium high temperature. It should not be on high flame. Chips will turn black.
Do not over crowd the pan. it may not fry evenly.
For the pan size I used, I did total of 4 batches that is 1/2 banana slices at a time.
You may have to vary the amount of salt in salt solution depending on the saltiness desired.
For more recent updates, follow me on Pinterest, Facebook, Instagram, Twitter, GooglePlus
*Click below to save it on Pinterest*