Double Chocolate Brownies are incredibly rich, decadent and gooey treats that will satisfy all your chocolate cravings. The recipe below is vegan, eggless, and dairy free. These brownies are an ultimate combination of rich chocolate cake and chewy brownies. Brownies to die for!
As most of you already know, I have been a longtime chocolate lover. It has been my faithful and comforting companion right from my childhood, through my adulthood and to present. It has helped me get over tough times, and at the same time it has been the feature of all moments of celebration. Be it in the form of pure homemade chocolates we get in India, the popular supermarket brands, baked goodies, or drinks I love them all. Luckily for me, my husband is a chocolate lover too 🙂 He has introduced me to some finest dark chocolates, and I adore him for that. Since both of us love dark chocolates we had actually stopped bring home milk chocolates all together. But now we have a lot of kids in our neighborhood and most of them visit our home frequently. But like all kids they do not like the "bitter" taste of dark chocolates. So we have once again started maintaining a separate stash of milk-chocolates for our young friends 🙂
Last Friday, I had a sudden craving for some chocolate dessert. I wanted something that was rich and gooey, and at the same time I wanted it to be eggless. That is when my husband reminded me of this brownie recipe we had tried long time back. I had prepared it for the first time during the Winter of 2014. Both of us had fallen in love with the brownies, and I still remember that an entire batch got over in no time. We were having some friends over for lunch, so I had prepared them a day earlier. However none made it through the night and I had to prepare another batch the next day for our guests. I am really clueless as to why I never made it again. So this chance reminder by my husband allowed me to redo this Brownie recipe, and I am so glad I did it. These brownies are extra chocolatey, addictive and super satisfying but at the same time they are not too sweet. This is a no fuss recipe. Only thing you need to keep in mind is not to over bake them. Remember, these brownies are meant to be chewy on the outside and moist and gooey on the inside.
The recipe calls for very basic ingredients, and some good quality chocolate chips 🙂 The only hard part is to wait for the brownies to cool down. Given my past experience with these brownies, I decided to play safe and I prepared two batches. This allowed me to enjoy brownies on their own as well as prepare some other amazing desserts using left-overs. Do you want to know what else I prepared with these yummy brownies? Well, I am not going to tell it now. Let it come as a surprise to you 🙂 You can serve these alone or with your favorite ice cream or with some dusting of sugar.
Do you have any special favorite sweet or dessert recipe? Participate in the recipe contest and win exciting prizes.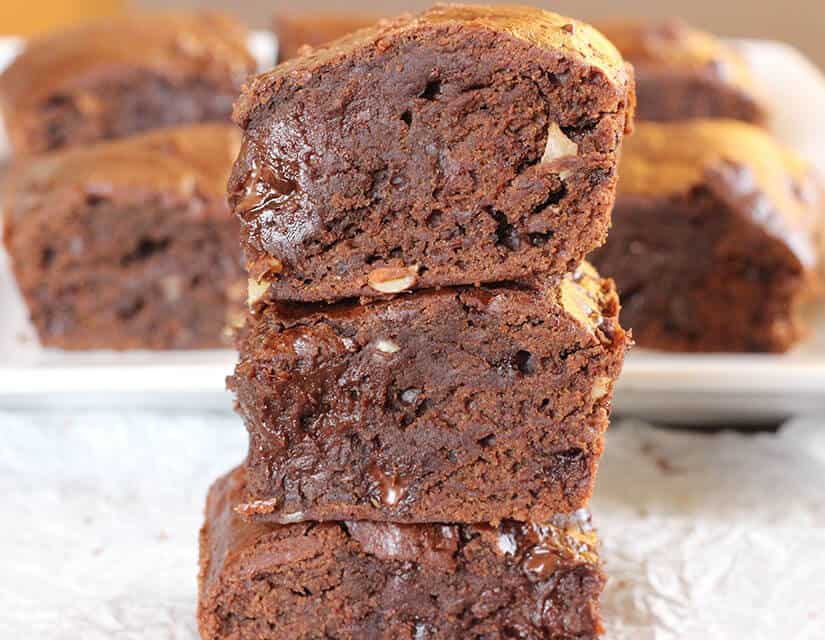 Ingredients for Double Chocolate Brownies
All purpose flour - 2 cups
Cocoa powder - 1 cup
Instant coffee powder - 1 tsp
Sugar - ½ cup
Brown sugar - ½ cup
Baking powder - 1 tsp
Salt - ½ tsp
Water - 1 ¾ cup
Vegetable oil - ½ cup
Chocolate chips - ½ cup
Chopped almonds - ¼ cup
Steps to prepare Double Chocolate Brownies
Step I
First take ½ cup flour and 1 cup of water in a small sauce pan, and cook over medium heat, to form a thick paste, stirring continuously with a whisk to avoid lumps. This may take about 2-3 mins.
Preheat the oven to 350 degree F.
Step II
In a separate mixing bowl add remaining 1 ½ cup of flour, cocoa powder, instant coffee powder, sugar, brown sugar, baking powder and salt, and mix well.
To this add the wet ingredients - flour paste (from step 1), water and oil. Using a hand mixer or a whisk, combine till everything comes together to form very thick batter. Do not over mix.
Fold in chocolate chips and chopped almonds.
Transfer to a greased baking dish and bake for about 25 to 28 minutes, or until done. (check tip section)
Remove from the oven and let it cool completely even before you cut them into squares.
Double Chocolate Brownies are now ready. Serve and enjoy.
Tips:
Brownies must be gooey in the middle. Do not wait till the knife inserted at the center to come out clean. If it comes out clean it means that you have overcooked them.  Brownies are done when edges are set and pull away from the sides of the pan. Also when you shake the baking dish, the center should not jiggle.
Consistency of the brownie batter is very thick. It should be between that of a cookie dough and cake batter.
Use any nuts of your choice.
*** Click below to save it on Pinterest ***