Instant Banana Dosa or Pancake is a easy to make vegan recipe that uses ripe bananas and sooji (or semolina) and can be prepared in less than 15 minutes. These pancakes are soft and chewy and get over in no time.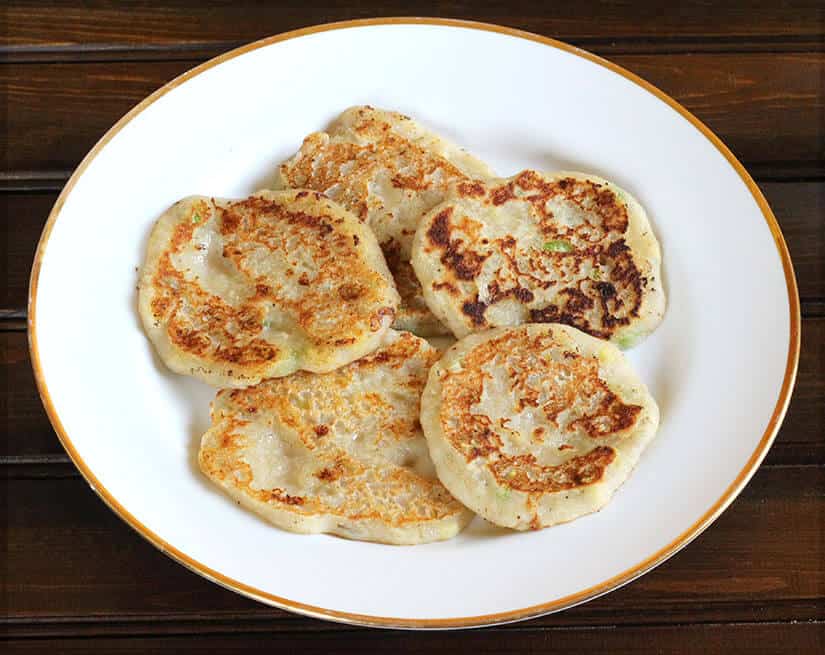 You can prepare both sweet as well as spicy version of this dosa. I first prepare the batter and cook the sweet version, and then add in finely chopped green chilies and cook the spicy version. This recipe is prepared also during fasting days and is known as rulava bakri in konkani. This can be served alone or with butter or honey.
My family loves to eat dosa every morning for breakfast and I always love to try new ways of making it. This is one such dosa recipe that is loved by all.
You can also try substituting banana with cucumber, pumpkin or zucchini. You can check out the recipes for the same below:
Preparation time : 15 minutes
Serves : 3

Ingredients for Instant Banana Dosa
Semolina / Sooji - 1 cup
Ripe bananas - 2
Water - approx 1 cup
Sugar - 2 tsp
Salt - to taste
Green chilies / Serrano pepper chopped - 1 (skip if you like the sweet version)
Cilantro / Coriander leaves chopped - 2 strands
Vegetable oil - for cooking dosa
Steps to prepare Instant Banana Dosa
Step I
Mash the riped bananas.
Add sooji / semolina, water, sugar, salt, green chilies, coriander leaves and mix well. The batter should be thick and not runny.
Step II
Heat a non-stick pan on medium heat. Once the pan is hot, add laddle full of batter and spread it evenly with your fingers or laddle to form a medium thick dosa.  (I have added 3 mini dosas at a time on tava. You can vary the size of pancake as desired)
Drizzle oil around the pancakes. Cover it with lid and cook on medium flame.
Once its starts becoming golden brown flip, drizzle some more oil and cook on the other side till it is roasted and golden brown in color.
Repeat the process for the remaining batter.
Instant Banana Dosa or Pancake is now ready. Serve hot and enjoy.
Tips:
Vary the amount of sugar depending on the desired level of sweetness.
You can also add in some grated coconut for both sweet and spicy version.
Add grated ginger if desired for the spicy version.