Napoleon or Mille Feuille is a super delicious dessert with layers of puff pastry and cream filling. It is creamy, airy, cripsy and flaky with right amount of decadent flavors in every single bite. A festive dessert to serve this holiday season. This is by far one of my favorite dessert recipe.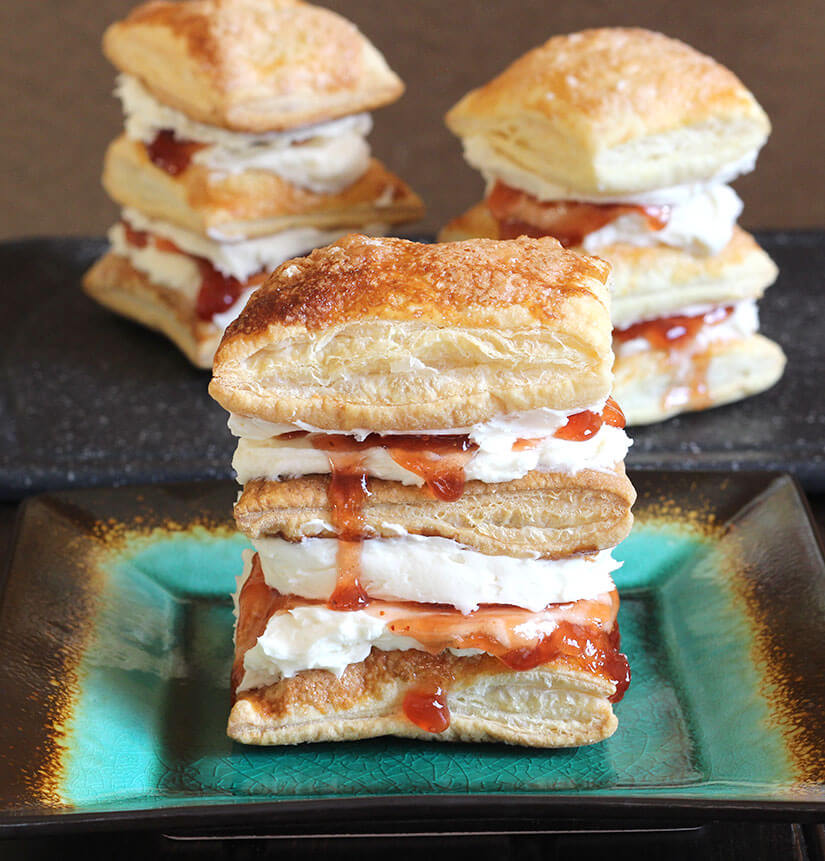 Any occasion, whether it is Christmas, Thanksgiving, Birthdays, or any other party, is incomplete without a serving of dessert. As a host you will always need a dessert that is simple to make with little or no mess, but also one that looks grand and festive at the same time. It should also be so tasty that it satisfies everyone's sweet cravings and leaves your guests wishing there were additional helpings!
I have become a huge fan of Puff Pastry and lately I have used them to create many recipes (do check out the list below). The beauty of these sheets is that it comes out perfect every single time. Even if you have decided to make a dessert at the very last minute, these sheets will not disappoint you. When baked they turn out super flaky and crispy with a beautiful golden color every single time. This holiday season, I will definitely prepare some desserts and appetizers using these puff pastry sheets - as I know everyone will love it.
Mille Feuille actually means thousand layers - and is a very popular french pastry. You will see many variations to napoleon and/or mille feuille. I am not an expert to say anything on the traditional ones. Whenever I have ordered Napoleons at restaurants or bakeries it has always come with a surprise. Every establishment has its own take on this popular dessert. This is my version and I love to serve this dessert as shown in the picture 🙂
The recipe for Napoleon is super simple and every single bite just melts in your mouth. This is a crowd favorite at parties and gatherings, and I am sure you will prepare this frequently if you try it once. I have prepared fresh vanilla buttercream to fill between the puff pastry sheets. This pastry and cream combination is heavenly. But I did not want to stop there. I have added a layer of strawberry jam between the cream layers. You can use any jam of your choice or substitute it with some fresh (or caramelized) berries or simply skip it. You can prepare this ahead of time, as it will stay fresh and crispy for up to a day. You can store this outside, however if it is warm I recommend that you refrigerate it until you are ready to serve. I like to serve this chilled. Do give this recipe a try and let me know how it turned out. While you are here also do check out my posts that use puff pastry sheets.
Preparation time : 30 - 40 minutes
Serves : 3 napoleons
Ingredients for Napoleon
Puff pastry sheet - 1
Sugar - 2 tbsp
Egg - 1
Strawberry jam - ⅓ cup
For Vanilla buttercream
Unsalted Butter - 1 ½ sticks (¾ cup)
Vegetable Shortening - ¾ cup
Salt - ¼ tsp
Vanilla extract - 2 tsp
Confectioners Sugar - 3 cups
Heavy cream - 4 tbsp
Steps to prepare Napoleon
Step I (Prepare Buttercream)
In a large mixing bowl add unsalted butter, shortening and salt. Using a hand held mixer (or a stand mixer) cream them together, for about 2 minutes.
Then add vanilla extract, confectioners sugar and continue mixing for another 2 minutes.
Drizzle in heavy cream and continue whisking (for 3 minutes) until it is stiff and creamy.
Vanilla butter cream is now ready. Keep it refrigerated until further use. Stays well for up to a week when refrigerated in an air tight container.
Step II
Thaw pastry sheet as per package instruction. Transfer this to a well floured working surface and roll it into a 9 by 12 inch rectangle using a rolling pin.
Cut them into 9, 3 inch by 4 inch rectangles. Transfer the 9 puff pastry pieces to a greased baking sheet.
Using a fork poke holes in the puff pastry. This ensures that the pastry does not puff excessively.
Apply egg wash on the top surface of each cut pastry and sprinkle fine granulated sugar over it. Freeze this for about 5 minutes,
Preheat the oven to 400 degree F.
After 5 minutes of freezing, bake these for 18 minutes or until they are golden brown. Cool them completely on a wire wrack before assembly.
Step III
For each Napoleon we need 3 puff pastry pieces (3 by 4 inch rectangles) to form a 3 layered final product.
Place the lower puff pastry sheet on a working surface. Spread some buttercream on top and using a spatula create a level surface.
Add about a teaspoon of strawberry jam on top of the butter cream.
Now take the second piece of puff pastry. Apply butter cream on one side and level it with a spatula. Now place this pastry such that the butter cream side is down and is used to sandwich the strawberry jam that we added earlier.
Apply a layer of butter cream on top of the second piece of pastry, and then add some strawberry jam.
Now apply buttercream to one side of the third puff pastry piece, and use this buttercream end to create a sandwich of strawberry jam between the middle and topmost puff pastry layer. This completes the assembly of the first Napoleon!
Repeat until you have assembled the remaining two Napoleons.
Napoleons are now ready. Serve and enjoy.
Tip:
During baking process,  if you notice that the pastry sheets are puffing excessively, use a tooth pick or a sharp knife to poke holes through the puffed up surface. This releases any steam and flattens the pastry to some extent.
During or after assembly of Napoleons, if you feel that the buttercream is soft, you can freeze the Napoleons for about 5-10 minutes or  until you are ready to serve..
For more recent updates, follow me on Pinterest, Facebook, Instagram, Twitter, GooglePlus. 
***Click below to save it on Pinterest***