Panettone Cake is an Italian sweet bread dessert that is light and fluffy, packed with candied fruits, and full of festive flavors. One of the best and unique, fun dessert recipe to try for Thanksgiving and Christmas.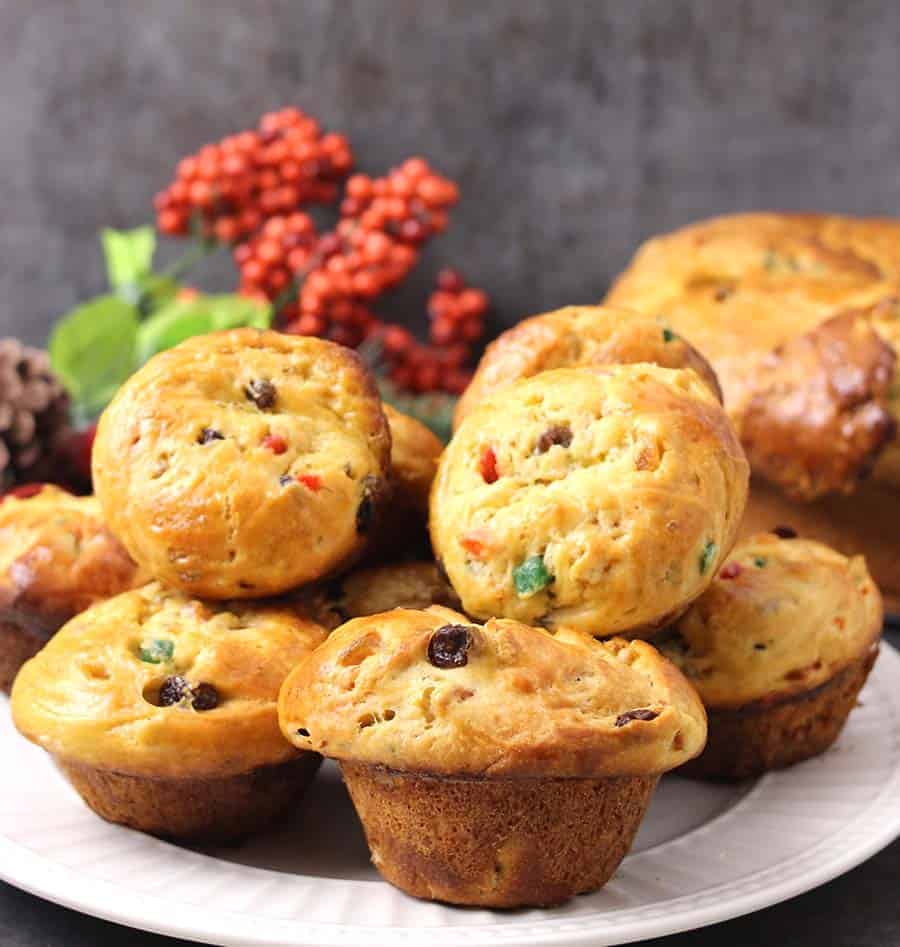 We are already almost at the end of the year. Thanksgiving and Christmas are around the corner. One of the best seasons to spend time with family, do shopping, watch football, and eat best food. I just cant forget how I always wait to eat perfectly browned turkey, green beans or cheesy potato casserole and roasted potatoes, and amazing desserts with my family and friends.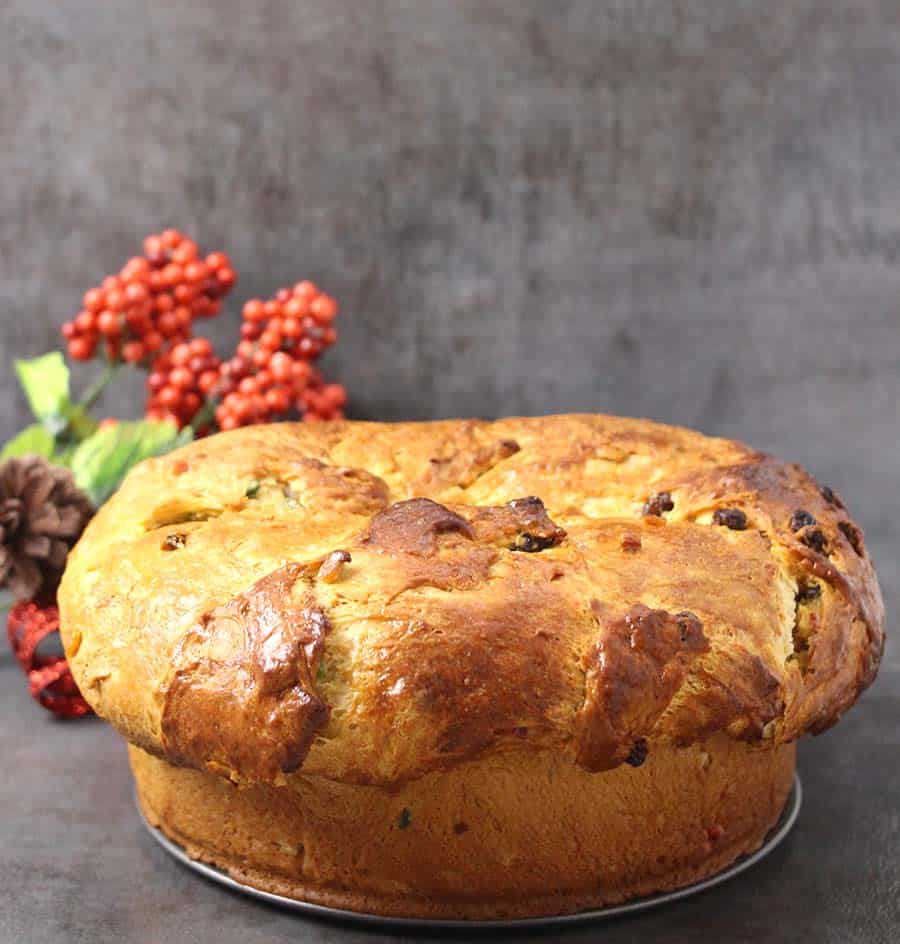 But with this pandemic, Thanksgiving and Christmas is all going to be different this year.
How are you planning to celebrate Thanksgiving and Christmas 2020?
A virtual dinner gathering for Thanksgiving or Christmas party is what we feel is the beautiful and best way to celebrate this year. It is always good to stay safe. This is what I recommend even to my family and friends. But if you really want to host events, make sure you do it outdoors with people from local areas and minimal attendees.
Coming back to Panettone cake
Is Panettone bread or cake?
Pannetone or Panetonne is an Italian cake like sweet bread, originally from Milan, started off as luxury cake and prepared and enjoyed during occasions like Christmas and New Year.
How do you eat Panettone cake?
I like to eat it the way it is. My husband loves it toasted with some butter and a cup of coffee, mocha or tea for morning breakfast or even as a snack.  But there are several ways in which this cake dessert or bread can be served. Toast slices and serve it on cheese board. It's taste and texture makes it great for pudding or French toast. This can also be served as a dessert with pumpkin dipping sauce or even with caramel, chocolate, or maple syrup during Christmas or Thanksgiving parties.
Is Pandoro same as Panettone?
Panettone is from city of Milan and Pandoro is Christmas dessert originated from city of Verona. Both are popular dessert bread from Italy. Panettone is made with candied fruits, while Pandoro is without the candied fruits and nuts and is sweeter and taller than Panettone.
Is Brioche the same as Panettone?
Brioche is type of bun from French origin and Panettone is soft, Italian yeast brioche with candied fruits and raisins specially prepared during Christmas.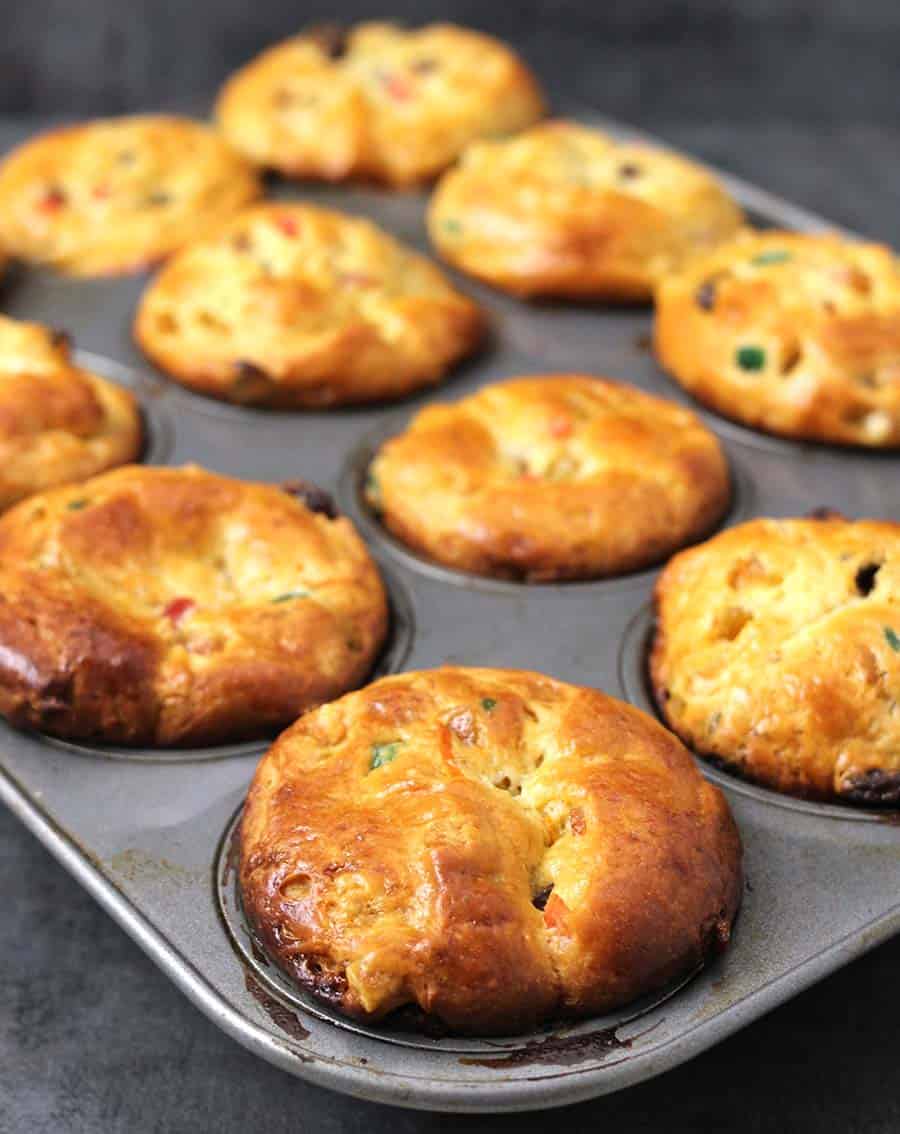 How to make traditional, perfect Panettone cake, Italian bread dessert?
I tried this bread for the first time at ALDI during holiday season, my favorite store for shopping. We finished off more than half of the bread loaf in half-day time. The taste, texture, flavor, and the shape was new to me. I brought it home the second time very next day.
We were very curious to know how this cake like bread is made and I started my search. And like any other recipe, I came across several different recipes for panettone, some even with sourdough starter. I actually had very bad experience with the sourdough starter. The smell is just awful. So I continued to search for recipes that did not use sourdough starter to make this bread.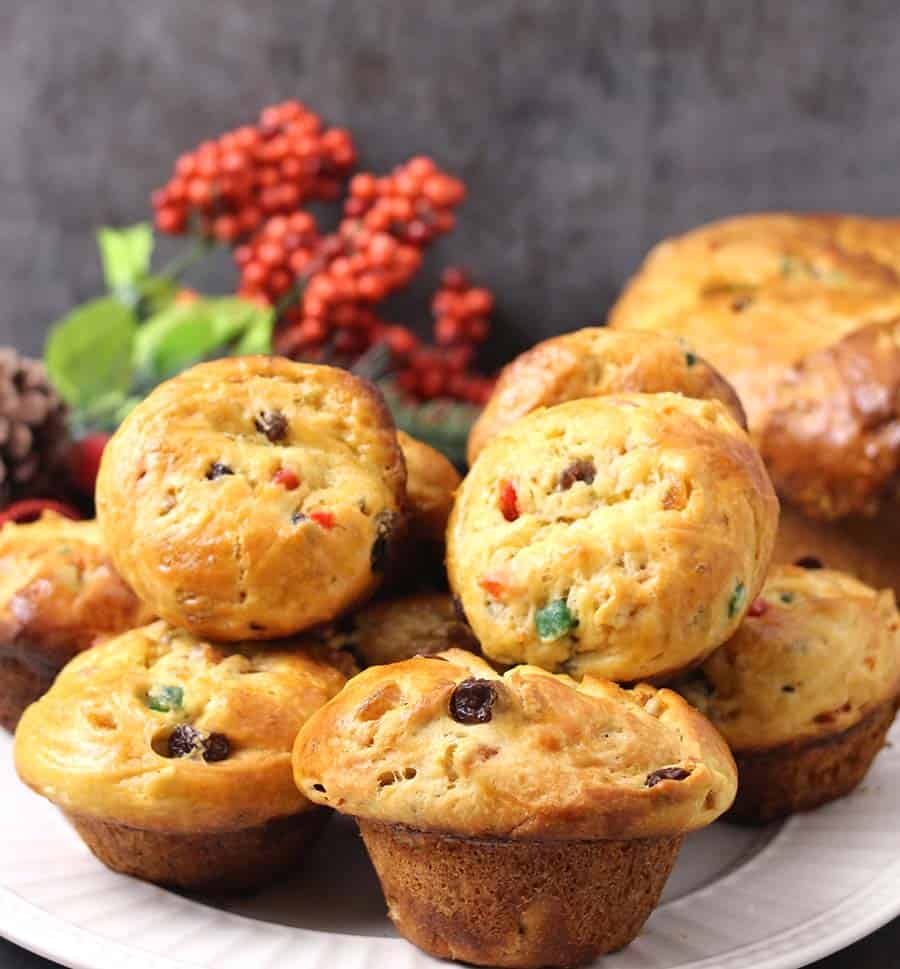 After watching Chef Bruno Albouze prepare this dish, I gained some confidence and I decided to bake this. I was ready for failure too. It happens for everyone right?
I decided to make it for Christmas only if this turns out to be successful project. Yes a project because this panettone needs at least two days. First day to prepare the starter and let it rest in refrigerator for at least 10 hours and use it in the dough the next day. Rest everything is pretty simple.
I have used candied fruits and raisins without soaking it in any liqueur or fruit juice. If you like additional flavors you can soak it overnight and refrigerate. I have mentioned it in my recipe.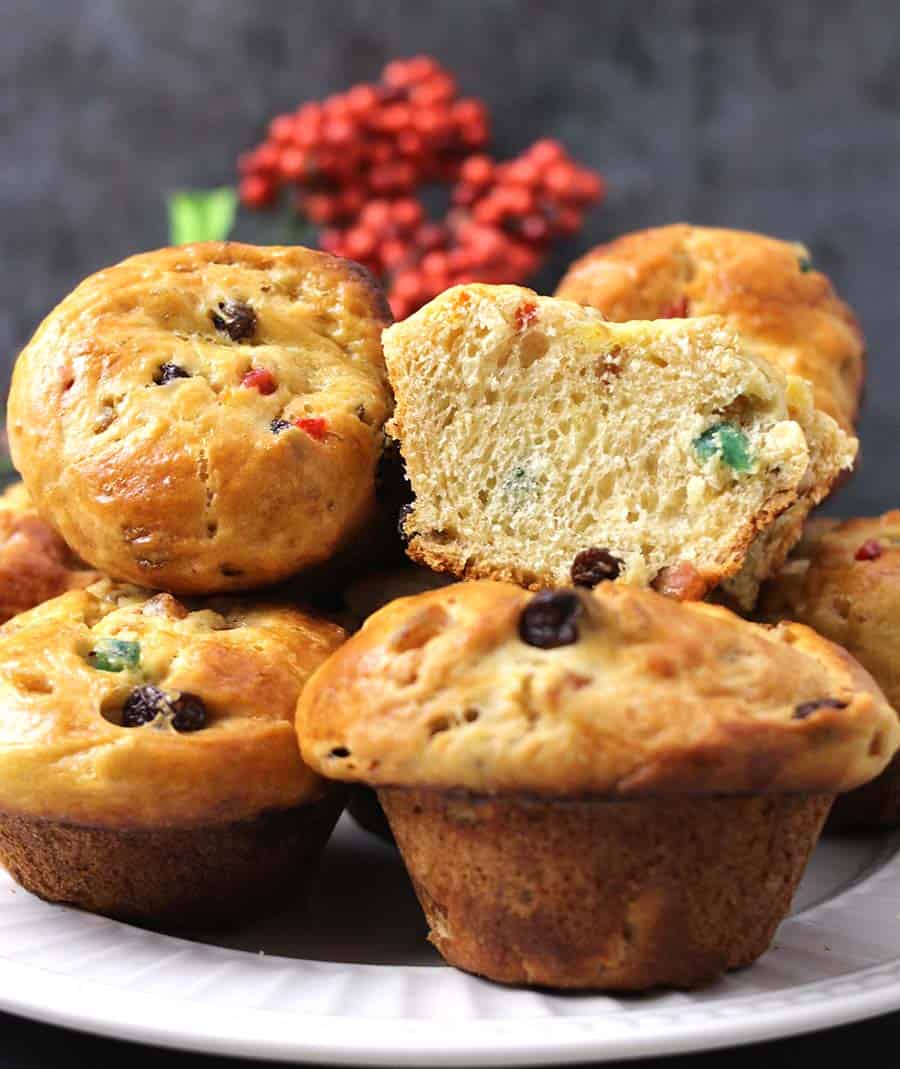 Why do you hang Panettone upside down?
One more strange thing that I was asked to do was to put the bread upside down and pierce it with bamboo or metal skewers as soon as it is out of the oven. This is mainly done to avoid the bread from collapsing. I really did not know how this is going to work. Therefore, I baked one large panettone and 12 individual servings. The skewers thing actually worked. It did not tear my bread apart 🙂 But the individual portions were also a great hit.
To make large panettones, bakeable panettone paper moulds are available online. But, I did the molds at home by myself and for smaller individual servings, I used my cupcake pans.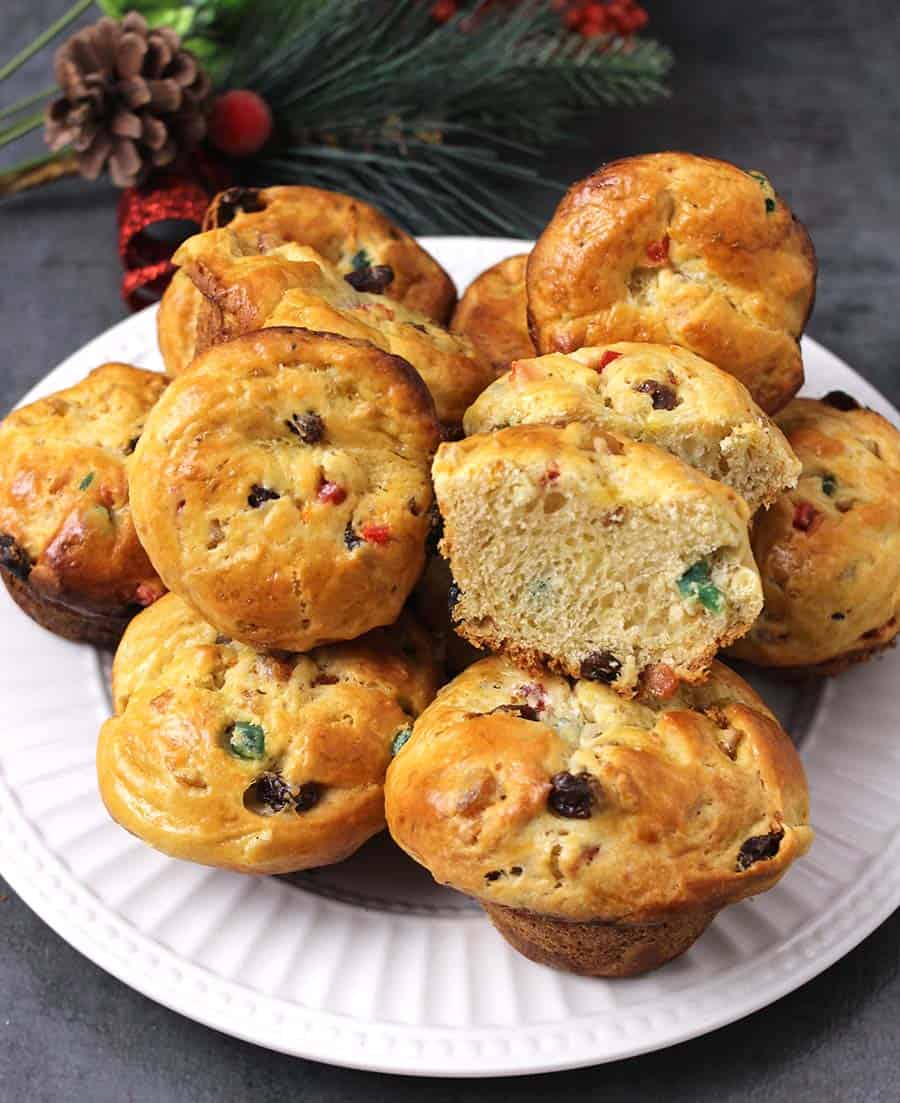 How to make paper baking molds?
Cut 3 inch circle of parchment paper and measure its circumference. Cut another piece of parchment paper 6 inches high and length of measurement of circumference. This may be around 6 inches by 10 inches. Make a glue with 1 tablespoon of flour and 2 tablespoon of water. Make round tube with 6 inches 10 inches parchment paper and glue the edges together. Put the circle parchment paper at the bottom of the tube, glue it and let this dry overnight. Your mold is ready.
Before baking make sure you place the mold on baking tray or silicon mat and then pout the batter.
If you do not have mold or parchment paper, you can still bake this using deep round cake pan or a spring form pan.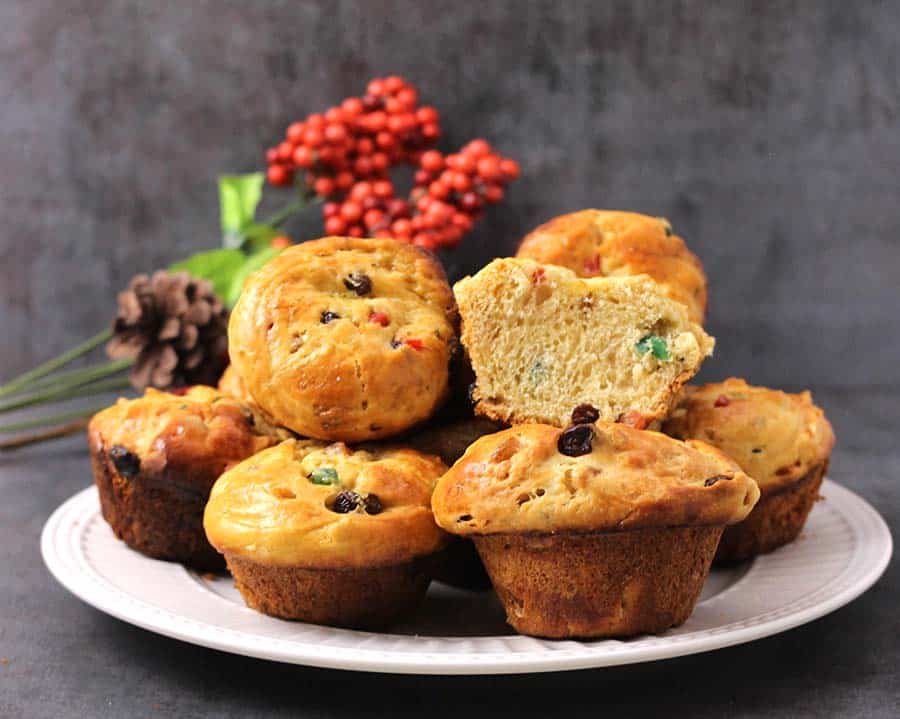 How long does homemade panettone last?
Homemade panettone remains fresh for 4 days up to a week at room temperature wrapped tightly in plastic wrap.
Can you freeze Panettone?
Cut them into slices and allow it to firm. Once slices are firm, place it in a resalable container and freeze it up to 1 month.
What can I do with leftover egg whites?
Only egg yolks are used in the recipe. Egg whites can be stored in fridge for up to 2 days or you can freeze it up to 1 month. You can use it in any recipe desired. One of my favorite is Pavlova - an Australian Christmas dessert.
Let me know which method you have used to bake this delicious dessert. Happy Thanksgiving and Merry Christmas 2020.
Stay Safe.
If you like breads or cakes that use fruits, then check out - classic and best Christmas cake, eggless Christmas Rum and Raisin cake, easy pineapple upside-down cake, crowd-pleaser fruit bread, etc.
Detailed recipe for Panettone Cake, Italian Bread Dessert
Recipe card
Panettone Cake - Italian Bread Dessert
Panettone Cake is an Italian sweet bread dessert that is light and fluffy, packed with candied fruits, and full of festive flavors. One of the best and unique, fun dessert recipe to try for Thanksgiving and Christmas.
Ingredients
For the Panettone starter
½

cup

Water

, lukewarm

1

teaspoon

Active dry yeast

1 ½

cups

All purpose flour

1

teaspoon

Salt
For fruit mixture
1 ¼

cup

Dried raisins

2 ¼

cup

Candied fruit

⅓

cup

Fruit juice

or liqueur or rum (optional)
For the Panettone dough
2

tablespoon

Active dry yeast

1

cup

Milk

, chilled

10

Egg yolks

, chilled

2

teaspoon

Vanilla extract

2 ½

teaspoon

Salt

1

cup

Sugar

5

cups

All purpose flour

1 ⅓

cup

Butter

, room temperature
Egg wash
1

Egg

, beaten

Butter

, optional
Instructions
Step 1 (Prepare Panettone Starter) on Day 1
For the panettone starter, combine water and yeast, then add flour and salt. Mix this on low speed for 3 minutes, and for 5 minutes on medium speed.

½ cup Water,

1 teaspoon Active dry yeast,

1 ½ cups All purpose flour,

1 teaspoon Salt

Transfer the dough to a greased bowl, cover it with plastic wrap, and let it rise for 3 hours or until it is puffy.

Punch down the dough. Shape it into a ball and refrigerate overnight, minimum of 8 hours at least.

Keep this starter at room temperature at least 2 hours before you start making panettone dough.
Step 2 on Day 1
Meanwhile, you can mix the candied fruits and dried raisins in orange juice or for Christmas flavor mix with rum or your favorite liqueur and refrigerate overnight or a day before.

1 ¼ cup Dried raisins,

2 ¼ cup Candied fruit,

⅓ cup Fruit juice

Or you can simply skip mixing and add the dry raisins and candied fruit mix as it is to the recipe the following day.
Step 3 (Prepare panettone dough) on Day 2
In a stand mixer with hook attachment add salt, sugar, yeast, flour and mix to combine. Add milk, egg yolks, vanilla extract and mix till everything comes together, mix for 3 minutes on low speed. Add the starter from Step I and mix on low for additional 5 minutes. Next, increase the speed to medium and knead for 10 minutes.

2 tablespoon Active dry yeast,

1 cup Milk,

10 Egg yolks,

2 teaspoon Vanilla extract,

2 ½ teaspoon Salt,

1 cup Sugar,

5 cups All purpose flour

During this kneading process, make sure you stop the mixer and scrape down the sides every now and then to stop the dough from overheating and to ensure uniform mix.

Add butter and mix on low speed for 10 minutes or till the dough is very smooth.

Finally, add the candied fruit mixture from Step 2 and mix until just combined.

Cover the dough with plastic wrap and let it sit in warm place for about 3 hours or until triple in size.

Deflate the dough without any additional flour. Divide the dough into desired shapes and size. Shape it into rounds and place it in greased molds.  (I have used my cupcake pans and one homemade large panettone mold using parchment paper)

Let this proof for 2 hours one last time.
Step 4 (Bake Panettone) on Day 2
Preheat the oven to 350 degrees F. Apply Using a pastry brush, apply Egg wash to the top and score using razor blade or knife. Add some chunks of butter too if desired (totally optional).

Bake the large panettone one for about 40 to 60 minutes and smaller ones for 20 to 25 minutes or until a toothpick inserted comes out clean. The baking time may vary depending on the size of cakes and your oven.

For large panettone only – once its outside the oven, pierce 2 bamboo skewers and put it upside down. This is mainly done to avoid it from collapsing as it cools down.

It may take few hours to come to room temperature. It tastes the best when served a day after.

Panettone is ready. Happy Thanksgiving, Christmas and New year to all of you. Have fun.
Notes
Only Egg yolks are used in the recipe. Separated Egg whites can be stored in fridge for up to 2 days or you can freeze it up to 1 month. You can use these egg whites in any recipe you desire, e.g. a healthy egg-white omelet or try one of my favorite recipe, i.e Pavlova - Australian Christmas dessert.
For make-ahead panettone dough (refer to Step 3 on Day 2) - after the dough is mixed and has tripled in size,

you can cover the dough and keep it in refrigerator until you are ready to bake. Thaw the dough at room temperature for an hour, and then place the dough in moulds and let it rise for another two hours. For baking, follow Step IV in the recipe description given above.
Nutrition
Calories:
373
kcal
Carbohydrates:
58
g
Protein:
6
g
Fat:
13
g
Saturated Fat:
8
g
Polyunsaturated Fat:
1
g
Monounsaturated Fat:
4
g
Trans Fat:
0.4
g
Cholesterol:
117
mg
Sodium:
447
mg
Potassium:
140
mg
Fiber:
3
g
Sugar:
20
g
Vitamin A:
469
IU
Vitamin C:
1
mg
Calcium:
64
mg
Iron:
3
mg
If you like this Italian Dessert Bread, Panettone,
Don't miss to check out some of my delicious, unique, fun and themed Thanksgiving and Christmas desserts, Fall and Winter desserts, or Holiday desserts
For more recent updates, follow me on Pinterest, Instagram, Twitter. 
***Click below to save it on Pinterest***