Fruit Bread is a delicious recipe that uses combinations of fresh fruits as a key ingredient. Every single bite of this bread bursts with sweet juicy flavors, and I am confident it will be a common feature on your breakfast table.

All through the summer there is a continuous supply of locally grown and harvested fruits at our farmer's market. And I am always on the look out to use fruits in different forms in our diet. I baked my first fruit bread couple of years ago, and everyone at my home loved it so much that I have prepared it several times since then and it comes out perfect every single time. My husband took a loaf of this bread for his recent office breakfast-potluck and ever since I have received numerous requests for the recipe. The bread is perfectly soft and moist, holds its shape when sliced, and can be served warm or cold for breakfast, snack or dessert.
Specially during this time of the year, the farmers market as well as the produce sections in all popular stores are overflowing with fresh supply of different types of berries and peaches. The aroma is so intoxicating that I compulsively end up buying more than what I normally require.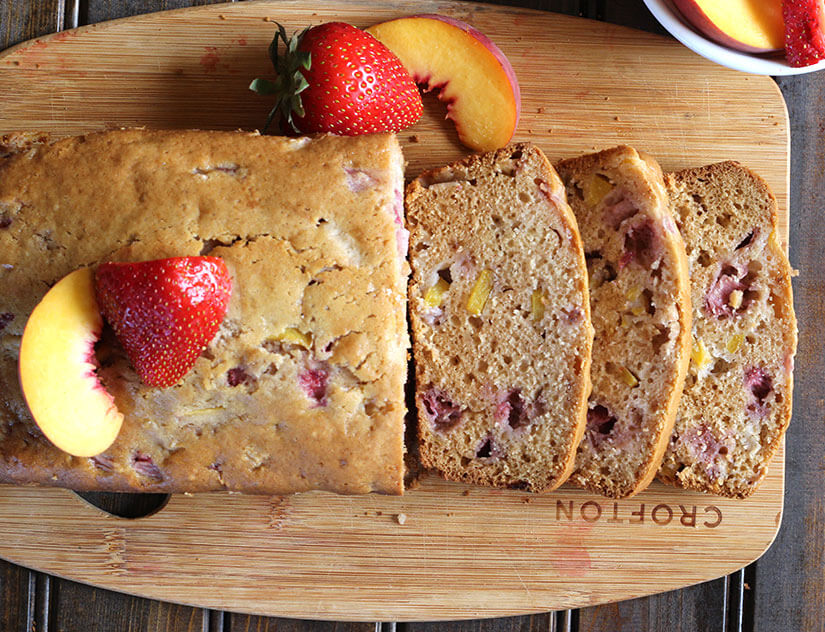 As a result this summer, I have prepared several recipes with using different fruits as their main ingredient, and the following are among the few which I encourage you to check out: fruit and cream, strawberry popsicles, raspberry lemonade, peach upside down cake, peach pie, blueberry mojito (oops! will soon share this recipe). I can go on with the list. This shows how busy I am eating during summer 🙂 (actually all seasons ). Today I have combined fresh strawberries and peaches in this fruit bread recipe, but feel free to use any combination of fruits (as well as nuts) of your choice.
When you are here, do let me know what recipes are you trying this summer? If you have any recipe requests leave them in the comment section below and I will be happy to feature them on my blog soon!
Preparation time : 1 hour 30 minutes
Serves  : 1 loaf

Ingredients for Fruit Bread
Strawberries chopped - ¾ cup
Peaches peeled and chopped - ¾ cup
Sugar - ¾ cup
Egg - 1
Sour cream - 2 tsp
Whole milk - 1 cup
Vanilla extract - 1 ½ tsp
Vegetable oil - ¼ cup
All purpose flour - 2 cups
Cinnamon powder - ¼ tsp
Baking soda - 1 tsp
Salt - ½ tsp
Steps to prepare Fruit Bread
Step I
In a bowl, add chopped strawberries, peaches, 2 teaspoon of sugar, mix well and keep it aside for 15 minutes or till you prepare the batter.
This is done so that the juices are released from the fruit.
Step II
Preheat the oven to 350 degree F. Grease the baking pan.
In a large bowl, whisk together the egg and sugar until they are combined.
Now whisk together sour cream, whole milk, vanilla extract and vegetable oil.
Add in the dry ingredients - all purpose flour, cinnamon powder, baking soda, salt and gently mix so that there are no lumps. Do not over mix the batter.
Now fold in the strawberry, peach mixture.
Step III
Bake for about 50 minutes to 1 hour or until done. That is toothpick or knife inserted comes out clean. My oven took exactly 55 minutes to bake this.
You can place an aluminum foil half way through to avoid the top from developing dark brown color.
Allow it to cool down completely even before you slice them.
Fruit Bread is now ready. Serve and enjoy.
Tip:
Use any fruit combination of your choice.
You can also substitute vegetable oil with butter or coconut oil. I have used oil in the recipe because it keeps the bread softer.
You may vary the amount of sugar depending on the sweetness of the fruit.