Rustic Apple Blackberry Pie is a delicious and flavorful eggless dessert that has a buttery- flaky and crispy crust with the sweet and tart filling inside. This will be a super hit at your dinner table this Thanksgiving. The pie dough is made from scratch and to make it extra special I have combined the apples with blackberries in the filling.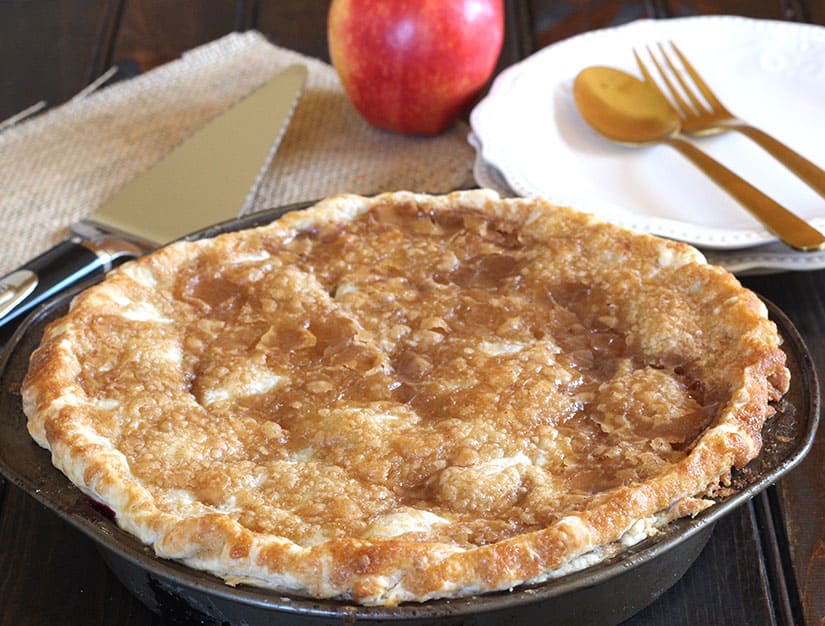 Thanksgiving is incomplete without a pie or tart. A table that is set beautiful makes any day a special occasion. I have already shared a super delicious cranberry frangipane tart recipe and have it in my menu for Thanksgiving. Special days are when you have a chance to make more than one dessert plus this the best way to surprise all your guests 🙂 I really wanted to make something easy and tasty. With my apple mania still going on I decided to make a dessert with apples, but to give it an additional twist I have added blackberries. This combination is ultimate. Plus I have made this flaky pie dough from scratch. To give it a rustic look I have not designed the top of the pie, instead I have glazed it with sugar sauce to give the finished pie a golden crust. You can make lattice or any other desired design.
You can also check my recipe on peach pie.  Do prepare this simple yet delicious recipe for your upcoming tailgating events or game nights or potluck or Thanksgiving and Christmas holiday parties, and do not forget to let me know how it turned out.
Ingredients for Rustic Apple Blackberry Pie
For the pie dough:
Butter - ½ cup or 1 stick
All purpose flour - 2 cups
Salt - ¾ tsp
Sugar - 2 tbsp
Ice cold water - 8 to 10 tbsp
For the filling:
Butter - 1 tablespoon + ½ cup
Apples thinly sliced - 4
Sugar - 3 teaspoon + ½ cup
All purpose flour  - 6 tbsp
Brown sugar - ½ cup
Water - ¼ cup
Lemon juice - 1 tsp
Cinnamon powder - 1 tsp
Ground nutmeg - ¼ tsp
Vanilla extract  - 2 tsp
Salt - pinch
Blackberries - 6 oz
Steps to prepare Rustic Apple Blackberry Pie
Step I (For the dough. If you are using store bought dough, then ignore this step)
Using a knife cut the butter stick into small cubes and freeze it for couple of hours.
In a food processor first add flour, followed by frozen butter cubes, salt, sugar, and about 4 tablespoon of ice cold water. Pulse this for about 1-2 minutes.
Scrape the bottom and edges of the food processor, add another 4 tablespoon of ice cold water and pulse for another 2 minutes. At this stage the flour-butter mixture should appear crumbly.
Transfer this crumbly dough to a clean work surface, and form a dough ball by simply squeezing the crumbly mixture together.
If you find that the dough is on the drier side, add 1-2 tablespoon of ice cold water and gently incorporate it into the dough using your fingers and try forming the dough ball again.
Transfer the dough ball to a zip lock bag and rest it in refrigerator for at least an hour, preferable overnight.
Step II (For the filling)
In a non-stick pan on medium heat, add 1 tablespoon of butter and sliced apples and saute for 5 minutes.
Then add 3 teaspoon of sugar and continue sauteing it for another 5 minutes. Switch off the flame. Transfer this to a bowl and let it cool till you prepare the below steps
Step III
Add remaining ½ cup butter to the same non-stick pan. Once the butter melts, add all purpose flour. Reduce the heat to medium low and saute the flour for about 90 seconds.
To this add ½ cup of sugar, brown sugar, water, lemon juice and bring it to nice boil.
Add cinnamon, nutmeg, vanilla extract, salt and continue cooking for 1 minute. Switch off the flame.
Transfer ⅔ of the sauce to the bowl containing sauteed apples, add blackberries and mix well.
Keep the remaining ⅓ sauce on low flame while you assemble the pie.
Step IV
Preheat the oven to 350 degree F. Grease the baking pan with little butter.
Remove the pie dough from refrigerator. Divide it into 2 equal parts. On a floured working surface roll them into two circles that are big enough to completely cover your pie plate (for 9 inch pan, I roll them to approx 11 inch diameter circle).
Place one circle of rolled dough on the bottom of your pie pan and press firmly against the bottom and sides.
Then pour the apple blackberry filling on top of this.
Now complete the assembly by covering it with the second circle of rolled pie dough. Crimp the edges. Spread the remaining ⅓ rd portion of the sauce on top of the dough using a pastry brush. Using a sharp knife make 3 to 4 gashes or slits to let the steam out while baking.
Bake in the oven for 45 to 50 minutes. Let it cool down completely even before you slice.
Rustic Apple Blackberry Pie is ready. Serve with a scoop of ice cream or a dollop of whipping cream and enjoy.
For more recent updates, follow me on Pinterest, Facebook, Instagram, Twitter, GooglePlus. 
***Click below to save it on Pinterest***