Vegan Tutti Frutti Cake is a delicious and flavorful, quick and easy to make cake recipe perfect for holiday season. The recipe calls for very basic ingredients and can be baked to perfection even by those who have very little experience!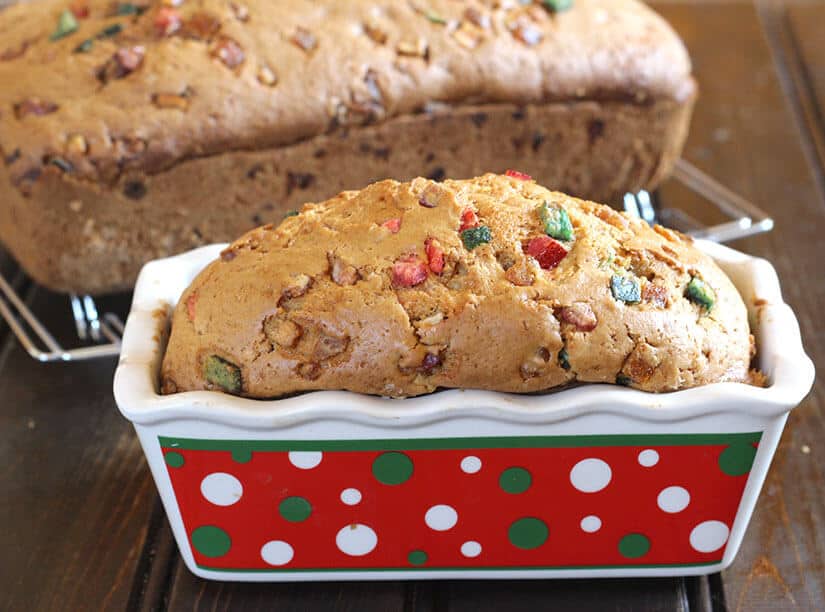 Tutti Frutti Cake also called as Christmas Cake was a very popular and best selling item at the bakery in my hometown. They were selling 10 pieces for just 10 Rupees during my school days. I still remember how happy I was when my dad got it from bakery for us. I was enjoying having it with my siblings. Thinking of my childhood days makes me nostalgic, and I feel that I should relive those moments again.
Recently, when I visited Walmart I was pleasantly surprised to find that the fruit mix was already in store. It is a seasonal item, at least in the town where I live, so as soon as I saw it I loaded it to my shopping cart - no way was I going to think twice. I was pretty sure that they stay fresh in the package that they were sold in, so at the check out I convinced myself that I will prepare a cake closer to Christmas. Once I reached home my plans changed. The child within me started becoming restless to try open the fruit mix and try it. I tried to resist, but I succumbed. Not the first time, so I was not surprised or ashamed. After eating a spoonful, I decided to usher Christmas early to my home. Donned my apron, put the oven to pre-heat and prepared the cake batter.
The recipe is very simple and requires few basic ingredients in addition to the fruit mix. The outcome was a super hit. I was surprised that it tasted as good as the ones I had during my childhood, if not better. Since I had prepared a big batch, I was able to distributed it to my best friends (kids in my neighborhood 🙂 ) and pack some for potluck that evening. I am happy when people eat what I prepare and appreciate. It encourages me a lot to try different things.
This recipe is vegan. You can use butter as substitute for vegetable shortening and whole milk for almond milk if you are ok with non-vegan version. Also you can increase tutti frutti to another extra ¼ cup or so if your kids love it or add in dry fruits and nuts if desired. I have prepared 1 big loaf and a mini loaf. You can bake a cake of any desired shape or reduce the ingredient amounts to half if you are preparing one standard 9 inch loaf. Baking time may vary accordingly.
Preparation time : 1 hour 30 minutes
Serves : one 9 inch loaf and one mini loaf or one 9 inch cake
Ingredients to prepare Vegan Tutti Frutti Cake
All purpose flour / Maida - 3 ½ cup
Salt - ½ tsp
Baking powder - 2 tsp
Baking soda - 1 tsp
Sugar - 1 ½ cup
Vegetable shortening / Dalda - ½ cup
Vanilla extract - 2 ½ tsp
Almond milk - 2 cup
Lemon juice / Pineapple juice - 1 tsp
Tutti Frutti / Fruit mix - 1 ½ cup
Steps to prepare Vegan Tutti Frutti Cake
Preheat the oven to 350 degree F. Grease the baking pan and keep it aside.
In a large bowl, add dry ingredients namely flour, salt, baking powder, baking soda, sugar and mix.
To this add shortening, vanilla extract, almond milk, lemon juice and using a whisk or hand held mixer mix until well combined. Do not over mix.
Add tutti frutti and gently fold them into the batter.
Pour the batter into a well greased pan and bake it for about 35 to 50 minutes or until done. Use a toothpick or a knife to check if the cake is done. The baking time may vary depending on the size of the cake. So keep an eye on it at 30 minute mark. If it starts getting brown, cover the top with aluminum foil.
Allow the cake to cool for about 10 mins. Then remove from pan and then let it cool completely on a wire rack even before you slice.
Vegan Tutti Frutti Cake or Christmas Cake is now ready. Serve and enjoy
Tips:
You can substitute almond milk with soy milk or coconut milk. If you are non-vegan use whole milk.
You can also substitute shortening with butter if desired.
I have used store bought unsweetened almond milk and fine granulated sugar.
For more recent updates, follow me on Pinterest, Facebook, Instagram, Twitter, GooglePlus.
***Click below to save it on Pinterest***