This post is all about the list of popular and best Diwali recipes, including simple, easy, and unique Diwali sweets, desserts, and snack recipes.
Don't miss to check out traditional Indian sweets and desserts, quick and easy evening snacks recipes.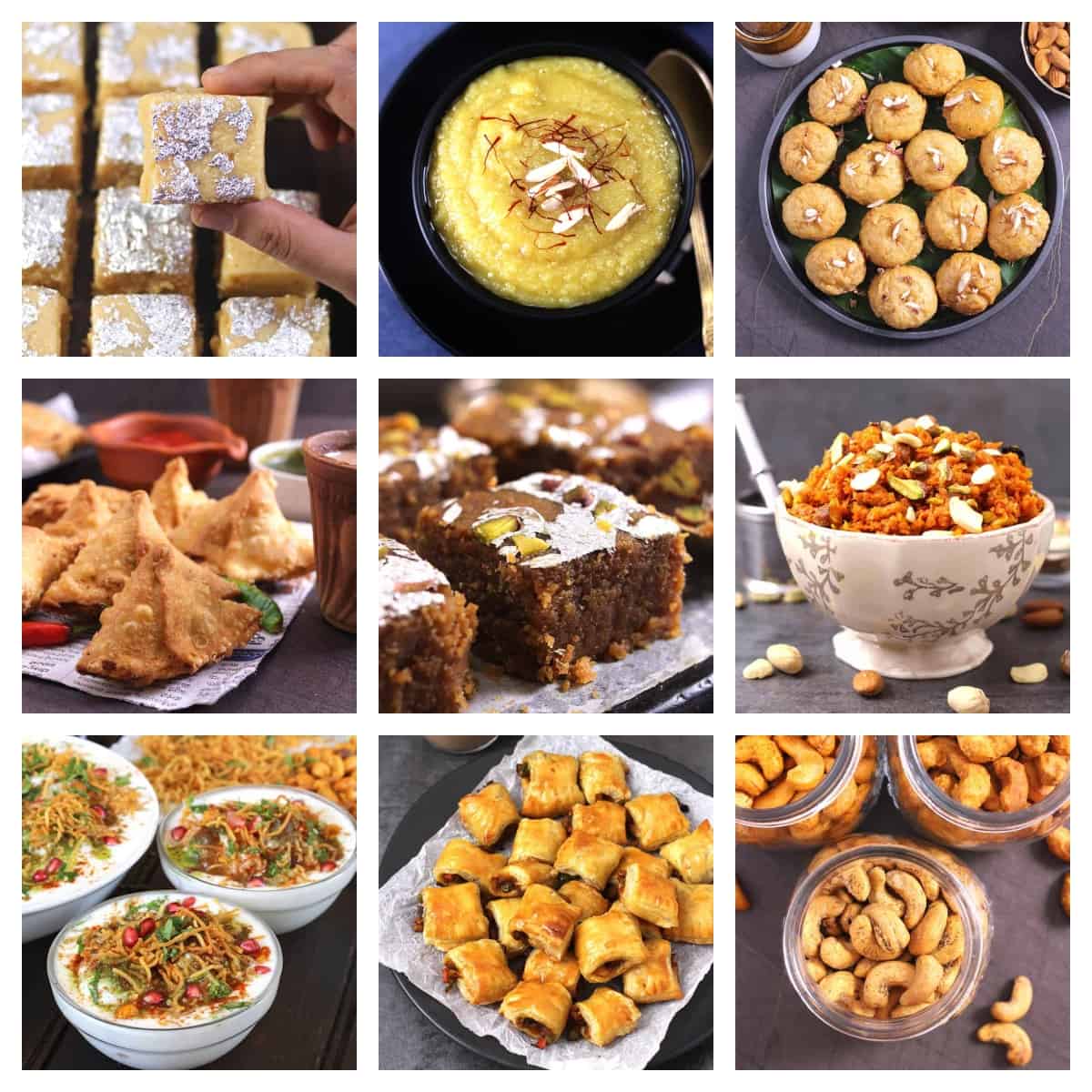 Jump to:
Diwali is celebrated from Sunday,12th November 2023, to Tuesday, 14th November 2023. Karwa Chauth is on Wednesday, 1st November 2023.
I have already shared a collection of 100 + Easy Diwali Sweets recipes and 50 + Simple Diwali Snacks Recipes that you can try for your Diwali Party. The only thing that is different in this post is that I am sharing traditionally made Diwali foods - sweet and snack recipes in the same post that even beginners can try for Diwali.
What is Diwali?
Diwali, also known as Deepawali (Deepavali) in South India, is a popular Indian festival celebrated all across India is a festival of lights.
Diwali symbolizes the victory of good over evil, knowledge over ignorance, and victory of light over darkness. During this festival, the goddess of prosperity, i.e., Goddess Lakshmi, and the one who removes all obstacles, God Ganesha, is worshiped.
Diwali is also a celebration of the day Lord Rama returned to Ayodhya with Sita and Lakshman after defeating the demon Ravana.
How is Diwali Celebrated?
Diwali is typically celebrated by cleaning and clearing old unwanted stuff from your home, and then wearing new clothes, decorating your homes with diyas (traditionally with oil, although candles can be used) and drawing rangoli (colorful Indian art), performing pooja to Goddess Lakshmi and then lighting fire crackers and enjoying lots and lots of mithai (Indian sweets ) and exchanging gifts with family and friends.
Diwali Sweets (Indian Diwali Desserts)
In this section, I have shared some of the popular Indian sweets eaten during Diwali. For my family, Kaju Katli is a winner at the Diwali party. Diwali is incomplete without one or two pieces of these cashew barfis.
Some other favorite Deepawali sweets include milk burfi (milk powder barfi), besan ladoo, balushahi, Bombay halwa, dry fruit chikki, motichoor ladoo, gujiya, and mohanthal. You can check the entire list of desserts here.
Kaju Katli is a popular Indian sweet or mithai that is prepared for any special occasion and festival. Kaju barfi prepared using the recipe shared here tastes better than any halwai, and you need only three ingredients.
Surprise your family and friends with a mithai box filled with homemade kaju katli this year.
Milk barfi is a super hit and popular recipe on my blog and has crossed a million views already. Many of my readers have specially prepared this during Diwali and have shared rave reviews. If you are looking for a fuss-free, easy burfi recipe to make this Diwali, then I highly recommend you try this.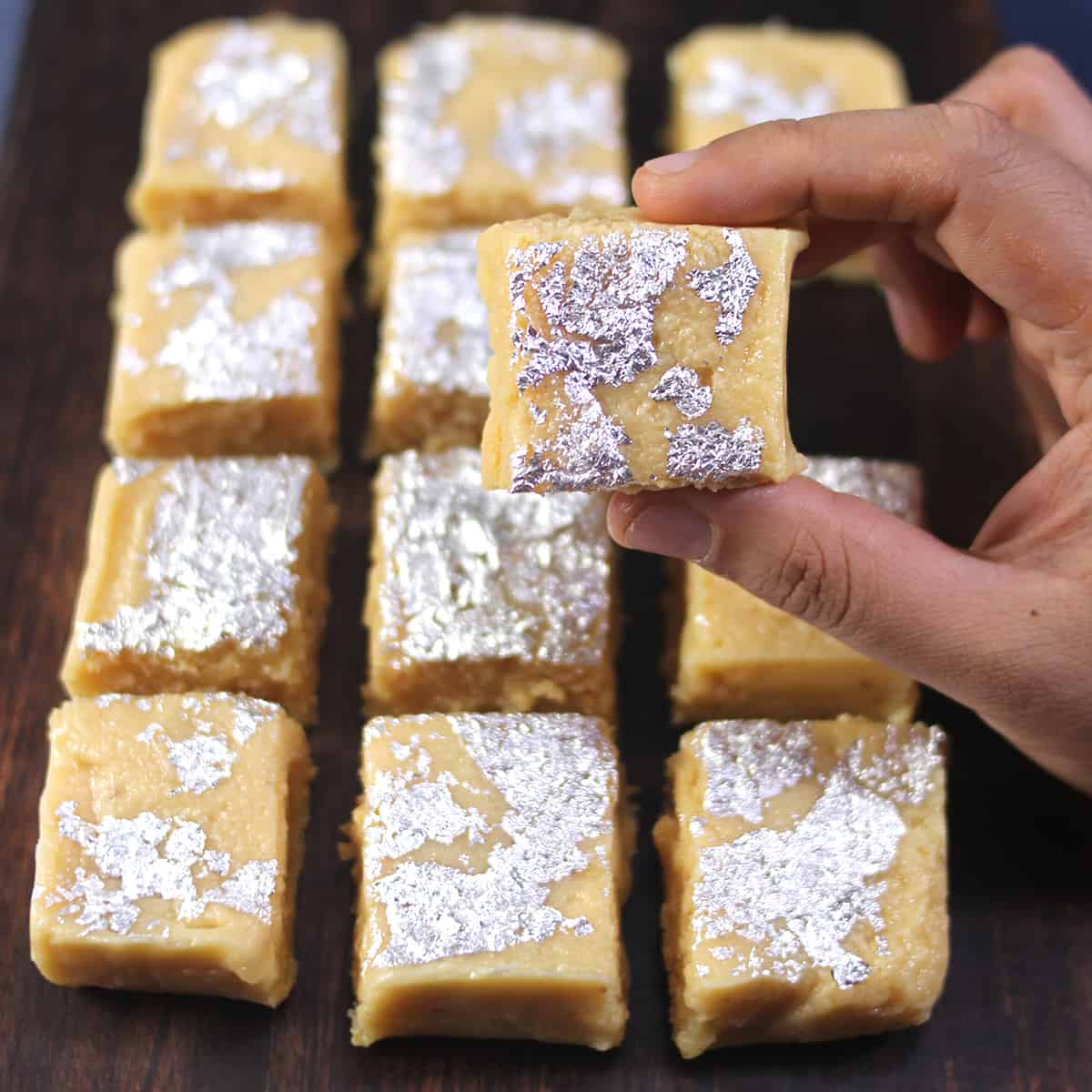 No Indian festival is complete without a laddu (ladoo) recipe. Among all the ladoos, besan ladoo and motichoor laddu are the popular ones. My next post will be on delicious melt-in-mouth motichur ladoo.
But if you are looking for an easy melt-in-mouth dessert where you don't have to worry about string consistency and making sugar syrup, then you should make my all-time favorite Besan Laddu.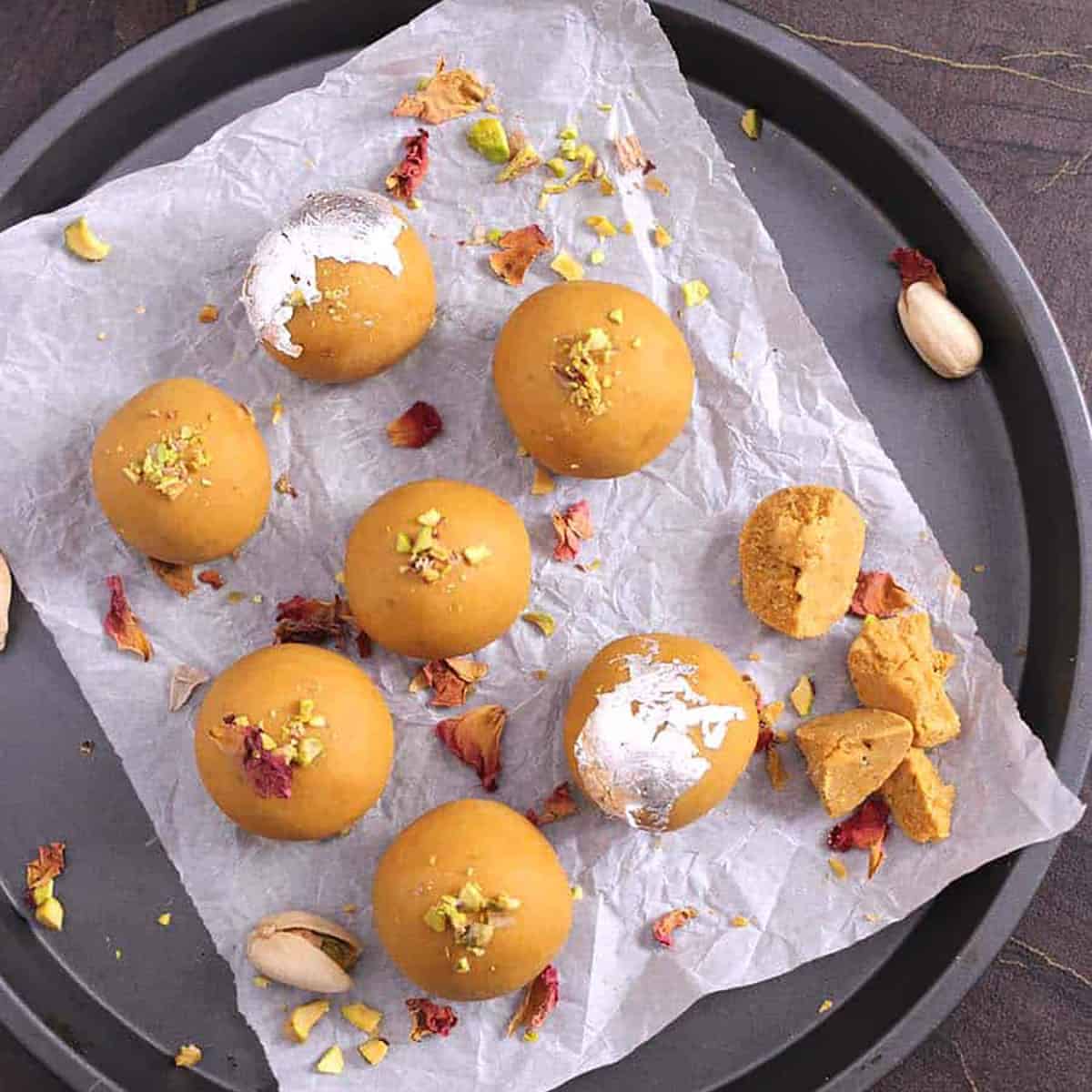 Badam Halwa or Almond Halwa is my family's new favorite halwa recipe prepared using almonds (badam), sugar, and ghee and flavored with saffron and cardamom. You can make this Indian dessert for special occasions like Diwali in less than 30 minutes plus one of the best make-ahead sweets.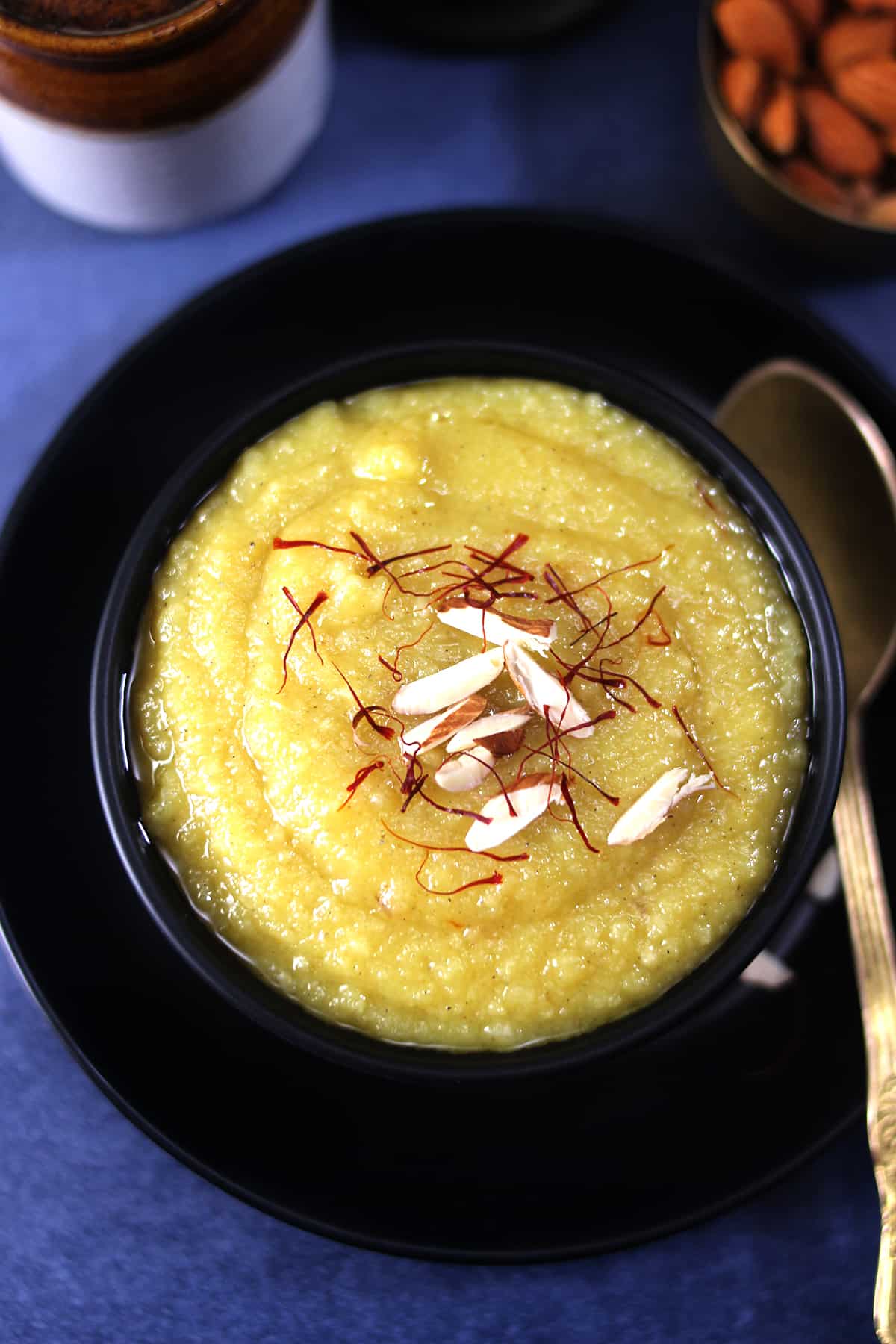 Love flaky pastries? Then pin this recipe. Balushahi is a melt-in-mouth Indian pastry with flaky layers on the inside and a crispy texture on the outside.
The only problem here is this dessert is so addictive that everyone goes for a second or third serving. One is never enough!
Make your Deepawali more colorful and festive with this homemade halwai-style Bombay halwa which has a chewy texture.
When you make it at home, you use the desi ghee, making it even tastier.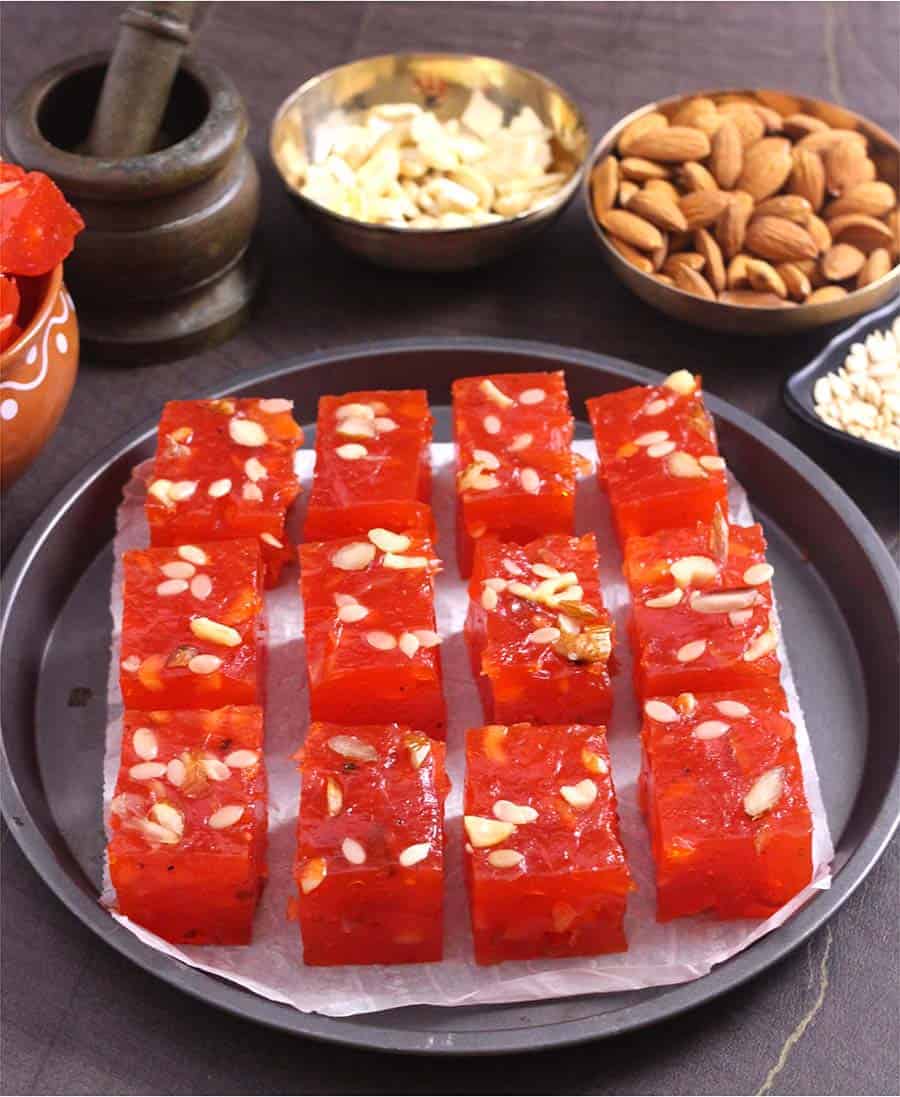 Mohanthal is a traditional sweet from the Gujarat and Rajasthan region of India and is prepared specially during Diwali using besan, ghee, and sugar, and then garnished with nuts. It has a soft and grainy texture, and this can also be served with a spoon rather than as fudge.
Danedar Mohanthal is also popularly known as Diwali mithai in this region.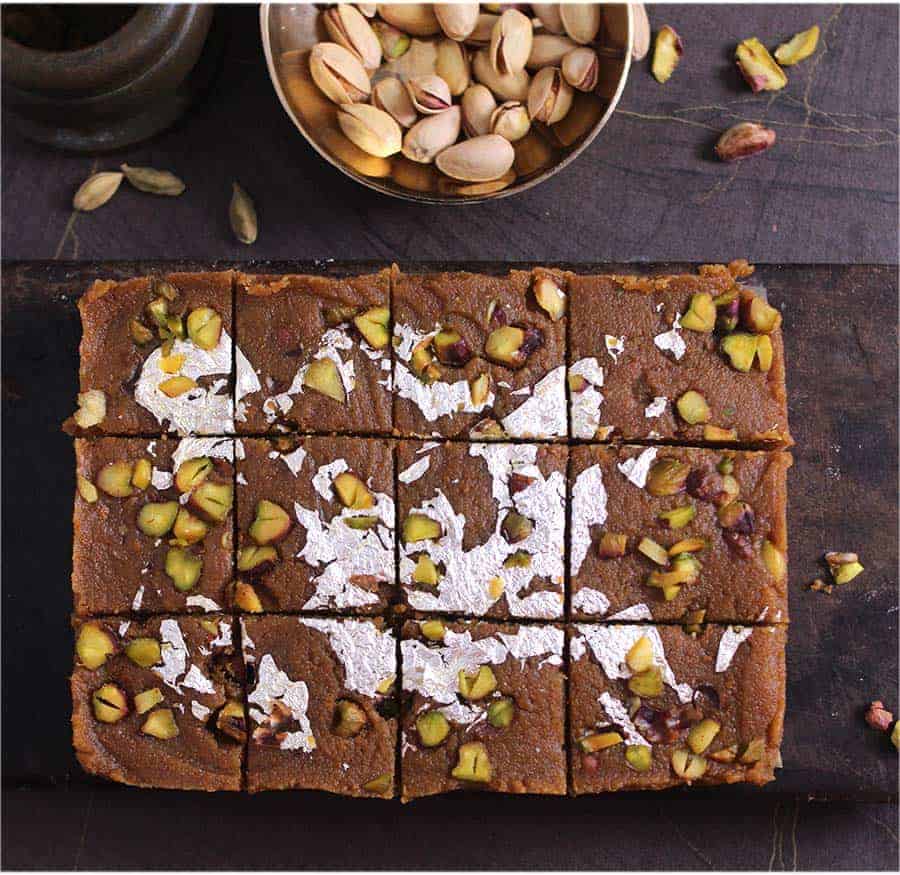 Love something that is sweet, crunchy, and aromatic at the same time? Then try this dry fruit chikki or brittle made using nuts and dried fruits of your choice. The brittle is then flavored with cardamom and saffron (kesar).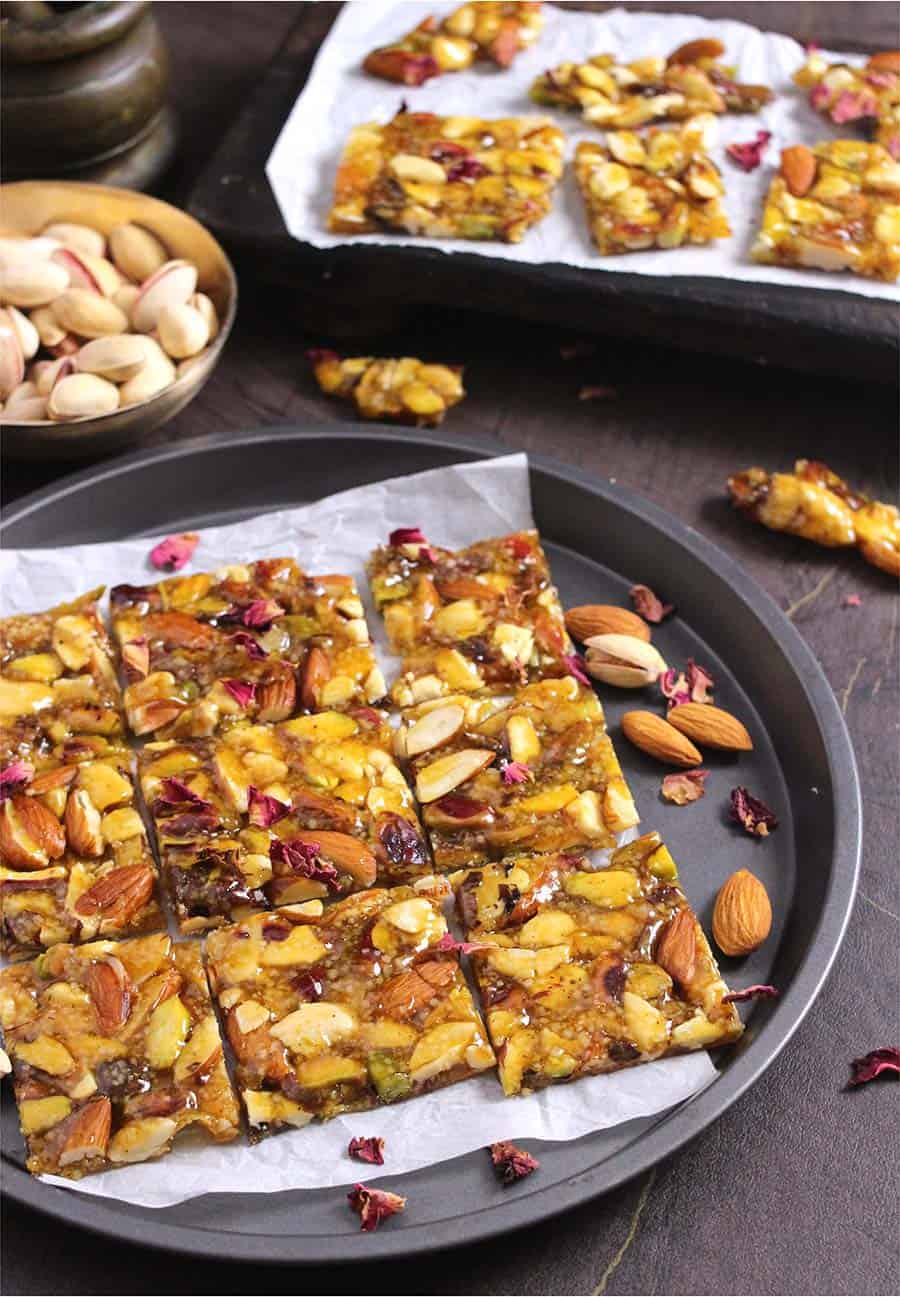 Quick and easy to make instant carrot halwa also called gajar ka halwa recipe prepared using condensed milk (milkmaid). Serve it with scoop of vanilla ice cream.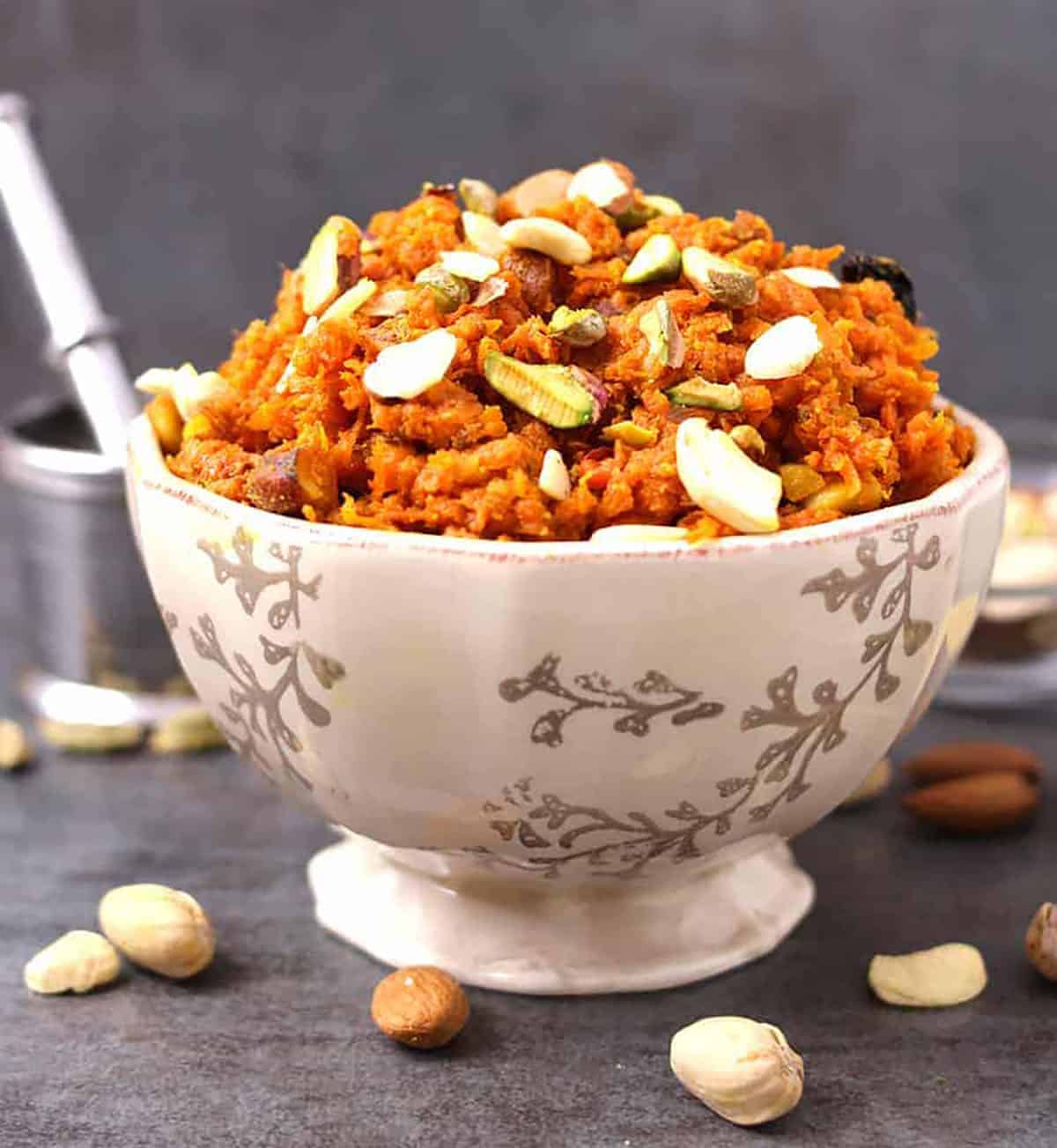 Diwali Snacks
My family and friends love to munch simple roasted cashews with different flavors (masala kaju). Some other popular snacks for Diwali include samosa, kachori, dahi aloo chaat or dahi bhalla, mirchi bajji and some faral snacks like chakli, chivda, namkeens and more. You can check the entire list here.
Samosas are the best appetizer or finger food you can serve at your Diwali party. The outer covering of the samosa is crispy and flaky with chatpata filling on the inside. You can even reduce the size of the samosa to make it bite-size treats.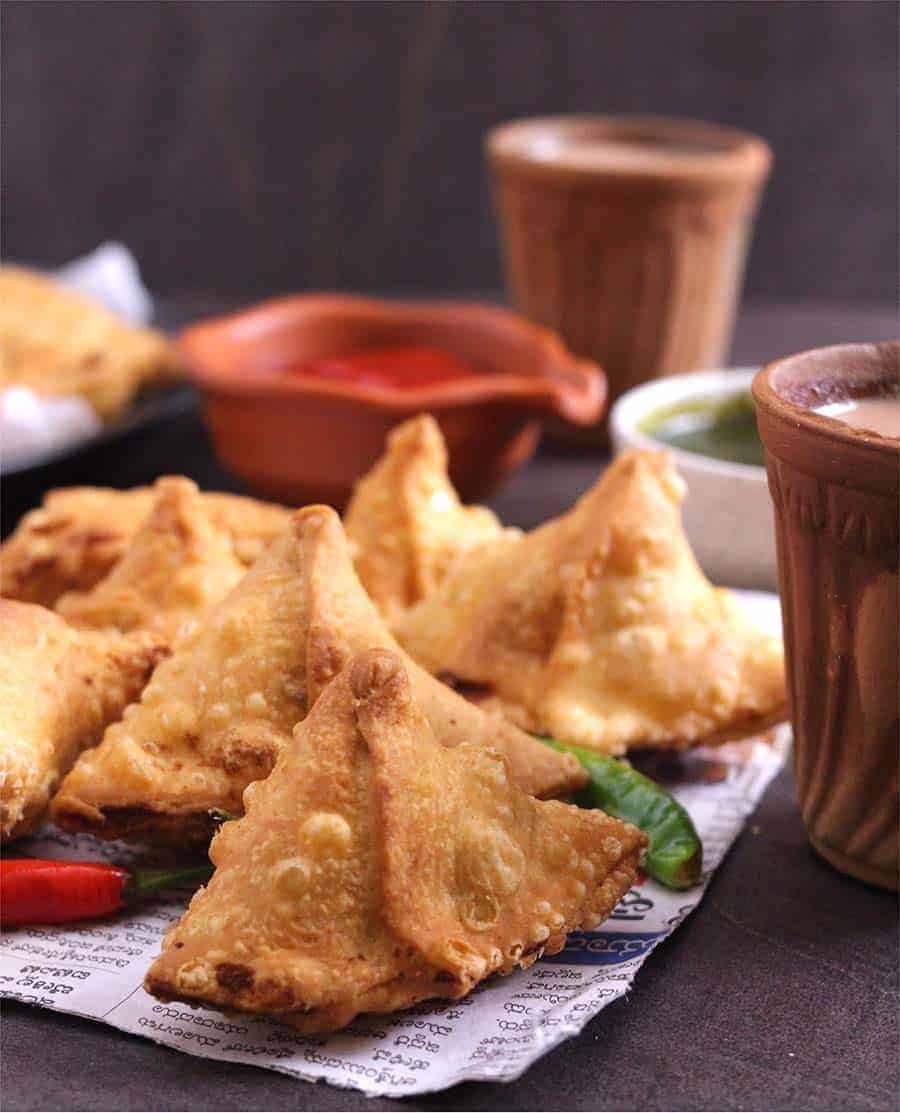 When it comes to chaat, nothing is better than aloo and yogurt. People of all age groups love to eat chaats. Dahi Aloo Chaat, in particular, has a perfect combination of sweetness, spiciness, and tartness. So if you are planning a tea party this Diwali, add this to your menu.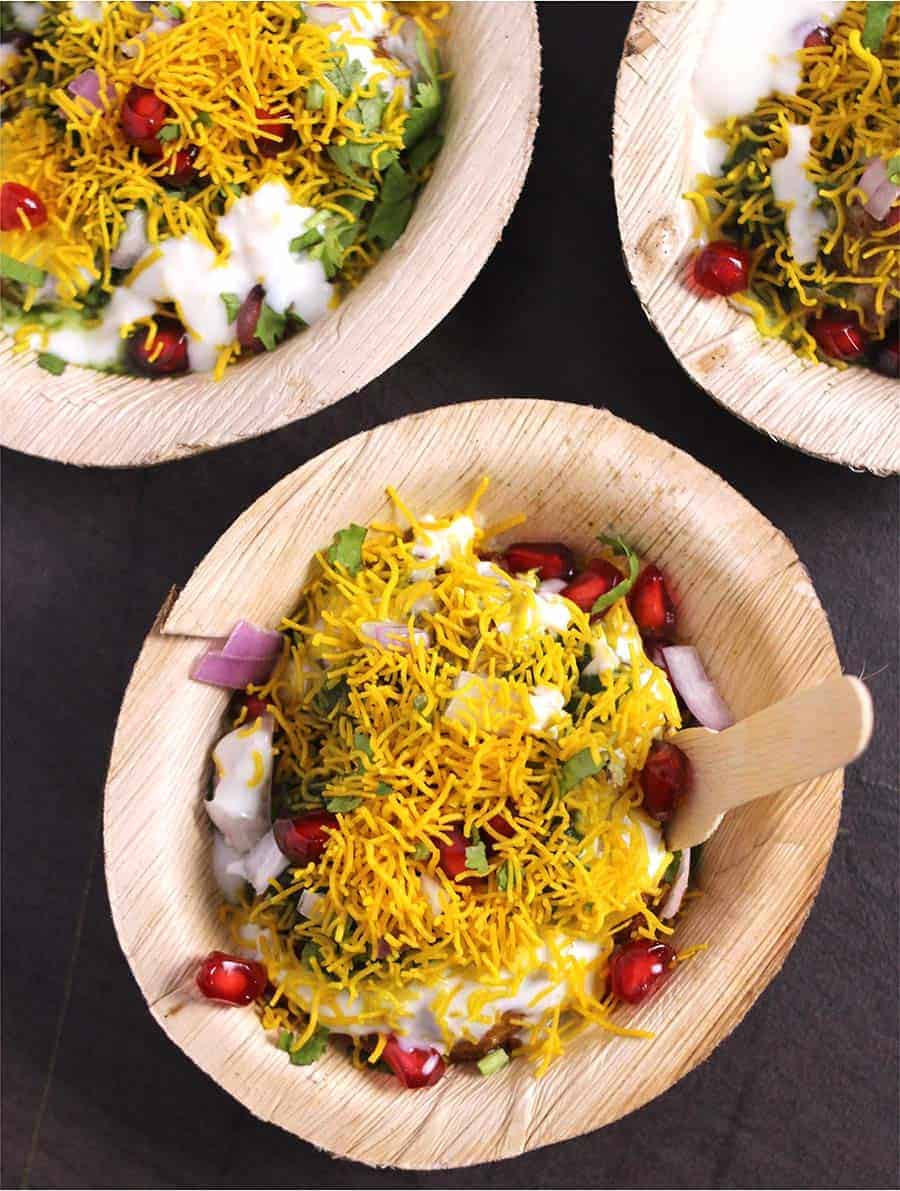 Batata vada, also called batata ambado or ambade, is one of the most popular snacks prepared during Diwali, which is shared with guests after Goddess Lakshmi pooja, along with a cup of hot tea and sheera.
These are super easy to make plus, if you have a pav or bun, you can also make the Maharastrain street-style vada pav.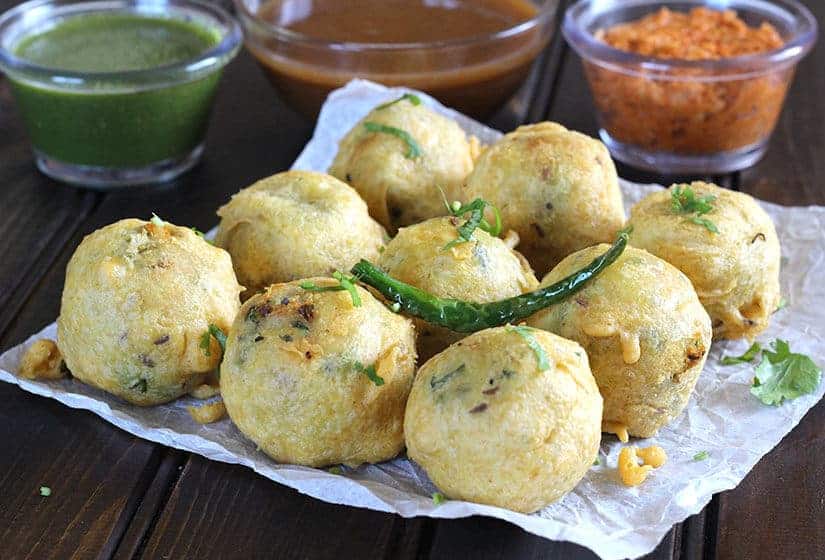 Masala cashews are addictive snacks that can be served with welcome drinks, a cup of tea, or you can munch them anytime.
I have pepper-flavored, chili-flavored, and besan-coated cashews, and all are my family favorites. Use good quality cashews for best results.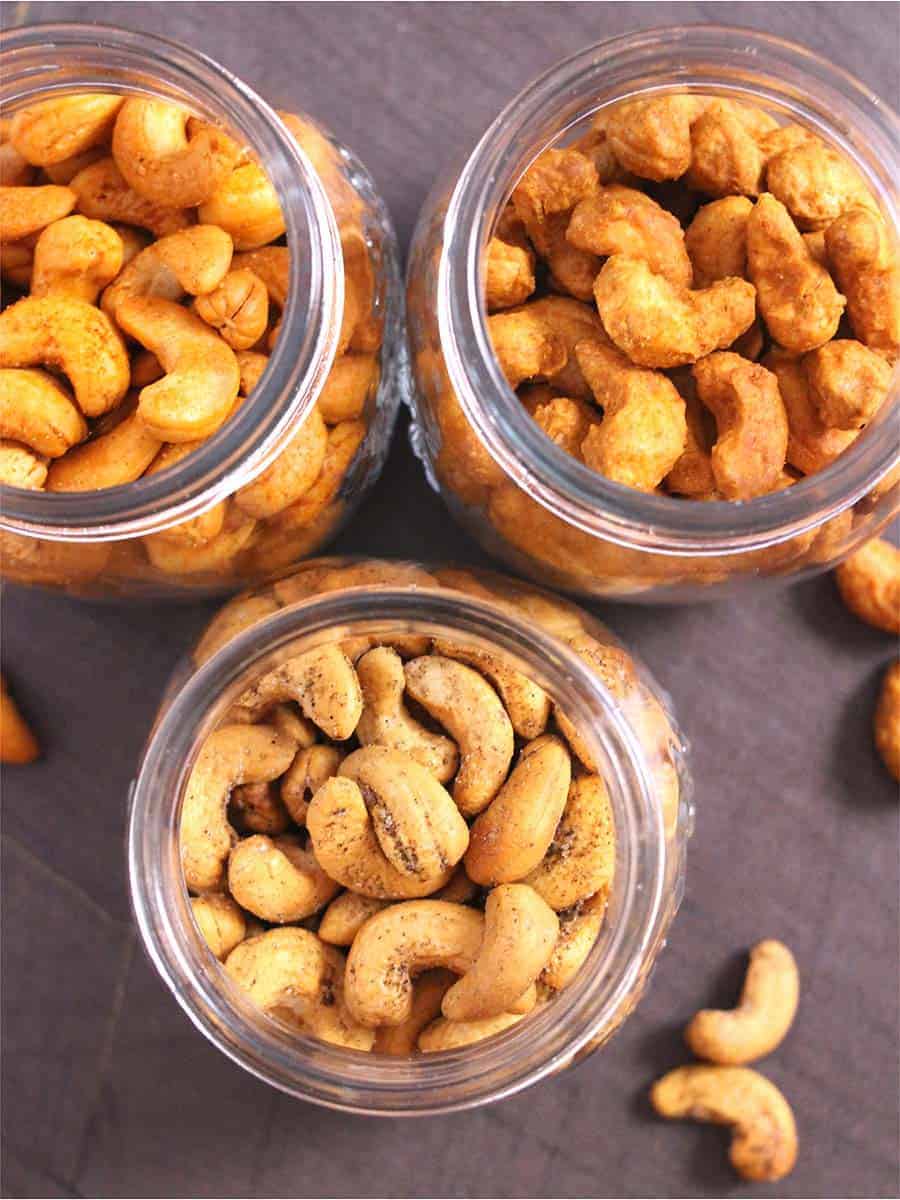 Aloo Pyaaz Kachoris are fried snacks that are crispy and flaky on the outside, with delicious chatpata spicy filling on the inside. I bet you just can't stop eating one.
If you do not want to make samosas but take short cut using puff pastry sheets then try this simple and easy curry puff or bakery-style veg puff recipe. A total crowd pleaser at your Diwali party.
Dahi Bhalla is a melt-in-mouth Indian snack where the vadas or lentil fritters are soaked in lightly sweetened thick yogurt and then garnished with mint and tamarind chutney, sev, coriander leaves, pomegranate, and spices.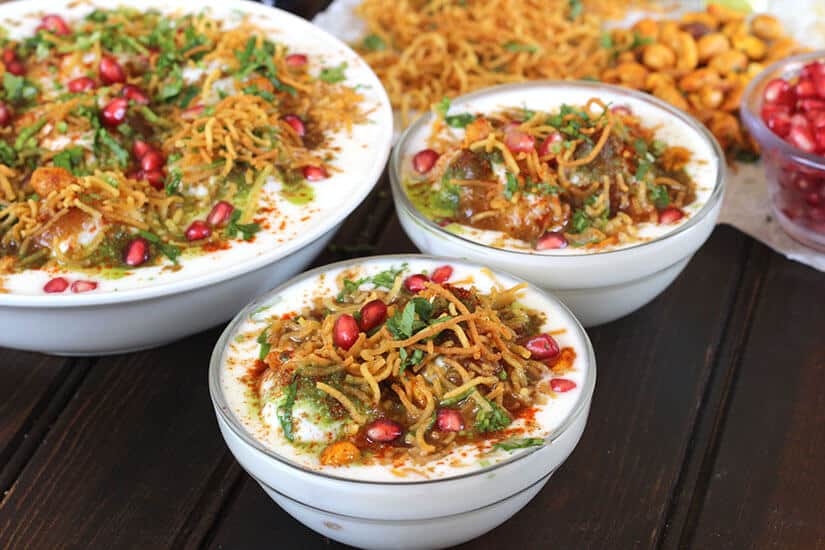 This is not the end. You can make soan papdi, carrot halwa, paneer pepper fry, cajun potatoes, banana chips, namkeen, aloo sev, gulab jamun, ras malai, kalakand, nankhatai, macarons, rice kheer and more. All these recipes are shared here.
Diwali Sweet Boxes or Mithai Boxes
Sweets are popularly exchanged between people during Diwali festivities. You can make all the sweets mentioned above in advance at home and pack them nicely in a box.
Individual sweets like kaju katli and milk barfi can be gift packed in a box, or a combination of sweets that include balushahi, gujiaya, and laddo can be added along with burfis to the mithai box.
Everything is a personal choice.
Do let us know which sweet and snack you tried and what was your favorite.
I wish you all a very happy and prosperous Diwali 2023.
More Easy Diwali Food Recipes
Did you like this recipe? Please leave a star ⭐️⭐️⭐️⭐️⭐️ rating below and/or a review in the comments section. You can also stay in touch with us through social media by following us on Pinterest, Facebook, Instagram, and Twitter.
Recipe card
Best Diwali Recipes | Traditional Diwali Food (Sweets & Snacks)
Popular and best Diwali recipes, including simple, easy, and unique sweets, desserts, and snack recipes, food and menu ideas for your Diwali party.
Ingredients
Other ingredients
Homemade Ghee

(Use best premium quality ghee while making sweets)
Instructions
Select your Favorite Diwali sweet and snack recipe from the list given above

Arrange all the ingredients mentioned in the recipe and follow the steps

Serve and enjoy. Happy Diwali 2023
Nutrition
Calories:
394
kcal
Protein:
0.1
g
Fat:
45
g
Saturated Fat:
28
g
Polyunsaturated Fat:
2
g
Monounsaturated Fat:
13
g
Cholesterol:
115
mg
Sodium:
1
mg